Some of today's most famous French authors write and speak beautifully about their homosexuality: Nina Bouraoui, Virginie Despentes, Édouard Louis… But from which famous French authors do they draw inspiration? Below, you'll find some of France's greatest 19th- and 20th-century gay and bisexual écrivain.es whose legacy continues to influence new generations of writers and to shape contemporary French culture. 
There are so many wonderful authors to choose from that we had to narrow down our list by selecting those who were openly involved in queer relationships. Because some authors did not publicly embrace their sexuality at the time they wrote, we did not include Jules Verne, Honoré de Balzac, and Gustave Flaubert on our list, even if they appear in the Dictionnaire historique des homosexuel-le-s célèbres–a very fun book to peruse! 
By Sophia Millman
Arthur Rimbaud (1854 – 1891) / Paul Verlaine (1844 – 1896)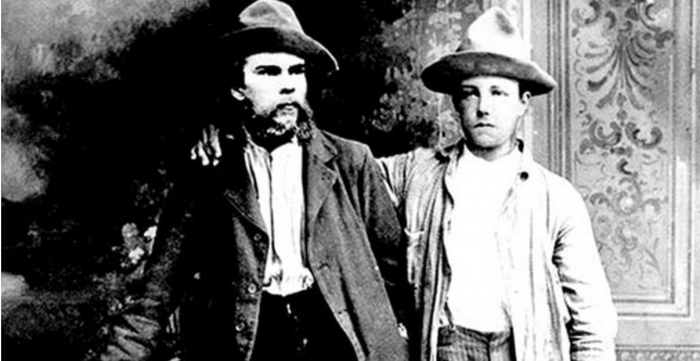 We recently featured Rimbaud and Verlaine's poetry in our "Classic French Poems to Learn By Heart" post. What we didn't mention, however, is that the two were lovers! Last year, Adam Gopnik wrote an article about the battle over reuniting the two poets in the Pantheon, which you can read here. 
At 16, the precocious Rimbaud sent some of his work to avant-garde poet Verlaine. The two began corresponding and soon became embroiled in a dramatic love affair (which ended badly in a drunken fight with a revolver). While their relationship wasn't the most healthy, the two wrote some great poems inspired by their love and they remain one of our favorite 19th-century celebrity couples! You can read a hilarious French article called "Rimbaud – Verlaine: 5 ways to destroy your relationship" here. 
Colette (1873 – 1954)

Posthumously nicknamed "Reine de la bisexualité" (Queen of Bisexuality), Colette published her first, homoerotic novel Claudine à l'école (Claudine at School) in 1900. This risqué work features adolescent promiscuity, lesbianism, and student–teacher affairs. Colette wrote the novel during her marriage to Henry Gauthier-Villars, who encouraged her to have relationships with women. After divorcing her husband, Colette became notorious for her lesbian relationships. In 1907, she kissed her lover Mathilde de Morney on stage at the Moulin Rouge, shocking the audience. 
Marcel Proust (1871 – 1922)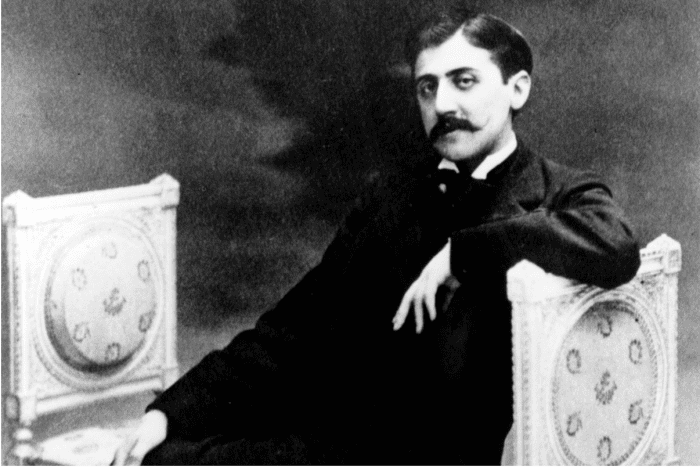 According to William C. Carter, Marcel Proust's biographer, Proust was "the first novelist to analyze and depict the full spectrum of human sexuality. There are [passages In Search of Lost Time] that might allow him to claim to be the founder of gender studies and a proponent of gay marriage." In 2019, Proust's lost stories about homosexual love, Le Mystérieux Correspondant (The Mysterious Correspondent), were published. If you, like many readers, feel intimidated by the length of Proust's work, check out this list of reasons why you should still give it a try. Or you can just celebrate the author by baking these "very gay" madeleines! 
Jean Cocteau (1889 – 1963)
Poet, playwright, filmmaker, and designer Jean Cocteau wrote Le Livre blanc (The White Book), a poetic story about homosexuality, in 1927. The book's narrator describes his childhood and adolescence, focusing on his sexual attraction toward a high school student, called Dargelos. He describes his first erotic and sexual experiences and his feelings for the boys he has loved.
The book begins: As far back as I can remember, and even at an age when the mind does not yet influence the senses, I find traces of my love of boys. I have always loved the strong sex that I find legitimate to call the fair sex. My misfortunes came from a society that condemns the rare as a crime and forces us to reform our inclinations.
While Cocteau originally published the book anonymously, he never attempted to hide his homosexuality. Sidenote: Le Livre blanc could be considered a French predecessor of André Aciman's Call Me By Your Name. (Aciman is also a big fan of Proust!)
Violette Leduc (1907 – 1972)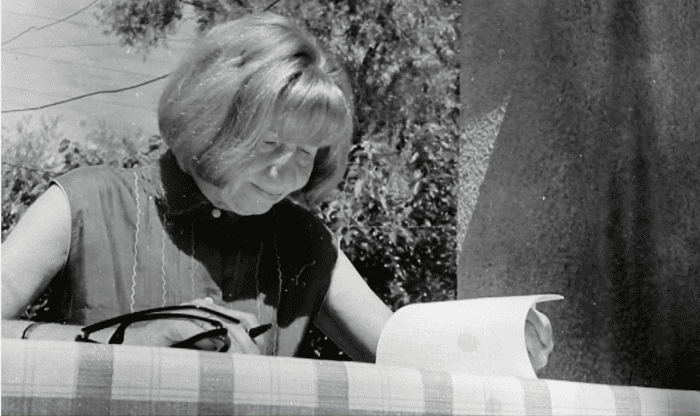 Called "the most interesting woman I know" by Simone de Beauvoir, Violette Leduc garnered support from many authors, including Albert Camus and Jean Genet (another wonderful gay writer who could have featured on this list!). Yet, she remained little known throughout the 20th century, due to her controversial descriptions of lesbian relationships in her writing. Her semi-autobiographical love story Thérèse et Isabelle was censored when it was first published in 1954 and was only reissued in 2000. (It was nevertheless adapted into a film in 1968.) If you are interested in Leduc's life, you should check out the 2013 film Violette. 
Simone de Beauvoir (1908 – 1986)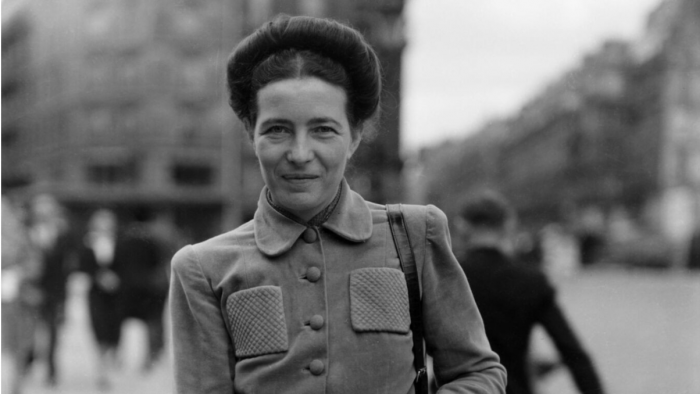 Simone de Beauvoir recently featured in our post about key French feminists you should read. Along with her groundbreaking The Second Sex, she wrote many philosophical texts and excellent novels (we highly recommend Les Mandarins, which won the prestigious Prix Goncourt in 1954). 
Her tragic love story Les Inséparables, based on her intimate friendship with Elisabeth "Zaza" Lacoin, was published posthumously this year. In a recent essay about Les Inséparables, queer philosopher Paul Preciado writes, "It is not only the terrible death of Zaza that is involved [in the novel]. What died for Beauvoir was the possibility of lesbian [or bisexual+] identification." Beauvoir would go on to have romantic relationships with other women, but none of her partners meant as much to her as Zaza. 
Michel Foucault (1926-1984) 
One of France's great philosophers, Michel Foucault wrote about language, mental illness, crime and sexuality. He also advocated for the abolition of prisons, spoke out against human rights abuses, and was an active member of gay rights groups. In the 1970s and '80s, Foucault taught at the College de France, and you can listen to many of his lectures here. After Foucault's death, his partner Daniel Denfert founded the first national HIV/AIDS organization in France, AIDES. Contemporary French author Laurent Binet wrote a fun mystery novel about Foucault and other French intellectuals (like Roland Barthes, whom many believe to have been gay) that you can learn about here. 
Françoise Sagan (1935 – 2004)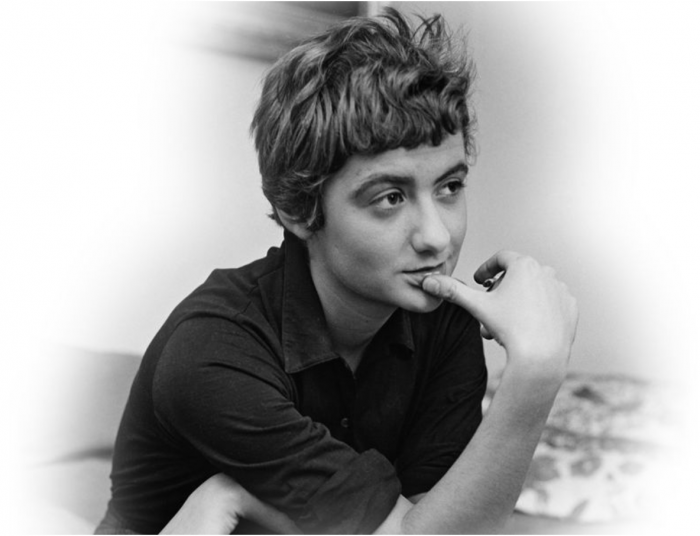 Fun fact: Françoise Quoirez decided to call herself by the pen name Sagan after one of Proust's characters. She wrote her incredibly famous novel Bonjour Tristesse (which features in another of our book posts) when she was only 18. Later, she composed her own epitaph that is as interesting and amusing as her life. Here's our translation: "Sagan, Françoise. Appeared in 1954, with a slim novel, 'Bonjour tristesse,' which created a worldwide scandal. Her death, after a life and oeuvre equally pleasant and sloppy, was a scandal only for herself." Sagan was involved with French journalist Annick Geille for three years. Read about their relationship in French here. 
Monique Wittig (1935 – 2003)
French avant-garde novelist and radical feminist Monique Wittig wrote works about utopian worlds devoid of men. Her most famous work, Les Guérillères, is a two-part series of prose poems about women warriors in a female-oriented culture. Wittig's other well-known work is Le Corps lesbien (The Lesbian Body, 1973). She also collaborated on a feminist dictionary with her partner Sande Zeig entitled Brouillon pour un dictionnaire des amantes (Lesbian Peoples: Material for a Dictionary, 1976). 
Practice your French: Learn more about her extraordinary life in the video "Monique Wittig, lesbienne révolutionnaire."