Since March 16th, the French have been confined at home and have had to find ways to tromper l'ennui (escape boredom!). Luckily, le ministère de la culture and other French organizations have come up with great online solutions to help you stay culturally engaged at home. For instance, you can browse the Louvre's collection online or use the hashtag #ensembleàlamaison on Facebook or Instagram to watch live performances of French artists like Christine and the Queens! 
At Coucou, we've been brainstorming new ways to help our students practice their French from home. Learning a language works best when you can interact with others, and we know that the coming weeks will be a particularly challenging time for our community. But we're also confident that our online classes will bring us together as we continue our language-learning projects. To help our students adjust to at-home learning in the coming weeks, we're publishing a series of posts about ways to stay immersed in French chez toi. Find our suggestions for cultural activities below! 
By Sophia Millman
Binge Watch Classic French TV

INA, the French National Audiovisual Institute, has always been a great resource for students who want to discover old French radio or TV shows. Recently, they released a new streaming service called madelen that gives you access to their entire catalogue for 3 months for free. Learn more about the English version of the site here! 
Also check out:
The Centre National du Cinéma

(CNC): Their "cinema guides" include video clips and in-depth commentaries on the history of a film movement or the filmography of an author. 

ARTCENA TV:

During the coronavirus epidemic and confinement, ARTCENA is recommending one classic a day that you can watch for free!
Discover the World of French Stand-Up

Many stand-up comedians have made their shows available for free on Youtube. If you're not familiar with the brilliant British comedian Paul Taylor, now's the time to watch Franglais! If you feel up to watching a 100-percent-French show, try Kyan Khojandi's hilarious Pulsions. Swiss comedian Thomas Wiesel has even posted a recording of his recent live show about Coronavirus that you can watch here!
Get inspired by "Journal de confinement"

If you're a fan of theater, podcasts, or audiobooks, Wajdi Mouawad's new audio project will definitely interest you. Mouawad is the director of the famous Théâtre National de la Colline. Starting March 17th, Mouawad began recording himself reading his confinement diary. He discusses his own creative experiences and those of other artists. Listen to the episodes here. This could serve as inspiration for your own French confinement diary! 
Immerse Yourself in a French Podcast

If you haven't figured it out yet, we're a big fan of French podcasts at Coucou. Along with our usual recommendations, we suggest you check out the Bibliotheque Nationale's "Entendre le théâtre" ("Listen to Theater") podcast, which traces the history of the French theatrical voice through radio and theater archives. In four acts, you'll learn about technical and acoustic aspects of performance. If art is more your thing, you can browse the Centre Pompidou's podcasts here! 
Take a French Art Class

If you understand French at a high level, sign up for the Pompidou's MOOC, L'art moderne et contemporain en 8 gestes. Museum curators open the doors to the Centre Pompidou's collection of modern and contemporary art and walk you through 8 free classes about how famous oeuvres were created! Or take one of the Grand Palais's MOOCs, like Couleurs, bleu, jaune, rouge dans l'art.
Spend a Virtual Evening at the French Opera or Ballet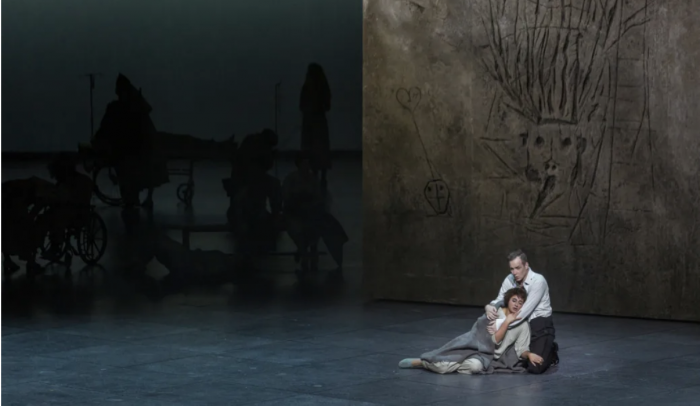 You can watch productions of operas like Jules Massenet's Manon or performances of one of Tchaikovsky's symphonies right on the Facebook page of the Opéra National de Paris! Upcoming performances include Gioacchino Rossini's Le Barbier de Séville, Jacques Offenbach's Les Contes d'Hoffmann, and Georges Bizet's Carmen. Learn more on the  Opéra National de Paris's website. Also, check out "3e Scène" (3rd Stage), a virtual space where visual artists, filmmakers, composers, photographers, choreographers and writers share original works linked to the Paris Opera. 
Visit a French Museum from Home


Nothing compares to standing in front of a painting in person, but the Louvre's "Closer Look" series nevertheless makes you feel like you're at the museum. You can examine high-quality photos of works of art in detail and watch accompanying documentaries about them. If you'd like to learn more about Versailles, the château has an excellent website with a special feature called "Étonnant Versailles." Short French videos explain all sorts of fascinating historical anecdotes about the chateau and its inhabitants. 
Other websites that might interest you:
Archéologie en France

: This project allows you to visit sites like the Lascaux caves virtually!

Musée numérique des micro-folies:

Part of the Ministère de la Culture's initiative #

CultureChezNous

(Culture At Home), this site allows you to explore important parts of French culture like Monet's Water Lilies or the Avignon Festival through a variety of interactive multimedia platforms.