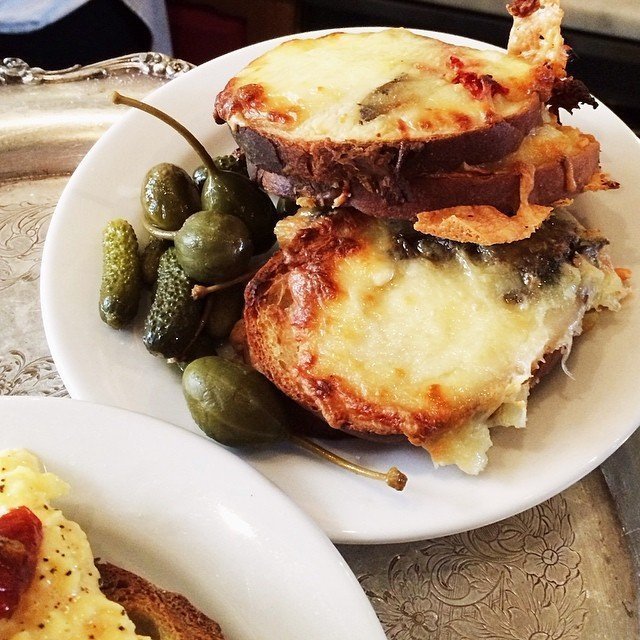 (Credit: Buvette)
French cuisine is best when it caps its various foods with a blanket of oozy cheese, such as French onion soup or the croque monsieur, the most heartfelt interpretation of a ham and cheese sandwich ever. (Don't eat it with your hands.) Add the feminine gender to it and you get an egg on top; that's the heartier croque madame. Many opt for béchamel in addition to cheese, which never hurts your taste buds; arteries are another thing. They tend to only make an appearance on brunch or lunch menus, so if you have a random midnight croque monsieur craving I don't know what to tell you. Regardless, here are the best places to savor them in New York.
Buvette
You know Jody Williams isn't messing around; the celebrated New York chef opened a second location of her West Village gastrothèque in Paris. Buvette serves small-ish plates of French food, and if you stop by during lunch, you can try her croque monsieur, which deviates ever-so-slightly from the traditional by using prosciutto crudo and sage. While best enjoyed inside the cozy, well-decorated restaurant, here is the recipe from her cookbook. 42 Grove St.; 212-255-3590; buvette.com.
La Maison Du Croque Monsieur
This small restaurant, with a takeaway counter downstairs and seating upstairs, exclusively serves croque monsieur or sandwiches made in its likeness. For example, the Cuban sandwich–inspired Mr. Joaquin: a sweet version with bananas, nutella, and mascarpone, and a few Vegetarian options. The best part is you can pick your own gooey cheese, be it Chimay or Comté. They, too, have a Paris location. 17 E. 13th St.; 212-675-2227; croquemr.com.
Schiller's Bar
Though somewhat of a tourist trap thanks to Sex and the City, the restaurant Pastis made a damn fine croque monsieur. While the Meatpacking icon is closed for renovations, you can head to another one of restaurateur Keith McNally's spots: the much cooler Schiller's Bar in the Lower East Side, where the croque monsieur is just as good, if not better, due to the restaurant's phenomenal bar program. 131 Rivington St.; 212-260-4555; schillersny.com.
Dominique Ansel Kitchen
The cronut-inventing pastry wizard Dominique Ansel is no less adroit at perfecting a croque monsieur. Word on the street is that the bread is dipped in a similar batter to French toast before hitting the oven, and there is a definite sweet undertone to it that is quickly shooed away by the saltiness of many ham slices. 137 Seventh Ave. South; dominiqueanselkitchen.com.
And in Brooklyn…
Le Barricou
A favorite brunch spot for locals, Le Barricou's croque madame takes up about 70% of the plate and you'll be totally OK with that, as chances are you would have spent a good amount of time waiting for a table. The cheese on top is more of a glaze and the bread is consistently crunchy. Pro tip: swap the pommes frites for home fries. 533 Grand St.; 718-782-7372; lebarricouny.com.
La Cigogne
Though better-known for its Alsatian fare, which is also a must, the croque monsieur here ain't too shabby, with large squares of pain de mie and a restrained amount of gruyère that does not drip down the sides. Don't get discouraged: simplicity wins here. Plus, you won't feel so full that you can't steal a piece of somebody else's tarte flambée. 215 Union St.; 718-858-5641; lacigognenyc.com.