All classes are currently taking place online via Zoom. When we reopen, students will have the option of finishing their class online or in-person.
Banlieue Cinema French Street Culture
Workshops

Friday June 12th from 6 to 7:30pm
French Street Culture Series 3/3: Les films de banlieue
La banlieue is a term used to describe the ethnically diverse, culturally rich but economically disadvantaged neighborhoods on the outskirts of all major French cities. In this workshop, we'll explore the concept of the banlieue as a trope within French cinéma through some of the best films de banlieue, such as the classic La haine and the recent Les misérables. This will be an occasion to engage in meaningful discussions about the underlying social issues represented in these films. Join us to discuss these must-see films with Aurélien and his friend, both film studies majors who grew up in the banlieue!
To prepare for this workshop make sure you've seen at least two movies from this list:
On Amazon: La Haine, Les Misérables, Ma 6-T va crack-er
On Netflix: Divines, Banlieusards, Dheepan, Braqueurs, Banlieue 13
About this series:
Lovers of street culture, here's a workshop series made specifically for you! This is your chance to gain a better understanding of street culture in France, and explore its place within broader French culture. The series will cover three distinct but interlinked topics: French Hip Hop, street art and the film de banlieue genre. We'll explore the birth and influences of the French Hip Hop scene, how street art became such an important part of French cities' visual landscapes, and discuss some of the best films de banlieue and their social message. Joining us for each workshop will be a guest knowledgeable in the day's topic.
* This class will take place online via the video conference platform ZOOM *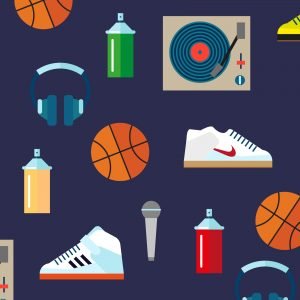 ---
Register Now:
Please note: our classes have limited capacity and often sell out fast, don't wait too long to book your spot!

aaa