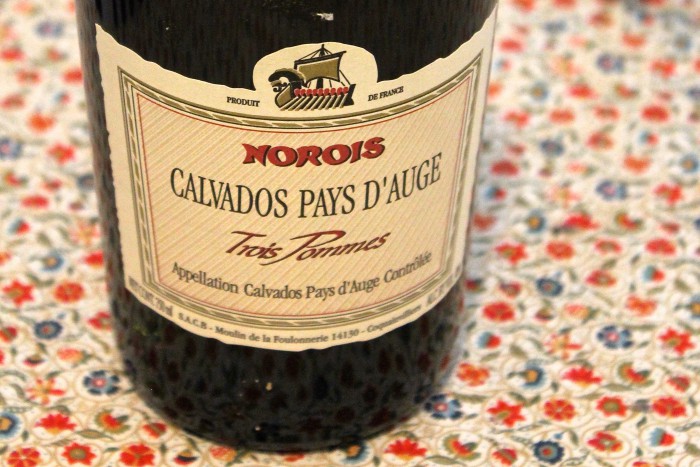 I first heard of calvados when browsing Nina Parker's South of France Cookbook, which is officially my new go-to for French recipes, especially during summer. It was one of the ingredients in a simple shrimp dish called Cervettes Tigrées de Bubi, a recipe from the restaurant La Table du Mareyeur in Port Grimaud. The result was delicious and took me less than 15 minutes to make.
But lets rewind a second. What on earth is calvados? Quite simply, it's apple brandy; we have an American version, which is not as good and goes by the much less sexy name "Applejack." Calvados, like grape-derived cognac, can only call itself "calvados" if comes from a particular appellation d'origine contrôlée (AOC), in this case, the Calvados department of Normandy. With the flavor similar to hard cider and the crystal-clear smoothness of cognac, calvados is as good to keep in your bar cart as it is in your pantry. It works as an apéritif, digestif, palate cleanser, or simply as a small glass at the end of a taxing day. Don't let its delicate taste fool you; it's potent.
Calvados is available at most liquor shops; which is to say, if my local Bushwick liquor shop with the bulletproof window has it, so will yours. The price is around $35 per bottle.
Calvados adds a nice and subtle zing to desserts like custard, tarte tartin, or poached pears, but it can also find a place in breakfast (this omelette), dinner (the typical Norman Poulet Vallée d'Auge), or anything in between, like the shrimp dish I mentioned earlier. The recipe is so easy that I won't even waste time writing it out.
Here's all you need to do, in order, with eyeballed measurements. Add some butter and some olive oil to a pan, add chopped garlic and chile flakes, throw in the shrimp and cook on both sides (about 5 minutes total). Right when it's almost done cooking, throw in some calvados and herbs of your choice, fresh or dried (I used fresh chives and dried parsley). Season with salt and pepper. Dine. The cookbook is more precise, of course, but really, that's all it is. An easy dish that has the added bonus of sounding super-fancy.
Since I am not the kind of person to have head-on tiger shrimp just chilling out in my fridge any old day, I used the regular frozen shrimp you get at supermarkets. The calvados added an unmistakeable brightness to the dish, even though I barely used any (about a tablespoon). I do not regret spending $35 for a tablespoon of brandy, though. That bottle won't be full for long.

By Nikkitha Bakshani