Right when you thought the fireworks and festivities were just about over, Bastille Day is right around the corner! And we're in luck this year, because what better day for Bastille Day to fall on other than on a Saturday? Indeed, this calls for a weekend of delicious French cuisine, fine wine, and fun music!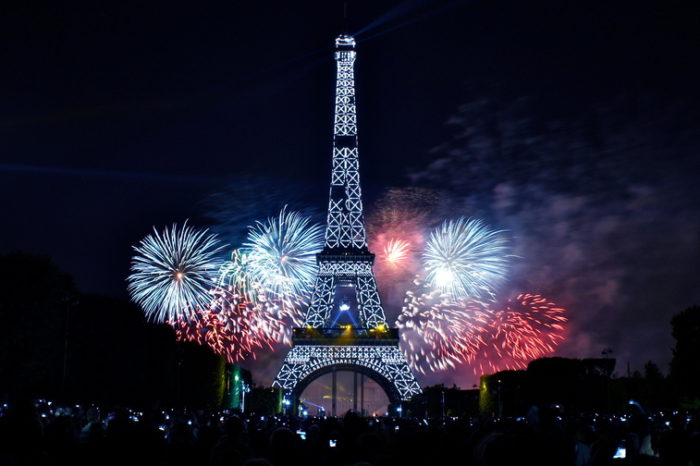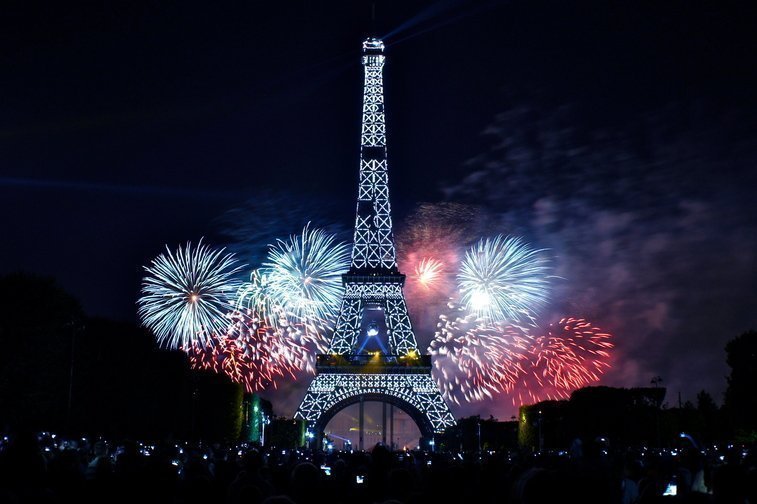 Did You Know?
In fact, one of the important things about the French national holiday is that it was not originally called "Bastille Day"–that term was coined by the English-speaking world! Over in France, it is referred to as "le 14 juillet" or "la fête nationale."
"Bastille Day" roots date back to 1789 at the Storming of the Bastille, a prison where King Louis XVI confined his enemies. The holiday celebrates the bravery of a mob of Frenchmen who rebelled against the rule of their king and stormed the Bastille in order to acquire arms and free prisoners.
Ultimately, the Storming of the Bastille was a turning point for the French Revolution because it led to the end of the monarchy.
How is Bastille Day celebrated?
In France, Bastille Day is celebrated in a variety of methods, typically depending on the region, city or town. Whether you find yourself on a beach in Marseille or at a theatre in Lyon, what each part of France has in common on this national date is that they bring the entire country to life; even many of lesser known parts of France have entertaining ways of celebrating the holiday through concerts, street festivals filled with vendors, music and dancing, and of course, fireworks. But one of the most renowned public celebrations of Bastille Day is the grand military parade in Paris, a precious tradition since 1880.
On the morning of the 14th of July, troops march down the Champs-Élysées avenue, beginning at the Arc de Triomphe and ending at Place de la Concorde. But that's just the festivities getting started! In the night time, there is a free concert on the Champ de Mars, followed by a breathtaking fireworks bonanza at la Tour Eiffel.
Opening on the night of the 13th, Bastille Day also has a tradition of fire stations opening their doors to the public for a fundraising dance that normally lasts until the crack of dawn. This is a tradition called the Fireman's Ball (Bals des pompiers). In Paris alone, over 40 fire stations prepare for a night of music, drinks, and even gymnastic performances.
Go and support your French local firemen with a drink at the bar! All donations and proceeds go directly to funding fire stations all throughout France. The firemen even take turns in manning the bar throughout the evening!
Trying to avoid the hustle and bustle of enormous crowds on the Champs de Mars, but still want a great experience and view of Bastille Day's activities? Not a problem.
In Paris, there is the Montparnasse Tower, where you can take Europe's fastest elevator and watch the fireworks with a drink from the cocktail bar.
In the mood for a picnic under the stars? You can also get an awesome panoramic view of the city from the top of the hill of Parc de Belleville in the 20th arrondissement.
You can also enjoy Bastille Day's pyrotechnic frenzies by boarding on a boat on the Seine. This for sure provides you with a beautiful view and a more calm setting. There are many companies that offer smooth sailing evening cruises along the Seine, like Vedettes de Pont Neuf, Bateaux-Mouches, and Bateaux Parisiens, just to name a few.
No matter what, this French national holiday is sure to be jam-packed with fun, memorable experiences. Whether you love parties and festivals, history and culture, or everything in between; whether you are a local or a tourist; there is surely a plethora of opportunities for everyone to celebrate liberté, égalité, and fraternité: the revolutionary essence that France is eternally proud of.
If you can't be in France for Bastille Day this year – no worries!
In the Lower Manhattan neighborhood of Little Italy, Coucou French Classes holds an even tinier France. On Saturday, July 14th, 2018, Coucou will hold its annual Bastille Day party, ensuring loads of fun for the francophile communities of New York City!
By Alessandro Romero