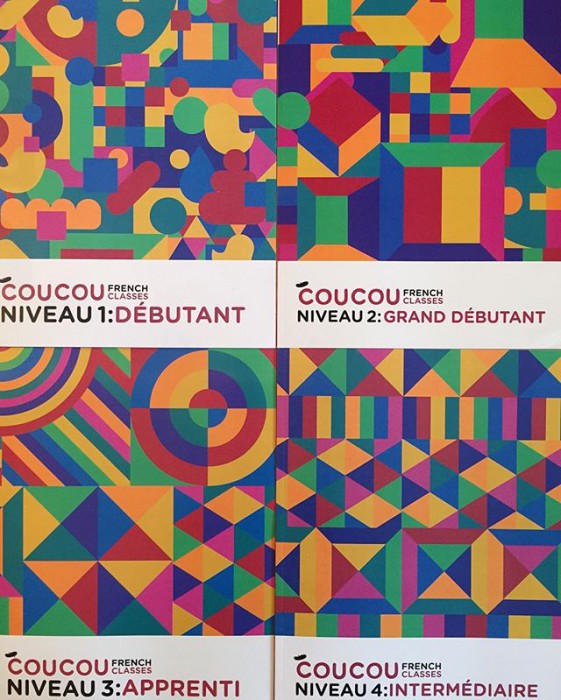 Check out this collection of podcasts, applications, and websites to help you practice and improve your French outside of class! Let us know if you have any others to add to the list.
Podcasts (All available through the Podcast app!)
Coffee Break French: This extensive podcast series consists of 4 seasons containing 10 lessons of about 15 minutes. The listener accompanies Anna, another student in learning French from Mark, an experienced teacher. The podcast is very relaxed and conversational.
The episodes can be downloaded for free with the podcast app. Accompanying resources and full seasons can be bought on their website as well.
https://radiolingua.com/coffeebreakfrench/
all levels
La Tête au Carré: This hour long podcast puts out new episodes every week. Experts converse in French on a variety of science topics. Examples of subjects include pasteurization, the fragility of adolescents, and the revolution of leisure time. The episodes are long and contain advanced vocabulary so it might be helpful to slow down the podcast speed.
http://www.franceinter.fr/emission-la-tete-au-carre
level 6 & up
Parenthèse: This podcast offers short philosophical episodes on compelling topics in French society. Recent episodes include the importance of silence in the world today and how to escape French pessimism. Programs contain conversation and advanced vocabulary but being less than 10 minutes each, they are relatively easy to follow.
http://www.franceinter.fr/emission-parenthese
level 5 & up
Radio France: As the public radio provider in France, Radio France's website has an array of podcasts for every interest! Programs are divided up into politics, news, culture, and music. Check out their website and try something new: http://www.radiofrance.fr/espace-pro/podcast-radio-france
level 4 & up
News in Slow French: This program presents current news topics in a conversational way and the as the name implies, it is spoken very slowly! Each episode is about 30 minutes long. More resources available with subscription on their website: https://www.newsinslowfrench.com/subscription_info
level 3 & up
One Thing in A French Day: Laetitia, une Parisienne, produces 3 to 4 minute episodes 3 times per week. In these episodes, she speaks about Paris and her daily life. The podcast can be downloaded from Apple and Laetitia has made it available on her blog as well.
http://onethinginafrenchday.podbean.com/p/about/
level 3 & up
Learn French with Daily Podcasts: Native French speaker Louis reports on a current and interesting topic in French. He then goes through and explains vocabulary words and certain expressions. Finally, he reads the transcript again at a regular speed. Each episode is about 5 minutes long.
http://www.dailyfrenchpod.com/
level 3 & up
French Today: Easy French Poetry: Become a literary master and improve your French at the same time with this poetry themed podcast!  Teacher Camille reads a classic French poem twice, slowly the first time so you can repeat after her and then at more a natural pace. Afterwards, she provides an interpretation of the text and some information about the author.
http://www.frenchtoday.com/french-poetry-reading
level 4 & up
RFI Journal en Français Facile: Another great program from Radio France, this podcast summarizes a weeks worth of international news in French in 10 minutes. The host speaks slowly in simplified phrases.
http://savoirs.rfi.fr/fr/apprendre-enseigner/langue-francaise/journal-en-francais-facile
level 5 & up
Talk in French with Frédéric Bibard: This podcast presented by French native, Frédéric, has 3 components. He begins with the French cultural corner where he discusses aspects of French society including history, geography, and stereotypes. He then gives short vocabulary and grammar lessons. Episodes range in length from 15 minutes to an hour. More language-learning resources available on the website: https://www.talkinfrench.com/talk-french-podcast
all levels
Applications
Duolingo (free): This app takes a game approach to language learning. Match words, fill in phrases, and practice your pronunciation. Each lesson you complete gives you points that go toward a daily goal. The app allows you to visualize your language mastery and practice weak skills as well. Lessons are about 5 minutes long and perfect for a subway ride or standing in line.
https://itunes.apple.com/us/app/duolingo-learn-languages-for/id570060128?mt=8
Mindsnacks ($4.99): This app focuses on conversational skills and vocabulary acquisition. It offers 50 lessons and 9 different types of games. Appropriate for all ages.
https://itunes.apple.com/us/app/learn-french-by-mindsnacks/id409947305?mt=8
FluentU French (free): This app takes video-based approach to learning French. Video and audio content consist of movie trailers, tv show clips, and commercials that showcase French culture. Interactive subtitles allow the learner to learn vocabulary and translation in context. "Learn mode" allows you to answer multiple-choice vocabulary and translation questions.
https://itunes.apple.com/us/app/fluentu-learn-language-videos!/id917892175?mt=8
Memrise (free): This app teaches French words and phrases by putting them together with creative and humorous pictures.
https://itunes.apple.com/us/app/memrise-learn-languages-free/id635966718?mt=8
Busuu (free): This language-learning app provides vocabulary and grammar lessons, audio dialogues, and interactive tests. Progress is measured with short quizzes.
https://itunes.apple.com/us/app/busuu-learn-to-speak-spanish/id379968583?mt=8
Websites
Word Reference: This website provides very comprehensive French-English and English-French dictionaries. Its Language Forum pages provide insight and opinions into finding translations for idiomatic expressions across the two languages.
Le Dictionnaire Multifonctions de TV5 Monde: This handy dictionary site will improve your vocabulary in a number of ways. It provides detailed definitions in French, and includes a conjugator, thesaurus, as well as English-French and French-English translations. There are also a number of games and quizzes available on the site to test your language skills and cultural knowledge!
http://dictionnaire.tv5.org/dictionnaire
Your Local Cousin ($15 for 30 minutes): An on-demand platform that allows you to communicate with locals in more than 250 cities worldwide. Though this website is primarily geared towards travelers preparing trips abroad, the skype chats they offer in 30-minute increments are a great way for our students to talk to locals and practice their speaking skills outside of class.
https://www.yourlocalcousin.com/#%2F
LanguageGuide.org: Great website to practice conjugating regular verbs.
http://www.languageguide.org/french/grammar/conjugations/
Babbel (prices vary): A site devoted to language learning which uses images and games to develop vocabulary skills. Memberships available in increments from 1 month to 1 year.
**Exclusive for Coucou students: contact us for a code to get 3 months of Babbel free when you sign up for a 3 month membership!
Youtube Videos
Damon and Jo's channel: French videos by a pair of friends who speak fluent French. They have a bunch of videos about language, travel, and their personal lives; but they have a few that are mini French lessons! Here are some potentially useful ones but feel free to venture around their channel since some videos are just them discussing things in French.
– French Days of the Week
– How to pronounce the French "R"
– French filler words
– Say 70, 80, 90 in French
– Nos chansons préférées en francais (in French with subtitles)
– Mots difficiles à prononcer en francais (in French with subtitles)
https://www.youtube.com/user/DamonAndJo
"Henri le chat noir" videos: The existential sarcastic French cat! Part one and part two linked here but you can find many more on YouTube
Bonnes Études!