The French have been watching the events unfolding in the US very closely, and drawing parallels with the current situation in their own country. Even though what's taking place in the US has its own historical specificities, the fight against racial injustice is a worldwide one and France, a former European colonial power, certainly has plenty of reasons to reflect on its own racist legacy. The French famously have a strong belief in the power of civil protest to bring about societal change – and the changes protesters are demanding right now are much-needed and long overdue.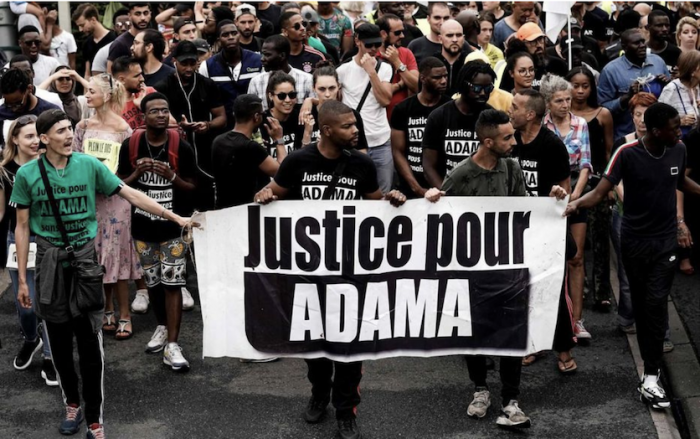 On June 2nd, French people gathered to demonstrate against police brutality in Paris. Their protests were focused on Adama Traoré, a 24-year-old black man who died in custody after having been tackled by the police. You can check out Aïssa Maïga's speech at the protest in this article at The Huffington Post's French site. We also recommend taking a look at Virginie Despentes's letter addressed "to my white friends who can't see what the problem is." Finally, if you would like to learn about how the French media are covering the current protests in the US, we recommend watching this recent episode of C dans l'air (France 5). 
At Coucou, we have decided to extend our donation scheme for the month of June. We will collect $10 from each group class registration and private lesson package, and make weekly donations to the NAACP Legal Defense Fund, the ACLU, the Equal Justice Initiative, the Bail Project and Color of Change. 
Along with signing petitions and making donations, we have a duty to keep educating ourselves and listening to black voices. Inspired by the New York Times' recent Antiracist Reading List, we've put together a list of French books, movies, and podcasts about the fight for racial justice.
Books
The Times recently published an Anti-Racism Books for Kids list, and we've included a few titles for children on our list as well. Comme un million de papillons noirs (featured in the photo above) is a beautiful book that you can share with your kids or read yourself if you're beginning to learn French. The Bibliothèque Nationale de France has published a list of 52 books for children and teenagers "pour dénoncer le racisme." We recommend looking through it if you'd like a more complete selection of books. Below, you'll also find a few "grown up" texts about racial issues in modern France. If you're comfortable reading in French, we highly recommend Noire n'est pas mon métier, a collection of essays by different black women who reflect on how racism shaped their personal and professional lives. 
Books about racial issues that Coucou teachers recommend:
Films
Although black men and women began appearing in the Frères Lumières films as early as the 1890s, they nevertheless remained largely invisible in French cinema throughout the 20th century. When actors of African or West Indian origin did show up on screen, they often played comic or racially exoticized roles. The small number of actors, actresses and directors of color working in France today demonstrates that racial difficulties persist in the French film industry. Fortunately, contemporary French filmmakers are creating increasingly nuanced explorations of race, and actors and filmmakers of color have begun to speak out more freely against racism. 
French actress Aïssa Maïga spoke in February at the Cesars Ceremony, asking for more representation of minorities in French Cinema. More recently, French singer and actress Camelia Jordana also spoke up during a French TV show, explaining that "a lot of people [of color] don't feel safe around the police, and I am one of them."
Our recommendations (click a film's title to watch its trailer with English subtitles): 
Black Panthers

, Agnès Varda, 1968 (a short film you can watch online by following the link)

Rue Case-Nègres

, Euzhan Palcy, 1983

Chocolat

, Claire Denis, 1988

La Haine

,

Matthieu Kassovitz, 1995

White Material

, Claire Denis, 2010

Vénus Noire

, Abdellatif Kechiche, 2010

Qu'Allah bénisse la France

, Abd Al Malik, 2014

Mon amie Victoria

, Jean-Paul Civeyrac, 2014

Bande de filles

, Céline Sciamma, 2014

Trop Noire pour être française

, Isabelle Boni-Claverie, 2015

Mariannes Noires

, Mame-Fatou Niang & Katie Nielsen, 2016

Les Misérables

, Ladj Ly, 2019
We highly recommend Les Misérables and the two documentaries on our list: Trop Noire pour être française and Mariannes Noires. 
Podcasts
We recommended Le Tchip on our list of the best podcasts for French learners, but there are tons of other great French podcasts about race that we left off the list. If you like feminist podcasts, you'll be excited to learn that afroféministe podcasts are particularly popular in France. Also, check out this 1975 Angela Davis interview about racism with France Culture!
Ou selection of podcasts and special episodes dedicated to racial issues:
Kiffe ta race

:

Why is the word "race" taboo in French? What happens when you're a victim of both racial and sexual discrimination? How can you embrace having multiple identities? Every other Tuesday, hosts Rokhaya Diallo and Grace Ly invite a guest speaker to explore racial issues with them. 

Le Tchip

: Three thirty-somethings of Caribbean and African origin—Mélanie Wanga, Kévi Donat and François Oulac—chat every other Friday.  They discuss everything from Kanye West's escapades, cultural appropriation and the last season of

Insecure

.

Cases Rebelles: The Cases Rebelles collective has been producing Pan-Afro Revolutionary Podcasts and Writings since 2010.
La Poudre – Interview with Assa Traoré

, founder of "Justice for Adama," an association seeking justice for her brother who died in police custody in the suburbs of Paris in 2016.

La Poudre – Interview with Aïssa Maïga, co-author of Noire n'est pas mon métier (Black is Not My Job).
And finally, here's a website listing Black-owned businesses in the US so we can put our money where our mouth is!