France has produced some of the world's most famous street artists, ranging from Invader—an artist whose mosaics inspired Banksy—to JR, a Time 100 inductee. If you're not yet familiar with these names, read on to learn about how their works and the works of other artistes de rue have shaped the culture and history of urban art. Once you've learned a little bit about French street art, you'll have a much easier time spotting famous Parisian murals. Scroll to the bottom of this article for a map of all the best street art in the city of lights! 
By Sophia Millman
Jef Aérosol

Born in Nantes in 1957, Jef Aérosol became one of France's most famous street artists, thanks in part to his innovative use of stencils in the 1980s. Today, you can see his art in cities all over the world. Using black and white paint, Aérosol often creates portraits of celebrities, including Frida Kahlo, Elvis Presley, and members of the Beatles. You can recognize his work by the mysterious red arrow that he uses to sign it. In his work, Aérosol also often depicts those he describes as the "forgotten": children and the homeless. See a video of his famous "Sitting Kid" stencil in Hollywood here. 
Ernest Pignon-Ernest

Ernest Pignon-Ernest is often called France's pioneering street-artiste (the French now use the English term more often than "artiste de rue.") His drawings, usually made with charcoal, are realistic and human-sized, and they startle passersby. You can find Pignon-Ernest's works of art throughout Paris. One of his most famous is Les Gisants (1971), a work that  commemorated the 100th-anniversary of the Paris Commune, and which he displayed on the steps of the Sacré Coeur. 
JR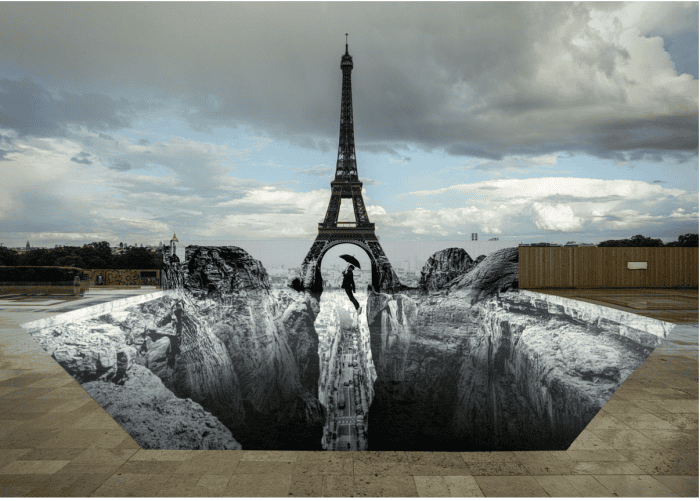 JR (short for Jean René) was born in Paris in 1983 to a Tunisian mother. As a teenager, he dabbled in street art before becoming passionate about street photography in 2001. JR began photographing people he met and pasting their black-and-white portraits all over Paris. In 2004, he created "Portrait d'une génération," a huge illegal exhibition of large format photographs pasted on buildings in a Parisian suburb. In 2011, after receiving the Ted Prize, JR funded the Inside Out project, which allows people around the world to print their portraits and display them in their cities. If you haven't seen Agnès Varda's film Faces Places, which is all about JR, we highly recommend checking it out. Recently, JR created a trompe l'oeil in Paris (see image above) and one in Rome, which you can read about here. 
Miss.Tic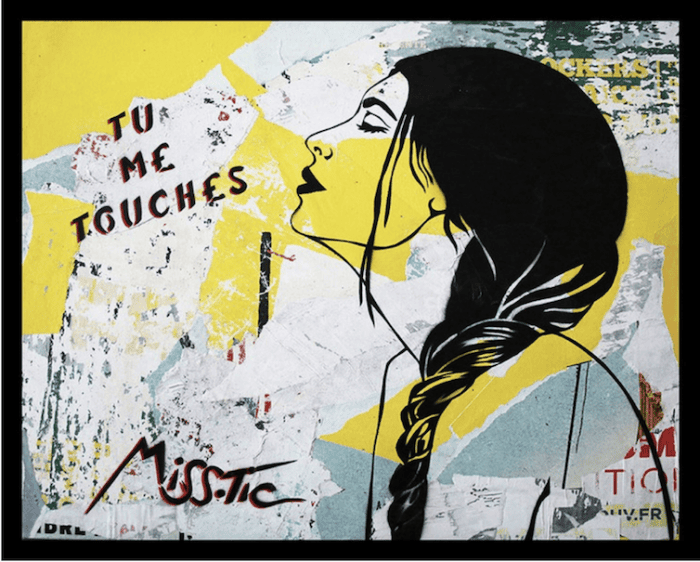 Born in Paris in 1956, Miss.Tic lost her parents at a young age. After finishing high school, she left for California, where she first discovered her passion for graffiti. In 1985, after returning to Paris, she began stenciling images of women (accompanied by a short poetic phrase or pun) on the city's walls. Miss.Tic has worked for brands such as Louis Vuitton and Longchamp. In 2006, she participated in the Venice Biennale, and the following year, she designed the poster for Claude Chabrol's film La fille coupée en deux. 
Levalet
Charles Leval, better known under his pseudonym Levalet, designs black and white characters drawn with Indian ink on Paris's walls. He began experimenting with urban art in Guadeloupe, and later returned to Paris, where he teaches high school. Since 2012, Levalet's designs can be seen all over Paris; you can recognize his work from his characters' expressive body language.
Blek le rat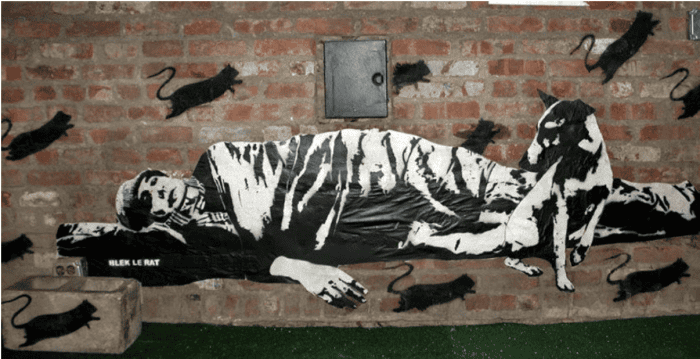 Born in 1951 in Boulogne-Billancourt, French graffiti artist Blek le Rat studied printmaking and painting at the École nationale supérieure des Beaux-Arts in Paris. In 1981, he decorated the streets of his city with a stencil of a rat. His street name originates from the French children's cartoon "Blek Le Roc" and he chose the word "Rat" because it is an anagram of "art" and also because rats are "​​the only free animals in cities." Today, Le Rat uses stencils, spray paint, and photos to create politically controversial murals about subjects like the military, religion, and socioeconomic status. His social critiques have inspired many other street artists, including Space Invader, Shepard Fairey and Banksy. 
Invader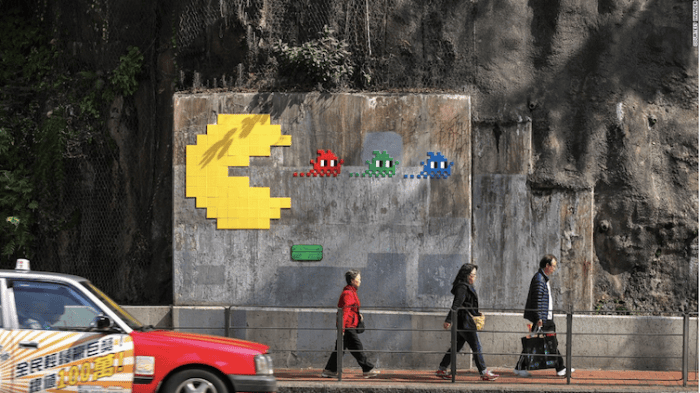 Urban artist Invader (Franck Slama) first began affixing mosaics of characters from the 1970s video game "Space Invaders" in Paris in 1998. His "invasions" are now in 31 cities in France, as well as 22 other cities in Europe. You can also see one of his mosaics on the famous Hollywood sign in California (watch him getting caught putting it on the sign here). Invader features in Banksy's famous documentary Exit Through the Gift Shop.
More famous French street artists
Other pioneers of 1980s French street art include Jérôme Mesnager (featured above) and Speedy Graphito. In the 1990s, Monsieur Chat became famous. You can see one of his oeuvres on the High Line in New York City at 28th Street. More recently, France has produced "its own Banksy," artist C215, whose works can be found in cities around the world, including New York and LA.  
More French street artists you might want to follow on Instagram:
Paris Street Art Map