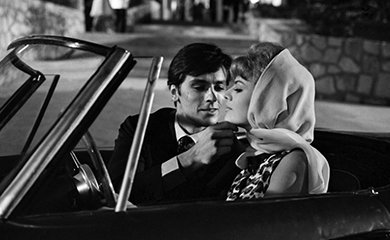 "THE FRENCH HAD A NAME FOR IT 5: Exploring French Film Noir, 1946-1969" Presented by Midcentury Productions and the American Cinematheque.
The French noir series returns for its fifth year, opening with Henri-Georges Clouzot's classic police procedural QUAI DES ORFÈVRES, along with Costa-Gavras' THE SLEEPING CAR MURDERS. 
Friday showcases the great Jean Gabin with two films from his 1950s career revival, as Simenon's iconic detective in MAIGRET AND THE ST. FIACRE CASE and a taciturn ex-sea captain unraveling a missing persons case in PORT DU DESIR. 
It would hardly be a complete French noir program without Alain Delon, who stars as a loose-cannon criminal in all three films on Saturday night: PURPLE NOON, MELODIE EN SOUS-SOL and THE SICILIAN CLAN. 
Closing out the series is a tribute to French film's most ferocious monstre sacré, Michel Simon, as men variably entwined in murder: PANIQUE and NON COUPABLE. 
After seeing this year's crop of French noir, you will definitely say vive la différence!
All films in French with English subtitles unless stated otherwise.  Series curated by Gwen Deglise and Don Malcolm. Program notes by Don Malcolm.
7:30PM – $12 – AERO THEATRE, 1328 Montana Avenue, Santa Monica, CA 90403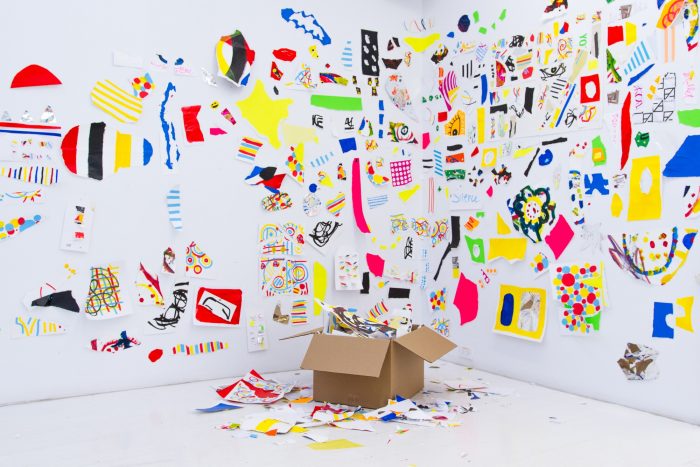 Ideal Exhibition at ICA LA is an interactive art-making project, conceived by artist and children's book author Hervé Tullet. Through a series of videos and workshops, Tullet activates the museum as a site for hands-on artistic collaboration and audience engagement. 
In ICA LA's Project Room, visitors will find a selection of Tullet's artworks; art supplies and display materials; tables and seating; and a suite of short instructional videos produced by Tullet and his collaborators at Tobo Studios. Through these videos (which will also be available as a free web series on ICA LA's website), Tullet shares his creative process with viewers and invites them to make their own artwork using paper, paint, colored markers, tape, and other lively materials. 
By performing Tullet's process, audiences can tap into their creative energy and become artists of the exhibition. Instructors and art handlers will be available to assist and install the work, which will be displayed collectively and rotated regularly throughout the exhibition period. The result is an evolving menagerie of colors, shapes, and artistic gestures. Over the course of ICA LA's Summer School, and at any time online, visitors can explore the wells of their imagination and create an Ideal Exhibition with artist Hervé Tullet.
FREE – INSTITUTE OF CONTEMPORARY ART –
1717 E. 7th Street
,
LA, CA 90021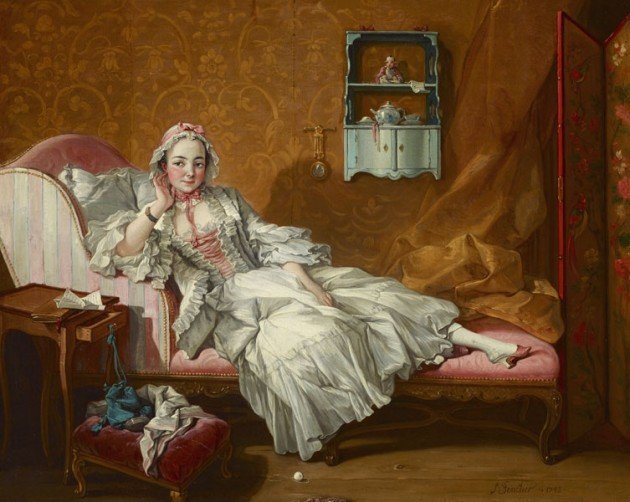 Three superb 18th-century French genre paintings from The Frick Collection in New York, part of an ongoing reciprocal exchange program, are on view until September 9th at the Norton Simon museum. 
These artfully constructed visions of contemporary life and fashion, as depicted by François Boucher, Jean-Baptiste Siméon Chardin and Jean-Baptiste Greuze, provide viewers with an intimate look at the lives of middle-class French women of the 1740s and 1750s. 
The paintings are installed in the Museum's 18th-century Rococo gallery among its own works by Chardin and Boucher, as well as paintings by Jean-Antoine Watteau and Jean-Honoré Fragonard.
$15 – NORTON SIMON MUSEUM,
411 West Colorado Boulevard, Pasadena, California 91105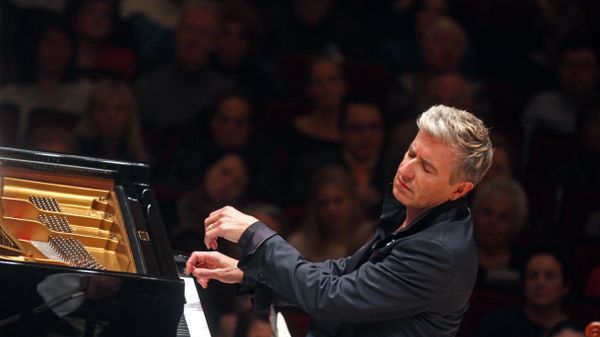 The LA Phil presents the French composer Ravel interpreted by Jean-Yves Thibaudet on September 10 at the Hollywood Bowl. Thibaudet will perform one of the most played and studied compositions of Ravel, his jazzy Piano Concerto, played for the first time in the iconic Pleyel Concert Hall in Paris in 1932. Regarding firsts, Korean conductor Eun Sun Kim – already a regular in Europe's opera houses – will make her debut at the Bowl, conducting Rachmaninoff's poignant final masterpiece.
8PM – $8 to $123 – HOLLYWOOD BOWL –
2301 N Highland Ave, Los Angeles, CA 90068
Théâtre Raymond Kabbaz, kicks off its' 20th season with "Plaidoiries" (Pleadings), a solo performance with famous French actor and director, Richard Berry. 
The play resurrects the closing arguments of five attorneys in cases that had significant public impact in France:
In 1972, Gisèle Halimi paved the way for the legalization of abortion with an astonishing speech in defense of a teenage girl and her relatives, on trial for abortion after a rape; 

In 1976, Paul Lombard made the case for the innocence of Christian Ranucci who was one of the last men to be sentenced to death and guillotined in France for the murder of an 8-year-old girl;

In 1998, Maurice Papon is convicted of crimes against humanity for his part in the deportation of Jews under the Vichy government between 1942 and 1944;

In 2009, Véronique Courjault confessed killing three of her babies because she suffered from a psychological condition known as "pregnancy denial";

In 2015, Jean-Pierre Mignard pleaded on behalf of the family of two boys, Zyed Benna and Bouna Traoré, who were electrocuted after taking refuge in a power station as they tried to escape police chasing them. Their deaths sparked violent riots and clashes between youths and police across France.
The production is based on a book by Matthieu Aron, a longtime court reporter who is now deputy editor in chief at the news magazine L'Observateur. 
In French with English subtitles. 
7:30-9:30PM (for both dates) – THEATRE RAYMOND KABBAZ-
10361 W Pico Blvd – LA, CA 90064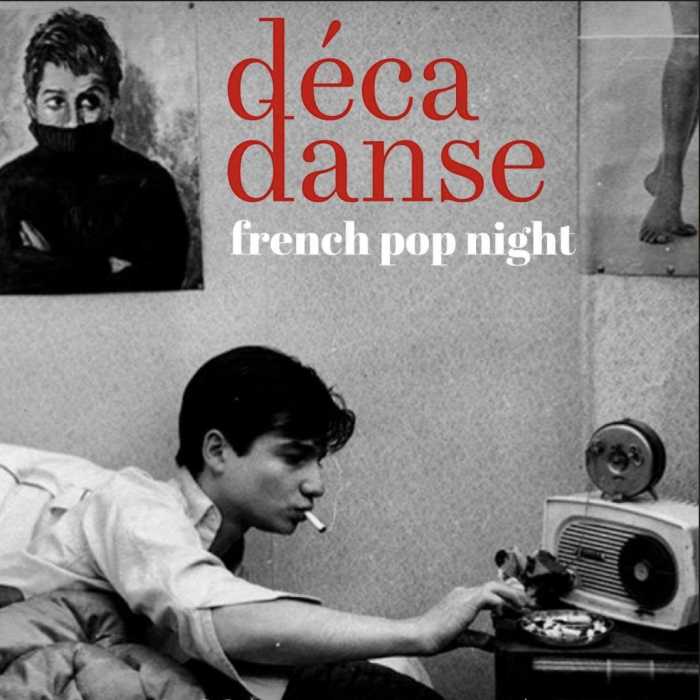 The monthly most French Pop DJ dance night is back!
If this is your first time with them, get ready to hear some Serge Gainsbourg, Jane Birkin, Jacques Dutronc, Francoise Hardy, France Gall, and many more.  
Party like the French in the heart to Chinatown 
FREE – THE GRAND STAR –
12
943 Sun Mun Way, Los Angeles, CA 90012
Adieu Monsieur Haffmann, is an original and powerful play written and directed by Jean-Philippe Daguerre. This intimate play, set during World War 2, is built like a feature film, incorporating fun and suspenseful sequences, and mixing humor and gravity. Daguerre recreates the hidden torments of 1942 Paris with emotion and allure. It is a masterful dive into the harsh reality of occupied France's darkest hours.
SYNOPSIS: Paris, 1942. All Jewish people are now obligated to wear a yellow star by law. Jeweler Joseph Haffmann offers his employee Pierre Vigneau to let him run the shop, on the condition that he hides his "former" boss until safer times. Will Pierre take the risk of secretly housing him in the shop? If so, will there be any conditions?
The play is "a huge success" critically and unanimously acclaimed. 6 Molière Awards nominations in 2018, including 4 Molière Awards
In French with English subtitles 
7:30-9:30PM – THEATRE RAYMOND KABBAZ-
10361 W Pico Blvd – LA, CA 90064