Understanding a culture is key to learning a language, which is why we are thrilled to offer you a couple Coucou outings this month where you'll get a taste of French culture without having to fly 8 hours away! Our first event is a wine tasting – bien sûr! – and the second one is a perfume workshop, so make sure to check the details below!
You'll also find our recommendations for the best French events happening around town in May: music, cheese and movies also feature on this month's list!
And as usual, make sure to follow us on Facebook and Instagram to stay up-to-date with all Coucou Minneapolis news and events.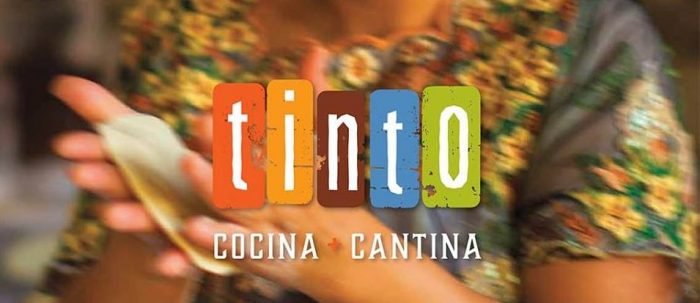 Special event for francophone families living in the Twin Cities. Join Minnesota Accueil at Tinto Kitchen for an "apéritif dînatoire" (drinks and hors d'oeuvres) inspired both by Central American and French cuisine, and prepared by chef Thierry
Please RSVP here: MN Accueil Apéro RSVP
Free – 6-10pm –

Tinto Kitchen
,
4959 Penn Avenue South, Minneapolis, MN 55419
WINE: May 4 – La vie en rosé with Coucou Minneapolis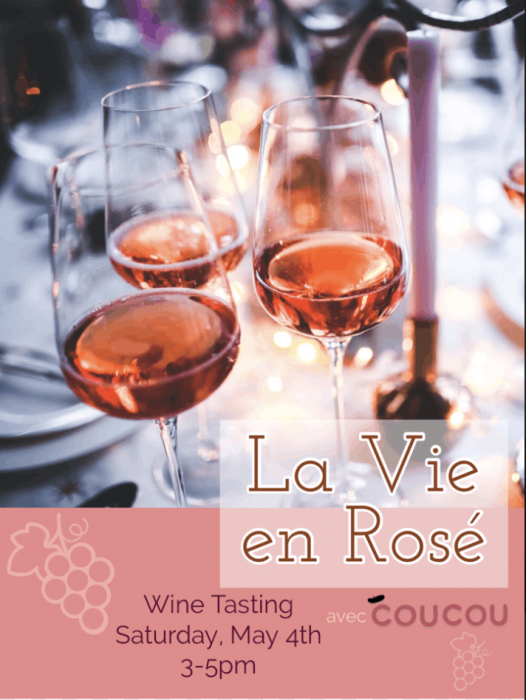 Summer is on the way, let's sip rosé! Take your taste buds on a trip to France and join Coucou for a fun and casual wine tasting event! Our hosts for the event, oenophiles and Coucou's friends – Julien and Daniel Le Guen-Schmidt – will take us on a stroll through the French rosé region with three different wines. From the various hues and origins of the beautifully pink and resfreshing wine, to the best food to pair it with, Julien and Dan will teach you everything you need to know to impress your friends at your next BBQ party.
Meet Coucou's team and students, and see "la vie en rosé" on (we hope!) a beautiful and sunny May afternoon. All levels of French are welcome as the event will be in French and English. Snacks will also be served. This event is 21+
Free – 3-5pm –
5544 34th ave S
,
Minneapolis, MN 55417
PERFUME: May 9 – Atelier Parfum at Coucou Minneapolis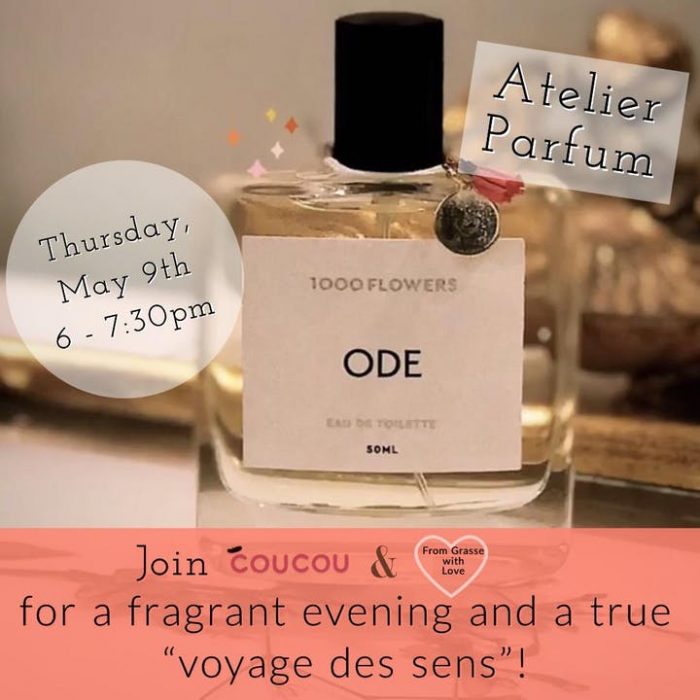 Stop and smell the roses! Coucou and "From Grasse with Love" are inviting you to a special "atelier parfum" that will take you to Grasse (France), the world's perfume capital. During this workshop, you will learn about the famous French "parfumeries" and the different categories of perfume, you will find out which scent is best for which occasion and learn some French bien sûr!
Your nose will also be put to work by smelling various fragrances. With Mother's Day and Father's Day right around the corner, you won't want to miss this event!
All levels of French are welcome as the event will be in French and English. Bubbles and light snacks will be served.
Free – 6 – 7 :30pm –
Coucou Minneapolis, 1229 2
nd
st NE, Minneapolis, MN 55413
FOOD: May 16 – French Cheese With Maxime Bozec Of Fromagerie Beillevaire at France 44 Cheese Shop
If you have ever dreamed of tasting some of the best French cheese being made today, this is your chance. And perhaps you even dreamed of learning about them from an actual Frenchman. Well, then stop everything and sign up to learn all about the magical cheeses from affineur Pascal Beillevaire, led by Maxime Bozec. Cheeses will be joined by a few choice wine pairings to further highlight the uniqueness and character of these special cheeses.
Participants must be 21 years old.
$50 – 6:30-8 pm –
France 44 Wines & Spirits, 4351 France Ave S, Minneapolis, MN 55410
MUSIC: May 21 – Lolo Zouaï at 7th st Entry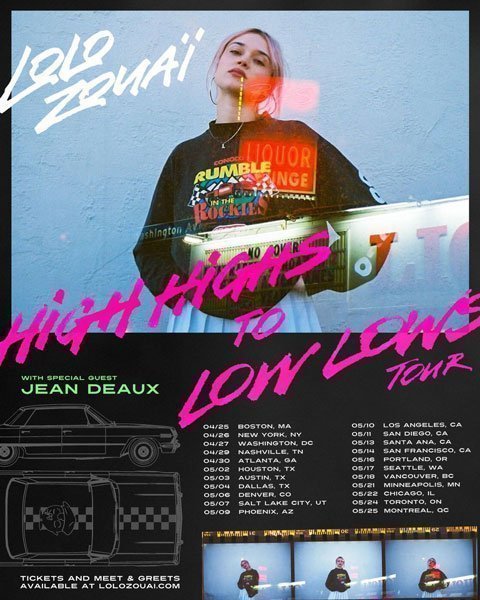 Singer, songwriter, producer Lolo Zouaï (zoo-eye) is the future sound of Pop. The 23-year-old French-Algerian-American artist embodies the character of the cities she has called home: Parisian attitude, Algerian Raï, Bay Area spirit and New York City hustle. This cultural blend coupled with a soft yet powerful voice has helped fuel Zouaï's rise since her breakout at the end of 2017, capturing the ears and hearts of the music community around the world.

$15 – 7pm – First Avenue & 7th St Entry, 701 First Avenue North, Minneapolis, MN 55403
FILM: Starting May 24 – My Son at Landmark Edina Cinema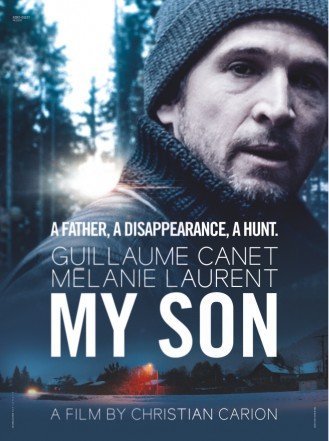 In the middle of the night, a 7-year-old boy goes missing. The crisis draws the child's father Julien (Guillaume Canet) back to a small, snowy town in eastern France to try to help. Julien has been essentially absent from his son's life since splitting with his wife (Mélanie Laurent), who now has a new boyfriend, a few years earlier. Fueled by his sense of guilt about neglecting his family, Julien suspects everyone and is determined to do whatever it takes to find his son, going to extremes in his desperation when the police make no progress. Canet, himself an award-winning director (TELL NO ONE), delivers a powder keg performance as the frantic father, and Laurent (INGLOURIOUS BASTERDS) is heartbreaking as his distraught ex-wife. Director Christian Carion, whose war drama JOYEUX NOËL (MERRY CHRISTMAS) was Academy Award nominated, kept Canet almost completely in the dark about the movie's plot, so he would experience the shocks and challenges in real time, just like his character. The result is a fast-paced, dynamic thriller with an added layer of authentic tension.