July is an important month when many francophones come together to celebrate their identity. French and Belgian people, like Americans, are proud of their fêtes nationales which take place on the 14th in France and the 21st in Belgium. We're excited to throw our annual Bastille Day Party this month and also looking forward to French Restaurant Week and the end of France Rocks Summerfest! See what other French events are happening around NYC below!
When Lou Doillon released her debut album in 2012, she was already well known in France. Her mother is Jane Birkin, Serge Gainsbourg's famous partner. Doillon has worked as both a model and actress. Soliloquy is her third album, the follow-up to her internationally successful Places and Lay Low.
$25 – 8pm (doors open at 7pm) – (Le) Poisson Rouge, 158 Bleecker Street New York, NY 10012
Architect Yona Friedman and the CNEAI are presenting work for the first time in New York with their exposition "Museum Without Building." This collaborative project will be displayed in several institutions: Le Petit Versailles, the Center for Architecture-AIA, the Emily Harvey Foundation and the Elizabeth Foundation for the Arts. Numerous French artists are participating: Laetitia Badaut-Haussmann, Théodora Barat, Flora Moscovici, Dépense Défensive, Bent Duo, Haley Hugues, and Nicholas Vargelis.
FIAF is honoring the great French composer Michel Legrand, who died in January this year, with a special CinéSalon series devoted to his life and work. "Summer of Michel Legrand" brings together seven of his films from his best known work such as The Umbrellas of Cherbourg and The Young Girls of Rochefort to lesser known gems such as the enchanting fairy-tale musical Donkey Skin. FIAF will also screen Cleo from 5 to 7 by Agnès Varda—a fellow French icon who died this year—for which Legrand not only scored the film but appeared in a cameo. On July 30, the closing night of the series, there will be a karaoke night featuring a special French song list!!
55 E 59th St, New York, NY 10022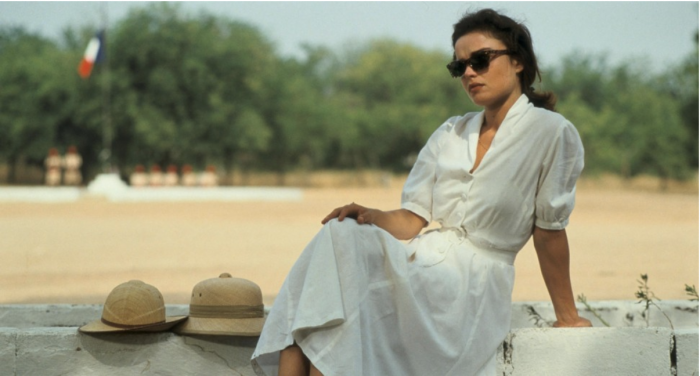 The 2019 Films on the Green lineup focuses on female directors in French and Francophone cinema through a selection of 13 movies. This 12th edition pays tribute to "Women Behind the Camera" in honor of Agnès Varda, feminist filmmaker and pioneer of the French New Wave, who passed away earlier this year. This month you can see Tomboy, Aya of Yop City, Sequins and Claire Denis's wonderful film Chocolat (the photo above is a still from the movie!). 
Free – 8:30pm – Transmitter Park, 2 Greenpoint Ave Brooklyn NY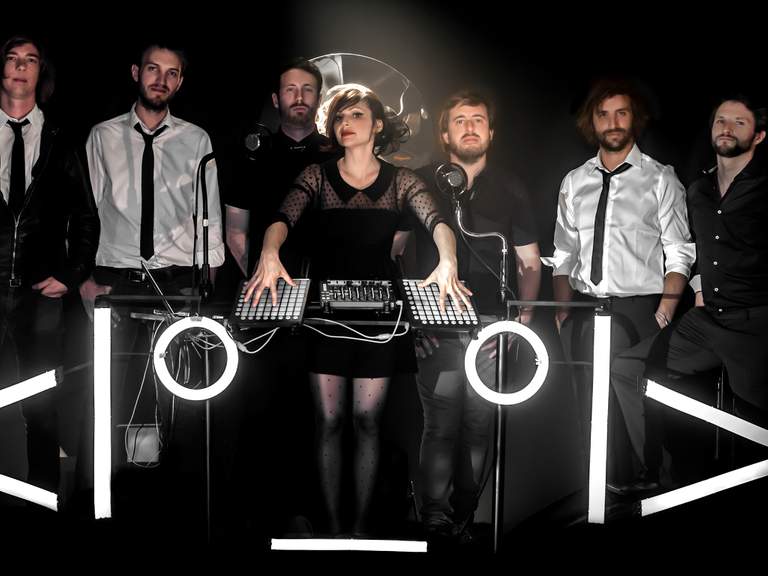 Caravan Palace is an "électro-swing" group from Paris who made their first full-length debut in 2008. The group draws inspiration from Django Reinhardt, Cab Calloway, Justice, Lionel Hampton, and Daft Punk. Their early single "Jolie Coquine" was an international success, reaching the top charts is France, Belgium, Switzerland, and the US. They released their latest single "Miracle" in 2019.
Since its creation in 2011, French Restaurant Week has been hosted by over 240 participating restaurants. This special week offers customers the ability to enjoy special prix-fixe menu options. Restaurants will offer special promotional prices of $17.89 (bar option), $25 (lunch option), $42 (dinner option) and $178.90 (dinner option for 2) in honor of the French Revolution.
The Cultural Services of the French Embassy is launching "Fly Away with Books," a four-day festival that aims help children discover the pleasures of reading by offering them unique and playful experiences. From July 11th to the 14th, renowned French illustrators and authors Lucie Brunellière, Marie-Laure Cruschi (aka Cruschiform ), Anouck Boisrobert, and Louis Rigaud will conduct fun and imaginative workshops in venues throughout New York City, from Inwood to Dumbo. Organized in partnership with the New York Public Library, Albertine Books, the Brooklyn Bridge Park Conservancy's Environmental Education Center and the French Institute Alliance Française (FIAF), the festival is entirely free and open to both French and English-speaking children from 4 to 10 years old.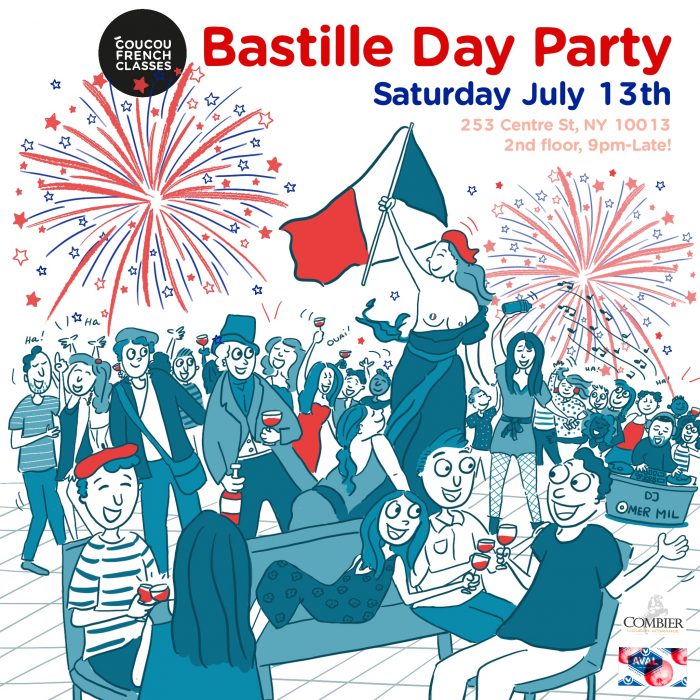 Get ready for our Bastille Day Party! Coucou will celebrate France's fête nationale with great musical performances by Coucou friend Jared Saltiel and a surprise guest. Then French DJ Omer Mil will make us dance all night! Bastille Day themed Cocktails by Combier Liqueur, delicious French Aval Cider and tasty bites from Caprices by Sophie.
Thanks to our beloved partners for participating to this event!
Saturday July 13th – 9pm till late
Food: Sunday, July 21 – Provencal Cooking at the Institute of Culinary Education
The Provence region is a gastronomic paradise where French techniques meet Mediterranean elements like garlic, basil, olives, lavender, and honey. Throughout this afternoon workshop, you'll learn essential techniques to make simple and aromatic dishes with rich depths of flavor. On the menu: brandade de morue, bouillabaisse, vegetable tian, and mousse au chocolat!
$125 – 10am to 2pm –
225 Liberty St, New York, NY 10281