Paris is a visual time-warp. With its long boulevards and stately monuments, gorgeous bistros and cafes, all seemingly unchanged for hundreds of years, the city remains one of the most sought after destinations in all the world. We'll explore, street by street, the charming maze of Europe's most intriguing cities.  
By Matthew d'Abate*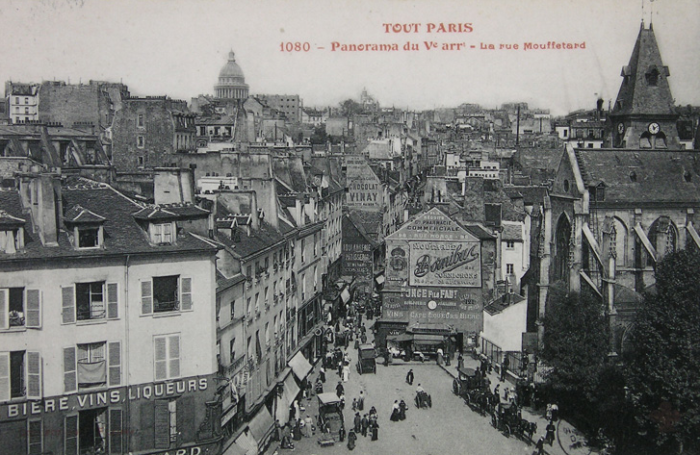 La Rue Mouffetard (Part 2)
Stand on the most northern ascension of the great and winding time-capsule that is La Rue Mouffetard and squint your eyes. Imagine the dusty, turn of the century pomp and squalor that thrived and mixed here in the edgy foreign quarters of early Paris' city limits– and nothing has changed in millennia.
There is the inevitable Monoprix – along with other modern amenities. Emblems of 'progress' are everywhere on the Rue Mouffetard these days; a new boutique shop appears, the monoculture corporations sneak in, and the casual Parisians raise eyebrows as they pass, muttering la ville est en déclin under their breath.
Fine bread is still available atop La Rue Mouffetard, baked daily, just at the Place de la Contrescarpe – a fountain-laded gem of a square, as are the crepes, served by hand from the hole-in- the-wall shops. Each side of the Place de la Contrescarpe is lined with café tables, flanked row after row by wicker chairs, lined neatly, awaiting the afternoon crowd. The servers, tall men in black slacks with matching vests, wait with dull looks, finishing their Gauloises, snubbing them out on their heels before approaching a table of tourists.
Two blocks north, just off Rue de Clovis, through the Place Contrescarpe, lies a remaining piece of the wall of Phillipe Augustus II. It stands at an imposing thirty feet at this highly visible junction, revealing some of France's history, right in the open air.
When you think of the structure of Paris – think of a snake slowly unfurling its long body, spiraling out each arrondissement, or neighborhood, in a circular fashion. This is how each of the 'new' neighborhoods gained recognition, to grow year by year.
Before leaving to battle the Anglo-Norman House of Plantagenet, King Phillipe II wanted to fortify his great city surrounding it with his wall (complete in 1215 AD), fortifying Paris from the brutal hands of the unwashed masses.
Lusting for new money, many merchants, street-sellers, teamsters and vagabonds gathered just outside the walls, setting up ramshackle bazaars of their own, exactly where the Place de la Contrescarpe and the Rue Mouffetard exist today.
This patch of ne'er-do- wells also attracted several artists of ill-repute over the years, chief amongst them was poet and part-time underworld associate Francois Villon. The raffish Villon used his poetic verses to jest at royalty and went as far as to use the real names of nobles, dignitaries and police officers in his 15 th century works. Soon, more and more writers were attracted to the area, and found cold drink in a legendary tavern named Maison de la Pomme de Pin. The wine was cheap and untaxed in this district and flowed plentifully.
This was the stomping ground of poets Pierre de Ronsard and Joachim du Bellay, who created the La Pleiade – an underground group of poets who argued that poems written in French were just as worthy for consideration as those written in Latin. Francois Rabelais – a writer who many claim to have invented the modern novel as we know it – made frequent stops into la Maison de la Pomme de Pin.
La Rue Mouffetard has appeared in modern work of literatures as well. Honoré de Balzac described his dutiful hero Jean Valjean making lonely pilgrimages to the quiet, cobblestone steps of the medieval Saint Médard Church (see Part 1) while dodging the relentless pursuit of Javert in Les Miserables.
In George Orwell's Down and Out in Paris and London, the lowly protagonist describes the ragged scene of La Rue Mouffetard as "…a ravine of tall, leprous houses, lurching toward one another…as though they had all been frozen in the act of collapse. At the foot of the hotels were tiny bistros, where you could be drunk for the equivalent of a shilling."
Perhaps the most notable scene on the Rue Mouffetard is between Jake Barnes and Lady Brett Ashely hurtling in a taxi together in Ernest Hemingway's debut raucous novel, The Sun Also Rises. Jake Barnes, wounded in more ways than one from the Great War, is again thwarted from consummating his fiendish attraction for the intoxicating Lady Brett Ashley, who withdraws from him, exclaiming: "I just can't stand it" – as they ride the rest of the way in silence.
A writer should use the world around them like an artist uses colors from a palette, and Ernest Hemingway knew all too well La Rue Mouffetard. His first two- bedroom cold-water flat was on 74 Rue du Cardinal Lemoine, just around the bend from the square atop the Mouffetard. A plaque still bears the Nobel Prize authors name above the door – though when Hemingway lived here he was a part-time newspaper man with a baby boy on the way – so poor that "[they] couldn't afford a dog or even a cat back then."
Just two doors down at 71 Rue du Cardinal Lemoine, another man of French letters, Valery Larbaud, lived at this address from 1919 to 1937. He most notably lent out his flat to an Irish gentleman in need of quick lodgings for him and his family, as the commission from his latest books were held up in obscenity trials. The book was Ulysses and the writer was none other than James Joyce.
To walk through any street in Paris is to walk arm in arm with history itself.
Join us as continue our journey next week, here, with our series – Paris: Street by Street.
* Matthew D'Abate is an independent director, writer, and producer of short films, documentaries, and music videos. He is the Founder of LITERATE SUNDAY, an online writers/readers group dedicated to helping emerging writers from all over the world. He is also the host and producer of HOW WE LIVE NOW, a podcast dedicated to arts, culture, and travel along side international best-selling author Douglas Kennedy.