Paris is a visual time-warp. With its long boulevards and stately monuments, gorgeous bistros and cafes, all seemingly unchanged for hundreds of years, the city remains one of the most sought after destinations in all the world. We'll explore, street by street, the charming maze of Europe's most intriguing cities.  
BY MATTHEW D'ABATE*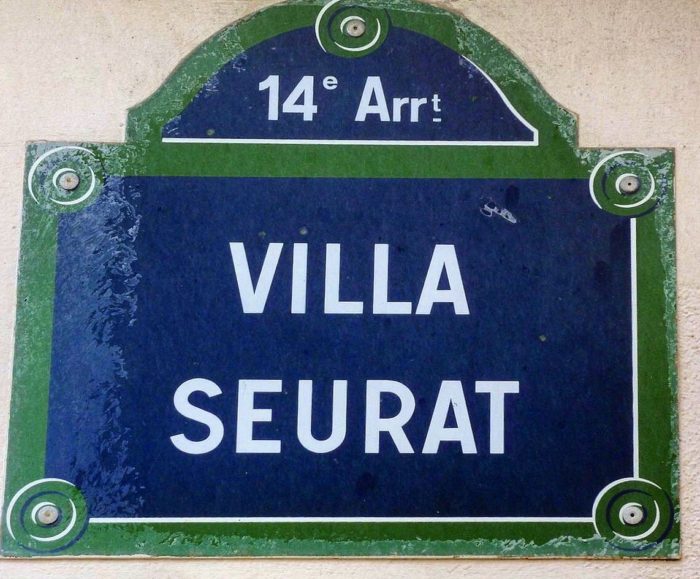 La Villa Seurat
Unfurl a map of the city of Paris on a table in a well-lighted room. Take your pointer finger, raise it, and place it directly in the center of the circular city. If you follow the numbered arrondissements clock-wise, you will eventually come to the most southern of neighborhoods within the Boulevard Péripherique – the 14th.
Admittedly – no tour guide will divert curious travelers away from the architectural marvels of Notre Dame de Paris or Le Louvre (and as well they shouldn't). But here at Paris: Street by Street, we aim for the deeper dive. The 14th arrondissement is the location of the largest ossuary in the world. What's an ossuary, you ask? An ossuary is large chest, or room, or say…hundreds of underground passages beneath the city of Paris holding over six million skeletal human remains. Public visits to the Catacombs began as early as 1814 – and have since been the site of private parties, walking tours, secret passages for the French Resistance and a Nazi bunker during World War II in the 6th arrondissement.
Do yourself a favor and walk the underground Catacombs – and it will lead you closer to another Parisian street of note and the subject of this week's Paris: Street by Street: La Villa Seurat.
Unearth yourself from the Catacombs and walk east across Avenue Rene Coty to the charmingly named rue de la Tombe Issoire. Legend has it that Issoire was a giant who'd rob passengers on their way to the city of Orleans – rue de la Tombe Issoire being one of the ancient access road to Old Paris – and Issoire's body is supposedly buried underneath the road itself after his decapitation (the head was simply too heavy) by William the Third. Continue south five streets and you will find la Villa Seurat.
This small, dead-end street will not be mentioned on the hop-on/hop- off bus tours that snake their way through the Parisian streets. But the future of post-modern literature was born on la Villa Seurat.
The artist in question was an American who practically invented the personal memoir – Brooklyn's own: Henry Miller. Because of his raucous descriptions of sexual activity and rampant hedonism, his seminal novel Tropic of Cancer, published in Paris by Obelisk Press in 1934, was banned in several countries as obscene. It took Canada and the United States until 1964 to finally legally publish the book.
Miller moved to Paris, famously penniless, at the age of 40, to sleep on a fellow writer's couch at 18 Villa Seurat in 1931. The first paragraph of Tropic of Cancer sets the nihilistic tone of the novel: "I am living at the Villa Borghese. There is not a crumb of dirt anywhere, nor a chair misplaced. We are all alone here and we are dead. Last night Boris discovered that he was lousy. I had to shave his armpits and even then, the itching did not stop. How can one get lousy in a beautiful place like this? But no matter. We might never have known each other so intimately, Boris and I, had it not been for the lice. Boris has just given me a summary of his views. He is a weather prophet. The weather will continue bad, he says. There will be more calamities, more death, more despair. Not the slightest indication of a change anywhere. The cancer of time is eating us away. Our heroes have killed themselves, or are killing themselves. The hero, then, is not Time, but Timelessness. We must get in step, a lock step, towards the prison of death. There is no escape. The weather will not change."
You'll notice he calls his home the Villa Borghese. This was a nickname he invented for the Villa Seurat. Miller actually lived at 18 Villa Seurat twice – the first time when the impoverished author was writing Tropic of Cancer, and then later two floors up in 1934 to 1939 (now enjoying a bit of underground fame – and a much better view). Another famed couch-surfer who graced 18 Villa Seurat: Salvador Dali. Miller's lover and fellow progenitor of the memoir, Anais Nin, shared many a louche night at the Villa Seurat.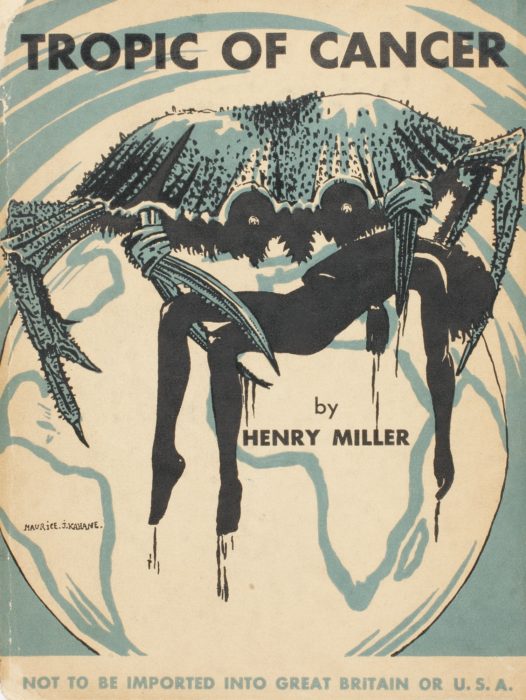 There are some intellectual morsels for the architecturally motivated on La Villa Seurat – most of the buildings were designed by famed architects Andre Lurcat and the brothers Gustave and Auguste Perret, and most of the homes and studios are remarkably different, stylistically, from each other (a theme more similar to New York City than the homogeneous facades of the Parisian streets).
La Villa Seurat is named after the post-impressionist painter Georges Seurat. The painter achieved world-wide notoriety for his works employing pointillism – specifically his A Sunday Afternoon on the Island of Le Grande Jatte, found in the permanent collection at Metropolitan Museum of Art in Manhattan. He unfortunately only lived to the premature age of 31, dying of pneumonia, in 1891.
Walking down this subtle street – one cannot escape the sensation that this place was built with the artistic soul in mind. I'll leave you a fitting quote from Henry Miller – artistically born here at la Villa Seurat.
"To sing you must first open your mouth. You must have a pair of lungs, and a little knowledge of music. It is not necessary to have an accordion, or a guitar. The essential thing is to want to sing. This (book) then is a song. I am singing…"
STAY TUNED FOR ANOTHER edition of Paris: Street by Street!
* Matthew D'Abate is an independent director, writer, and producer of short films, documentaries, and music videos. He is the Founder of LITERATE SUNDAY, an online writers/readers group dedicated to helping emerging writers from all over the world. He is also the host and producer of HOW WE LIVE NOW, a podcast dedicated to arts, culture, and travel along side international best-selling author Douglas Kennedy.