Paris is a visual time-warp. With its long boulevards and stately monuments, gorgeous bistros and cafes, all seemingly unchanged for hundreds of years, the city remains one of the most sought after destinations in all the world. We'll explore, street by street, the charming maze of Europe's most intriguing cities.  
by Matthew D'Abate*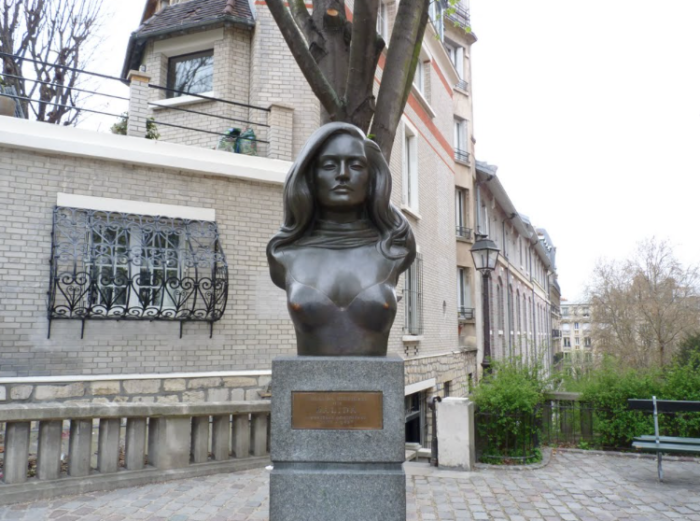 La Place Dalida
It's not every day you get to lurk through the streets of Paris in search of the bronzed bust of a modern-day goddess. Then again, it's not every day you find yourself in Montmartre, one of the most gorgeous and historically enshrined neighborhoods of the City of Light.     
The goddess in question: Yolanda Cristina Gigilotti – an Egyptian born woman of Italian descent who charmed the world with her music, singing in French, Italian, Arabic, and Spanish. After her untimely death in 1987, the city of Paris commemorated her life and music with a life-size statue in a quiet intersection of Montmartre, close to where she lived, and named the square in her honor – La Place Dalida – established December 5th, 1997.   
The square lays quietly off the beaten tourist path at the intersection of two lushly curved cobblestone streets, La Rue Girardon (going south to north) and La Rue L'Abruvoir (going west to east). Flanked by beautiful trees, the bronze statue stares from a pair of deep set seductive eyes under the flowing locks of her hair (with a wry grin on her lips, as if pleased at the sight of her fans gathering in the square). Carved into the stone below her is a single name – the name she was known by her beloved fans: DALIDA.
For young Yolanda, the path to stardom wasn't so simple, as her parents had positioned the teenager to become a secretary. However, she secretly entered herself into a beauty pageant, and three years later, won the Miss Cairo competition in 1951. The world of cinema was her dream, but only found a series of closed doors. Instead, she took up singing lessons. It was this fortuitous decision, along with marrying a Frenchman named Lucien Morisse (granting her French citizenship), that changed the course of her life. She moved to Paris and landed her first international hit by the time she was 19 years old. Her career was filled with drama, spent mostly in the spotlight of paparazzi, and traveling the world – experiencing the dazzling life of a true chanteuse.
Now you must earn your way up to Montmartre. A direct approach upon the steepest butte in the city of Paris will certainly punish the ankles. Here's an insiders path to find La Place Dalida without incurring any expensive podiatrist charges.
Take the Metro 2 (the blue line) and walk up the Art Deco-styled Blanche subway platform. Head true north across Boulevard de Clichy to the Rue Lepic. If the blood sugar is low, never fear, this fine street is packed with boucheries and boulangeries to shop for your 'tradi' baguettes and fresh meats as you make your way into Montmartre.
Continue straight and the street will come to an end – but veer a hard left, and walk along the curving incline of Rue Lepic. After several slow romantic turns, you will arrive at the corner of rue Girardon and rue Lepic (by the wonderfully leafy patio of the Le Moulin de la Galette – a fantastic bistro). Take another left on rue Girardon and after ten short minutes – you will find the glorious square where Dalida awaits. Take a moment to let this heartbreakingly scenic neighborhood wash over you.
It goes without saying that when people think of the bohemian side of Paris, the 18th arrondissement comes to mind – otherwise known as Montmartre – tucked atop the tallest hill within city limits. The draw of table-dancing decadence, plume-dressed women blowing kisses and men in top hats strolling with belle epoque flair under the windmill of the Moulin Rouge are engrained in the imagination of dreamy travelers.
However, these antiquated visions from a by-gone era are a vast contrast to the grime and grit of modern-day Pigalle. The underground clubs are still here, the sex shop doors, cast red under a neon-bulb glow, are open all night and seedy, alleyway clochards whisper offers of illicit substances to the curious (and frankly naïve) tourists foolish enough to stop and listen.
Montmartre around 1820 was a small village of vineyards and windmills, remote enough from the bustle of the inner ville and eventually annexed forty years later into city proper. The relatively inexpensive (and scenically gorgeous) environs became a beacon for painters, writers and sculptors as early as the 1880's, hosting more artists than this essay could possibly contain.
La Place Dalida is a contemplative quarter in a city that venerates artists on par with scientists, politicians, and scholars – one of the few remaining metropolises that continue to do so. The square itself is a meditative secret – away from the frenzied crowds, offering one of the most panoramic and quiet corners Paris can offer.
Sadly, Dalida took her own life, at the age of 54, overdosing on barbiturates, leaving a note that read: "…life is unbearable for me…forgive me". You can honor her legacy at her regal gravesite, just a fifteen-minute stroll to the Cimetière Montmartre nearby. But La Place Dalida remains an impressive ode to her international glory, her stunning beauty, and a voice that had moved millions.  
Stay tuned for another journey into the heart of the city in the next edition of Paris:
Street by Street
.
* Matthew D'Abate is an independent director, writer, and producer of short films, documentaries, and music videos. He is the Founder of LITERATE SUNDAY, an online writers/readers group dedicated to helping emerging writers from all over the world. He is also the host and producer of HOW WE LIVE NOW, a podcast dedicated to arts, culture, and travel along side international best-selling author Douglas Kennedy.