In many francophone countries, families start planning their Christmas Eve dinner, or le réveillon de Noël, weeks, if not months, in advance. The dinner is one of the most important parts of Christmas and French holiday tradition. Before the 18th century, le réveillon de Noël used to be divided into two meals: people ate a light supper before midnight Christmas Mass, and then indulged in a "fat" supper at 3am that would last for hours. This is no longer the case in France, but Christmas Eve dinner does still last for hours–sometimes as many as six!
Le réveillon de Noël varies by region and country. In Armagnac la daube de boeuf is a Christmas Eve staple; in Quebec Christmas Eve wouldn't be complete without la Tourtière du Lac-Saint-Jean; and, in certain parts of Belgium, la bouquette is traditionally served for dessert. We polled our teachers and came up with what we think would be an ideal French Christmas dinner. Don't feel obliged to cook all of these recipes this year–making the traditional Provencal 13 desserts is not obligatory!! 
By Sophia Millman
Apéro (Appetizer) 

According to this article in Le Parisien, l'apéritif (or l'apéro, the common, shortened version of the word) has become more and more popular in France. A recent gastronomic study found that almost 90 percent of the French regularly organize an apéro with their friends. And many prefer "l'apéritif dînatoire"–an informal meal where you chat, drink, and eat little appetizers–over a "dîner classique." L'apéro de Noël is the perfect way to begin your festive holiday dinner; before sitting down to a big deal, bring your family members together in the living room and serve them little bites. The French have a variety of words for these, including bouchées, canapés, or petits fours (which literally means "little oven," a name as cute as this tiny appetizer!). 
If you're comfortable reading a recipe in French or would like to look at some photos of scrumptious

bouchées appéritives,

you can browse

this article

for ideas. 

This Food & Wine article

about French hors d'oeuvres also has some great recipes. 

And at the bottom of

the article

in

Le Parisien

above, there are some delicious sounding suggestions including mushroom + chorizo + pesto rosso + parsley. The takeaway is: combine a little

smoked fish

or meat with a nice creamy sauce on a slice of baguette and you're bound to please you dinner guests!
Entrée (First Course)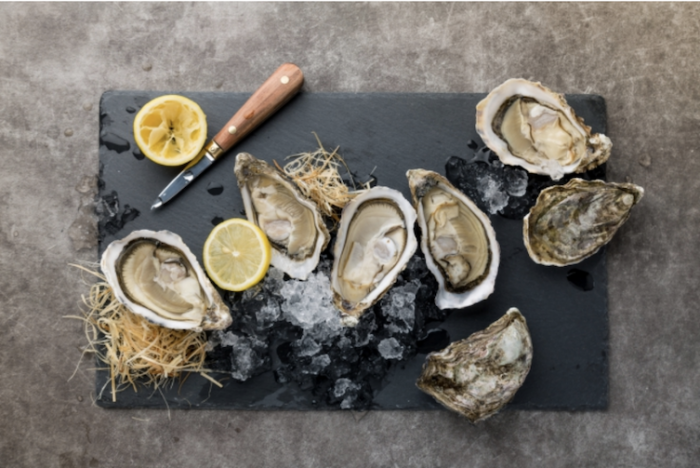 Quick lesson: while in the US the word entree refers to the main dish, in France it means the opening part of the meal. "Entrée" in French actually means appetizer! What constitutes une entrée de Noël? The short answer is shellfish! 
While this may seem odd to Americans, in France, Italy, and Spain you will find seafood on most tables at Christmas. The author of this French article about the history of Christmas Eve dinner writes that les fruits de mer (crab, oysters, shrimp, lobster) were traditionally considered to be les aliments maigres. That is, before midnight on Christmas Eve, the French ate them as part of their light (maigre) meal. After midnight, they would eat a second, heavy (gras) meal that consisted of red meats and fattier foods. Not all the French eat shellfish over Christmas, however. Some prefer smoked salmon, and other families stick to something much more healthy: foie gras of course! 
If you're feeling fancy and want to eat oysters, serve them with this classic French

mignonette

. 

More of a crab cake person? Try out this slightly-complicated, but definitely-worth-it

galette de crabe

recipe in English

!

We haven't tested the recipe ourselves, but this

vegan foie gras

is supposed to be delicious! 
Plat Principal (Main Course)

The history of Christmas fowl in France is a complicated one. In 1570, French King Charles IX impressed his wedding guests by serving them something they'd never eaten before: turkey! Turkey quickly dethroned goose, and by the 18th century French food snobs had begun complaining that the dish was too common. Capon was also extremely popular, but, after WWII, French media started covering how inhumane it was to make capon. Today, however, the dish is still somewhat popular in France, and you can also buy goose, pheasant and quail more easily than you can in the US. You might never have tasted pintade (guineafowl), biche (deer) or sanglier (boar), but these meats are commonly found in France at Christmas as well. 
Whether you're making chicken, turkey or even quail, if you want your dish to have a classic French twist, serve it with

farce aux marrons–

chestnut stuffing!

 

Looking for a French side dish? Make

gratin dauphinois

or

haricots verts

. 

Up for a challenge? Watch a French person prepare

carottes glacées

and then make the recipe yourself! 
Dessert

La bûche de Noël, the most popular French Christmas dessert, was first baked in the 19th century. Yet its origins trace back to le cacho fiò, an ancient ceremony that celebrated the winter solstice and took place throughout Provence. Cacho fiò meant "to set on fire" and involved the burning of a yule log before the Christmas dinner. During the period when the bûche de Noël cake that we all know and love was perfected, French chocolatiers began making special boxes of chocolates around Christmastime. It's now common in France to give boxes of chocolates as Christmas gifts. There are so many wonderful French Christmas desserts that we had a hard time narrowing down which recipes to share, but you can find most of our favorites below. 
Boissons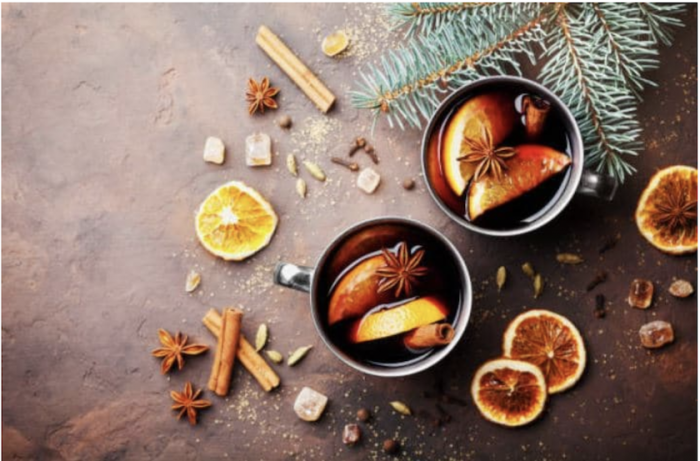 Champagne is the go-to Christmas beverage in France, but the French are also famous for their love of hot chocolate. We're not exaggerating: on its website the Château de Versailles has a whole article about why French royalty adored this beverage! The French didn't invent mulled wine, but we'd argue that you can't beat a French Christmas market's vin chaud. Voici la fameuse recette!
Bonus: N'oublie pas le fromage! (Don't forget the cheese!)

No French menu can ever really be complete without a cheese course. There are quite literally hundreds of French articles you can find online called things like "Comment composer votre plateau de fromages de Noël?" ("How to put together you French Christmas cheese plate"). Here are our tips:
In France, cheese is not an appetizer! We always serve it before dessert and we use a different knife for the cheese than the rest of the meal.

It's traditional to have an odd number of cheeses on your platter. Start with 3 if you don't have many guests, but go up to 7 if you have a lot!

Play with textures. Complement a soft brie with a firm comt

é

and a crumbly blue or creamy Roquefort. 

Want to be super chic? Try selecting a cheese from each of the

8 families

(but wait, 8 is an even number… we know, cheese rules are made to be broken!)

Feel like your cheese board is too heavy? Serve it with a salad dressed with a simple vinaigrette! You can also add nuts or jams to the board, although is a more British tradition. 

Be extra festive by adding a truffle brie. We're big fans of Murray's truffle

Brie de Meaux

!