By: Jenna Edwards
Photo Credit: Francois Crabalona
Ripert. Boulud. Jean-Georges. Bourdain. New Yorkers most commonly associate French food with the haute cuisine of Michelin-starred chefs in their white linen establishments meant for skyscraper expense accounts. Fancy meats flanked with fancy sides, fancy in name because of the exotic source. Or French-wannabe diners dunking steak in a cream-ladened sauce, building on the assumption that French food is too expensive or too heavy for everyday enjoyment.
Yet, find yourself at the table of a humble country family and you'll be served food the French actually eat: vegetables galore, a legume (chickpeas, white beans, and/or lentils), meat with a sauce, bread baked that day, and a leafy green salad. Maybe a dash of cream here and there to build texture, but nowhere near the main ingredient of the dish. Everything in simple form, with every inch of edible surface area presented, like the greens left on the carrots.
And this is where we remember that the most loved French food is based in thrift. Use every bit you can. Squeeze every drop of digestible nibble possible. Make it last. Keep it cheap. Legumes & vegetables that are easy to grow behind the house start in clean presentations, drizzled only with fresh olive oil & herbs to highlight the natural flavor and eventually find themselves thrown in a long, slow stew with leftover bits of meat and fat to make a cassoulet or bourguignon. Cheap onions heated for hours and hours, cooked beyond recognition and into some onion version of heaven we call French Onion Soup. Just onions, water, and wine, and cheese and bread.
Each time I travel to France, I return to New York with new inspiration for a household staple. Baguette and cheese. Mustard vinaigrette. Chickpea salad. Burrata and tomatoes. And I wonder, why I didn't think of this before? So satisfying, naturally nutritious, and intuitive.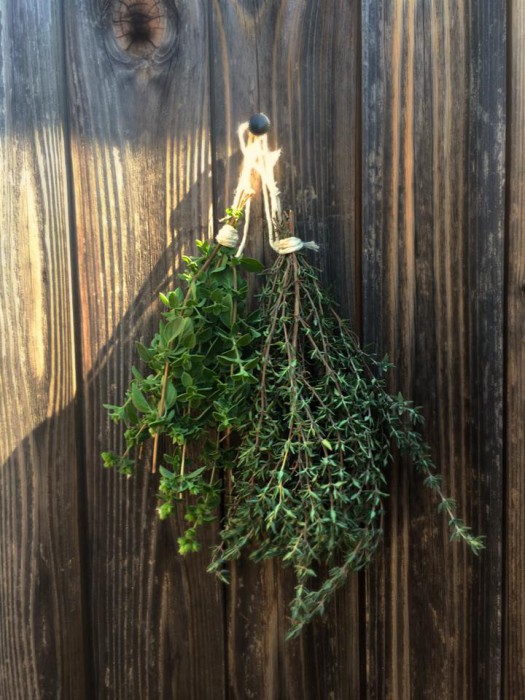 I don't know if the French find it romantic, but I swoon when I see a full table set with bowls and platters filled with colorful concoctions – and I can see every ingredient. I can smell the freshness of the herbs and the grassy olive oil. The main dish, the meat, is never fussy. Just cooked right and served with the obligatory sauce, to literally make use of every component of the meat. I grew up thinking pan sauces were to cover up bad meat; serving a sauce was a bad sign of quality or cook's competence. But really, sauce is a method for enhancing flavor and not letting anything go to waste. Get all the goodness one way or another.
As a foodie and a cooking coach, I've been delighted to explore the simple and the obvious approach to this side of French cuisine. I call it "grandma chic." You can serve gorgeous, simple, nutritious dishes and easily pass it off as something your grandma used to make. In that exploration, I created how-to videos on a few of my favorite French "discoveries" to bring American foodies back to the basics of really good food.
Check out the video links below for techniques and suggestions to start making your own French treasures. You'll notice that fresh ingredients and mustard are key to these stellar recipes. Dijon mustard provides a surprising creamy texture without the use of dairy. Its subtle tang boosts the flavor experience.
*Pour over lettuce, potatoes & red onion, bean salads, rice salads
*vegan & safe to leave out at picnic or cookouts
How to Cook with Dried Chickpeas
*Serve fresh chickpeas with chopped herbs, thinly sliced red onion, & mustard vinaigrette
How to Cook with Dried Beans: https://youtu.be/cpL8Xhabc5w
*a thick chickpea crepe native to Nice, gluten-free & vegan
*can easily be vegan, definitely vegetarian
For more sources of recipes like this, try DavidLebovitz.com (one of the first food bloggers & an American chef living in Paris) or even Deborah Madison's "The New Vegetarian Cooking for Everyone" cookbook.
**Jenna Edwards creates recipe demonstration videos to bring confidence to aspiring home cooks trying new vegetables. She's married to a Cannois and spends each summer at the family bastide in Grasse. Follow her on YouTube at Youtube.com/user/jennagedwards or subscribe to her newsletter list at www.jennagedwards.com to build your home cooking skills.