Fashion month is upon us with New York, London, Milan, and Paris showing collections in quick succession. We turn our gaze to Paris Fashion Week (September 23rd – September 30th, 2019) where the FHCM (Fédération de la Haute Couture et de la Mode) hosts the oldest of the "Big Four" Fashion Weeks. While some ateliers date back to the early 19th century like Hermès and Louis Vuitton, pre-dating Paris Fashion Week itself, other houses at PFW are less than a decade old.  
The social and political climate of the fashion industry is ripe with change as companies are grappling with the environmental impact of fast fashion, resulting in increased transparency for the consumer. On top of that, the era of one-size-fits-all formality and rigid beauty standards is sighing its last breath with new talent pushing for diversity of all kinds. Up-and-coming companies have an eye on wearable looks, gender-bending self-expression, and trends that fuse cherry-picked ideas from the annals of fashion history. At the dawn of a new decade, we're excited to see what the future industry leaders have in store for the 2020's! Let's turn to the rising stars of PFW, and an examination of the fashion zeitgeist…
By Annie Schultz
Y/PROJECT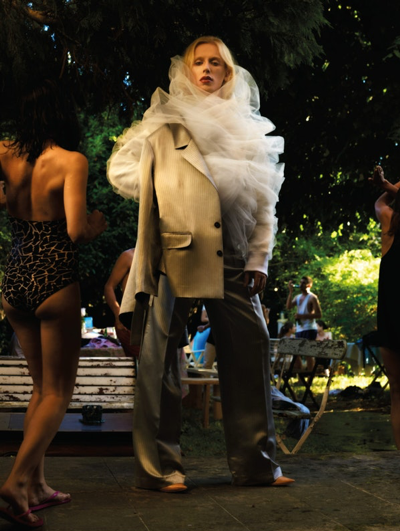 Martens pillages through fashion history for a fresh take on the contemporary silhouette, self-liberation, and a millennial approach to high-low sportswear. 
Lauded as the 'millennial atelier', Glenn Martens has quickly rejuvenated the Paris-based label Y/Project after inheriting the brand in 2010 from the late Yohan Serfaty. Belgian-born Martens has found inspiration in the duality of his hometown Bruges, where Gothic architecture resides alongside tourist-kitsch trinket shops. Likewise, Y/Project delights in contrasting classical beauty with the profane and low-brow through exaggerated historical references, structured conceptual pieces, and off-kilter sportswear. Martens has expressed that the brand is guided emotionally and doesn't stay with one particular look, though an eclectic spirit provides consistency in the label. 
https://www.yproject.fr
KOCHÉ
20e arrondissement powerhouse Christelle Koché combines traditional crafts with street-like leisurewear and feminine edginess. 
A graduate of Central Saint Martins, Christelle Kocher's project Koché brings youthful energy and a street attitude to the atelier. Kocher's impressive résumé includes stints at Céline and Dries Van Noten, and an ANDAM prize of $280,000. Her plans? To put Koché on the map internationally. Kocher unites traditional craft techniques of France, like bead and feather work, with contemporary sportswear. Dedicated to diversity and inclusivity, last year Kocher hosted a fashion show in central Paris in the public Forum des Halles with a cast of traditional and non-traditional models. Basketball shorts, yards of tulle, baggy jeans and delicate sequin work share real estate in the uber-cool collections of Koché. 
https://www.koche.fr
MAZARINE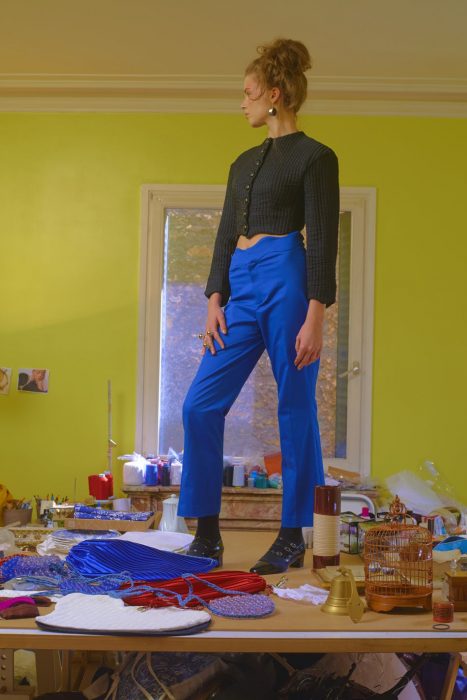 Quirky details come to life in colorful oversized tailoring at Mazarine.  
Hélène Timsit, another graduate of Central Saint Martins, and Quentin Poisson model their brand on tailoring and traditional atelier techniques. Sourcing fabrics from Italy, France, and Japan, Mazarine's aesthetic defies a single national or cultural mood. Relaxed silhouettes and a sense of play manifest in oversized buttons, wavy hems, and circle cutouts. Visual references to Le Mépris (Contempt) by Jean-Luc Godard are dotted across many pieces from their online boutique, making Mazarine the perfect companion to any Godard girl's wardrobe. 
https://www.mazarine.paris
BRUNO SIALELLI'S LANVIN
Bruno Sialelli's first collection for Lanvin fuses afternoon-at-the-beach loungewear with Parisian charm. 
Among the established ateliers in Paris, Lanvin is notable as of late for shakeups at the top: when Alber Elbaz was replaced by Bouchra Jarrar, flowy evening wear gave way to a line dominated by Jarrar's minimalist tailoring.

When Jarrar and Lanvin mutually agreed to end their collaboration, Jarrar returned to heading her own eponymous line. Instability has marked the position of creative director at Lanvin since, and major shareholder Wang Shaw-lan has struggled to steer the corporate ship through uncertain waters, trying multiple new directors in a short five-year period before landing on Bruno Sialelli.

Sialelli, 31, débuted a marine-inspired line which would be very at home in Wang's long-time residence of Taiwan and native China. Sialelli's work is beachy, breezy, and confirms that Lanvin is willing to be unexpected.

Will Sialelli's creative leadership satisfy the fashion public and Lanvin shareholders, or will he be the latest name in a string of experiments by a fashion house in transition? We look forward to following Sialelli in his budding career…

https://www.lanvin.com/us/
OLIVIER ROUSTEING'S BALMAIN

Rousteing's designs are all over the map from intricate tailoring to yoga pieces to Coachella-inspired knitwear. 
By his own account, Olivier Rousteing boldly shook up Balmain when he was named their new creative director. Rather than conform to assuage the discomfort of more established industry figures, he has fiercely reshaped Balmain in his own youthful image.

Under his creative direction, the French haute couture powerhouse, already a luxury demand around the world, has embraced a more global identity with an eye towards Asian markets and fashion-conscious youth across the world. African, Asian, and hip-hop influences have become more pronounced in his interpretation of Balmain. Rousteing's fashion is political, forward-thinking, and a force to be reckoned with.

Rousteing's powerful personality has oriented the Balmain brand towards a France that, like Rousteing, is influenced by, and influencing, the global Instagram generation.
https://www.balmain.com/us

MARINE SERRE
Eco-futurist Marine Serre fuses East and West with looks that are sporty, body-conscious, and…radical?
Marine Serre has had a distinct creative identity since her graduate project from La Cambre, "A Radical Call for Love". She has kept her momentum–winning the LVMH Prize for Young Fashion Designers in 2017. 
While Serre denies that her designs are political, just "engaged", they borrow the crescent moon, symbol of Islam, as a logo. The abaya is also referenced in the cuts of her patterns. Serre notes that "A Radical Call for Love" attempted to overcome European anxieties about Muslim minorities.

Claiming that her aesthetic project was inspired, somewhat darkly, by attacks in Paris in 2015 and in Belgium four months later, the young designer imagines a melding of European and Middle Eastern cultures as an antidote to the aforementioned contemporary anxieties. She fuses bright colors with 90s nostalgia which, for a young designer, is a semi-imaginary memory.

It is clear that her brand speaks to young people born well into the new millennium, straddling cultures in more than one sense, and facing an uncertain but exciting future.
https://marineserre.com
ROKH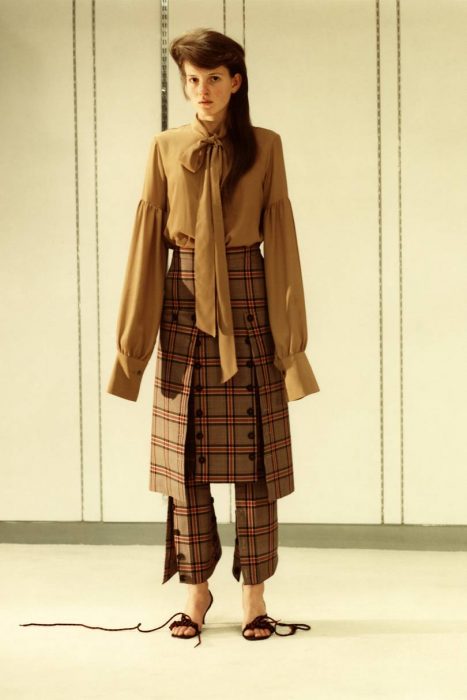 Teenage anxieties that loom into adulthood are on display in the Rokh woman, a symbol of his generation as a whole, who is both free-spirited and slightly nerdy.
Closing the first day of PFW in the 8:00pm slot, London-based South Korean designer Rok Hwang made his début last spring at PFW with carefully deconstructed womenswear, though the term 'womenswear' may be a misnomer. While the pieces appeared classically tailored, in movement they revealed fractured lines and surprising flashes of skin. Having grown up partially in Austin, Texas in the 80's and 90's, Hwang often find inspiration in youth counterculture and the sun-bleached fabrics of his youth. Tongue-in-cheek humor pervades, such a kaleidoscopic print with the word "aspirin", his drug of choice, integrated. His work also contains oblique references to both Hitchcock and Gus Van Sant and his film-buff sensibilities carry over to the brand's stunning video campaigns. Hwang's previous work leaves us eager to watch his ascent.  
https://www.rokh.net