Although the French celebrate la Toussaint (All Saints' Day), traditionally they do not celebrate Halloween the way Americans do. You won't find jack-o'-lanterns in front of houses in France during October nor will you see children trick-or-treating. But just because Halloween isn't part of French culture doesn't mean that the French don't love le macabre. In fact, the French are masters of horror. This autumn, we're celebrating Halloween at Coucou with a screening of Netflix's new French series Marianne. You can find out more about the screening here! And to quench your thirst for all things spooky in the meantime, here's our list of the best French horror movies. 
By Sophia Millman
1. Les Diaboliques / The Devils (1955)
Older horror films are often not particularly scary, but Henri-Georges Clouzot's masterpiece Les Diaboliques still manages to send shivers down viewers' spines. Much like Hitchcock's Psycho, this film is recognized as one of the most influential precursors to the contemporary horror genre. Set at an all-boys boarding school, Les Diaboliques is about two women who scheme to get rid of the school's abusive headmaster Michel. The two pull off their assassination, but Michel's corpse mysteriously disappears. Clouzot's own wife, Vera, stars in the film, and–fun fact for French music fans–a very young Johnny Hallyday makes an appearance!

2. Les yeux sans visage / Eyes Without a Face (1959)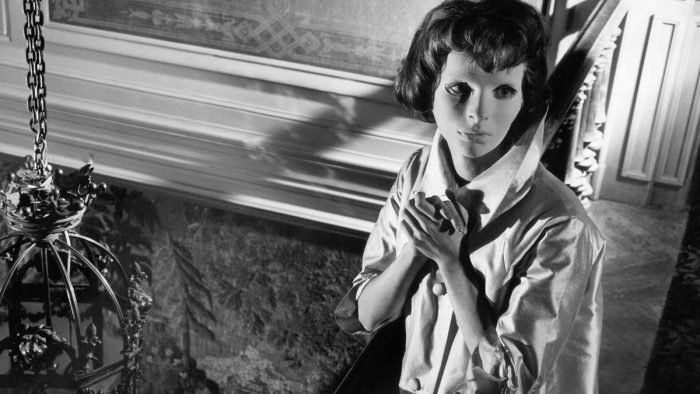 Until he shot Les yeux sans visage, Georges Franju had only worked on brutally realistic documentaries. In 1949, he made The Blood of Beasts, which exposed the interior of a Parisian slaughterhouse. Ten years later, he decided to turn his grim aesthetic sensibilities to fiction, adapting Jean Redon's novel Les yeux sans visage. His film quickly became a classic, and it has inspired countless directors (including Pedro Almodovar who loosely based his 2011 The Skin I Live In off it). In Franju's chef d'oeuvre, Pierre Brasseur plays a surgeon who is willing to go to any lengths to give his daughter a new face. If you're a fan of the gore genre, this movie should definitely be on your watch list. 
3. Le locataire / The Tenant (1976)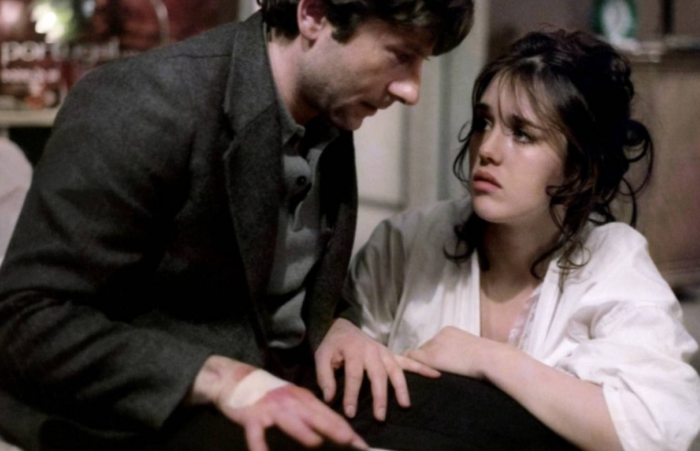 Rosemary's Baby may be Roman Polanski's most popular horror film, but his lesser-known Le locataire is equally worth the watch. Originally panned by critics upon its release, Le locataire has now become a cult classic. Polanski plays the film's main character, an immigrant from Central Europe who becomes increasingly paranoid about his neighbors' intentions. (Note to students: Unfortunately, this isn't the best film to practice your French! Although it was shot in Paris and its cast is mainly French, the actors speak in English.)
4. Baxter (1989)
Did you know that many film critics trace the history of cult films back to France in the 1910s? France is not only the birthplace of cinema, but also the birthplace of "culte" cinema! The 1980s and '90s were perhaps the most fruitful cult-classic eras. French films that gained a cult following during this period are Tenue de Soirée (1986), 3615 Code Père Noël (1990) Vibroboy (Jan Kounen, 1994), and Baxter. Don't be fooled: although Baxter's eponymous character is a dog, this film is nothing like Lassie. Thanks to its oddball storyline and sharp satire, Baxter remains a favorite of French horror lovers. If you're a fan of Jacques Audiard, watch this–he wrote the screenplay!
5. 3615 code Père Noël (1990)
3615 code Père Noël is little known outside of France, but it's an essential horror cult classic (see above!). In some ways, its plot resembles that of Home Alone: in both films, a boy is left to his own devices and must defend himself against intruders on Christmas Eve. But the similarities end there. 3615 code Père Noël isn't a feel good comedy and it's definitely not for children. Instead, it's a meditation on children's loss of innocence. While it may feel dated at times (the '90s soundtrack hasn't aged too well), this horror thriller is still a must-see if you enjoy cult cinema. 
6. Delicatessen (1991)
Take the best elements of Sweeney Todd, combine them with the French Cinema-du-look steampunk aesthetic and you get Delicatessen. The movie is set in a post-apocalyptic France in which a butcher manages to run a successful business even though no one can understand where he gets his meat. Everything is running smoothly until a circus clown falls in love with the butcher's daughter… This black comedy's strong cast and inventive musical interludes earned it lasting critical acclaim. If you like the later works of Jean-Pierre Jeunet (like Amélie) you should check out his first feature. 
7. Trouble Every Day (2001)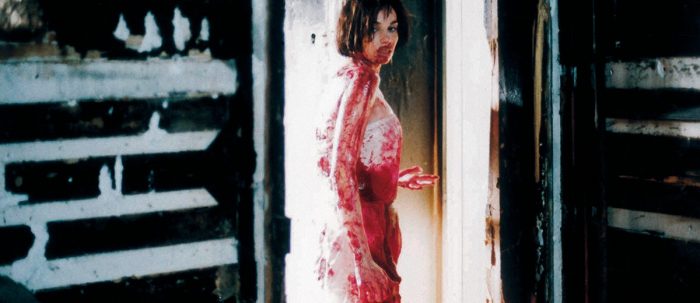 Claire Denis is France's most renowned contemporary female director, in part because she's never afraid to experiment with genres or test her viewers' limits. Trouble Every Day stars Beatrice Dalle and Vincent Gallo, a charismatic "couple" who share an erotic obsession for cannibalism. While this film is gorey and frightening, its success lies less in its bloody scenes than in the way Denis masterfully captures the ever-heightening sexual tension between her leads. No one knows how to shoot the body and its desires better than Denis. If you're interested in exploring other French cannibal films, we also recommend Marina De Van's 2002 feature Dans ma peau. 
8. Haute Tension / High Voltage (2003)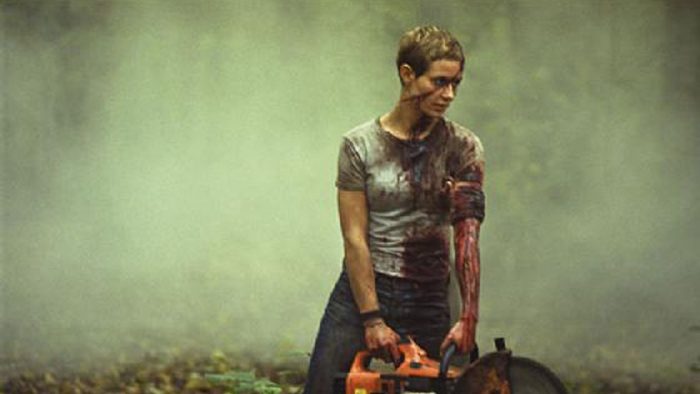 Starring the inimitable Cécile De France, Haute Tension is a must-see for French horror film lovers. Drawing inspiration from American home invasion classics like Halloween, director Alexandre Aja shot this film in a rural French province. De France plays a young student who decides to spend the weekend at her best friend's house, only to be attacked by a mysterious serial killer. Note to the squeamish: Haute Tension is featured in Time magazine's "Top Ten Ridiculously Violent Movies" list. 
9. Ils / Them (2006)
Like The Blair Witch Project, Ils is supposedly based on true events and is shot in a similarly rough style. The following films on our list are all very gory, but this movie is effective precisely because most of its violence happens offscreen, conjuring a sense of dread in the viewer. The movie is about a couple who have recently moved to a remote house in Romania (always a bad idea). Malevolent forces are in their house with them, but they don't know who they/ils are.  
10. Frontière(s) / Frontier(s) (2007)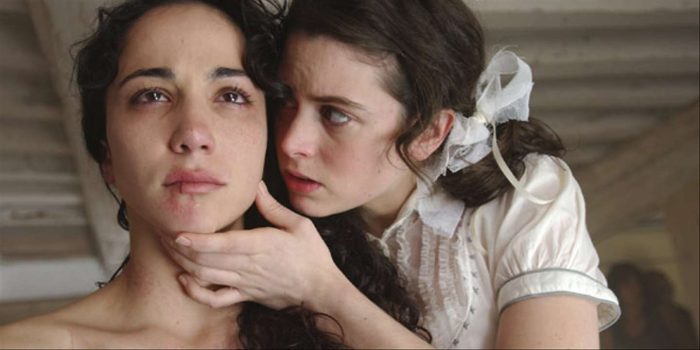 Still politically relevant, Frontière(s) takes place in a version of France in which the extreme right has come to power. The film is about an Arab street gang that pulls off a robbery and then leaves Paris, arriving at an inn in the middle of the forest. Unfortunately for the gang, the inn happens to be run by Nazis. This cult film, along with Martyrs (below), marked the pinnacle of the New French Extremity movement. Prepare to see a lot of extreme violence. 
11. Martyrs (2008)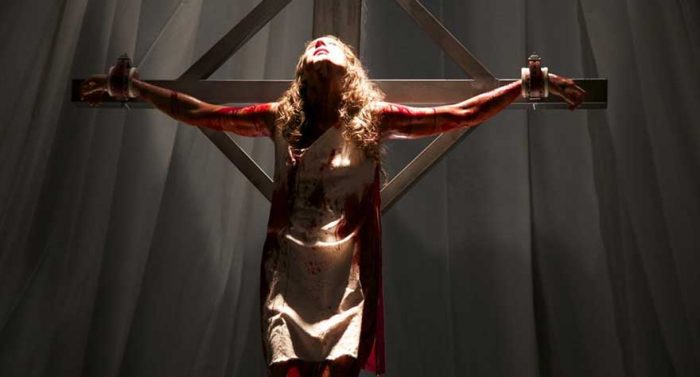 Martyrs is director Pascal Laugier's most famous and divisive work. Its graphic torture-porn aesthetic shocked audiences upon its release, making it one of the most iconic French horror films of the 2000s. The movie centers around a mysterious cult that kidnaps young women and tortures them until the brink of death in order to find out… Well, we don't want to spoil any of the twists. If you prefer psychological horror over gore, this film may not be for you. (Side note for French cinéphiles: the now incredibly popular Xavier Dolan has a minor yet gruesome role in this!)
12. Grave / Raw
(2016)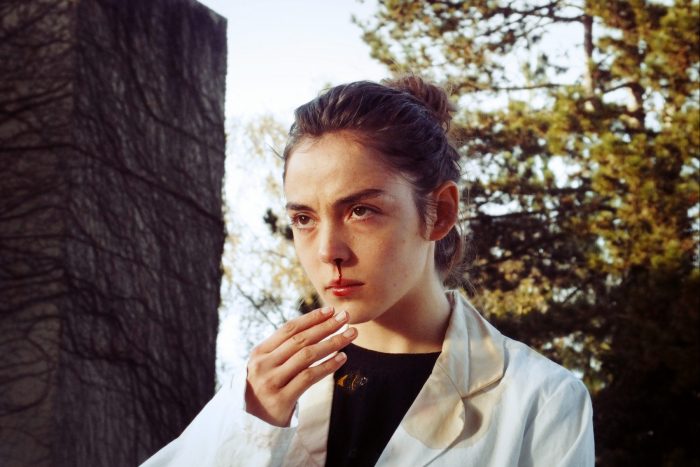 Julia Ducournau's critically-acclaimed first feature stars Garance Marillier, who plays Justine, a young veterinary student. Justine is a vegetarian, but she's forced to eat raw meat during a grim hazing ritual. She discovers that she in fact likes the taste of meat, including that of human flesh. Much like Trouble Everyday, this film uses cannibalism to explore themes of femininity and desire. Warning: when Grave was screened at festivals in Canada and the US, several viewers fainted during the film's graphic scenes. 
13. Revenge (2017)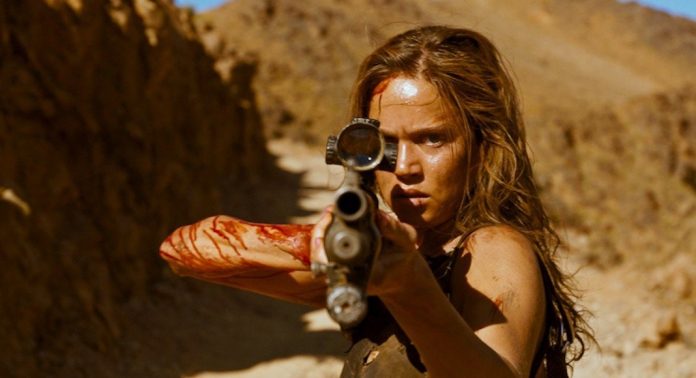 Part of the growing "rape and revenge" subgenre, Revenge was aptly released during the #balancetonporc movement (the French equivalent of #MeToo). Newcomer Coralie Fargeat, who wrote and directed the film, has explained that she made Revenge in order to subvert tired gender tropes. Rather than shooting an explicit rape scene, typical of the viol et vengeance genre, she chose to focus on her female character's suffering and ultimate triumph over her male oppressors. (Note to students: you won't be able to practice your listening skills while watching this since it's in English. We recommend that you turn on French subtitles so that you can pick up a few vocabulary words!)
Bonus: Spooky Series We Recommend
Marianne: This new Netflix series is about a horror novelist whose characters come to life. 
The Chalet: We wrote about this addictive show in our French series on Netflix post! It's about a group of friends who become trapped in a village and are forced to reconcile with secrets from the past. 
Les Revenants/The Returned: In a small French village many dead people come back to life and other strange things begin to happen.
Zone Blanche/ Black Spot: A detective arrives in an isolated French town (surrounded by a very creepy forest) to figure out why its murder rate is much higher than the national average.