What should you get for the Francophile in your life? We're here to help! We've curated the best French cadeaux so that you can please even the most picky colleague, friend, relative, or partner. (Or just yourself!) Of course, if the person you're treating studies French, consider offering them—first and foremost!—lessons at Coucou. Our gift cards can be used toward both group and private lessons. 
By Sophia Millman
Cadeaux pour les gourmands: Gifts for Foodies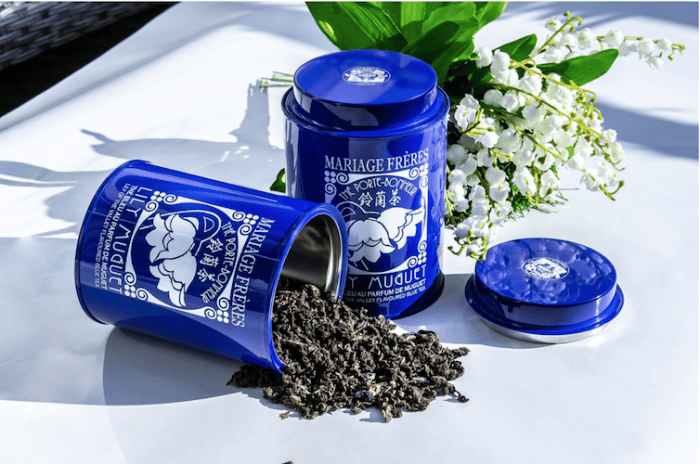 Cheese
With Murray's Classic Cheese of the Month Club, les fromages will be delivered right to your gift recipient's door. The sampling includes 3-4 cheeses, supplies to create your own cheese board, and a detailed guide to the products included, with descriptions of origin and flavor, along with beverage pairings for each. Prices start at $63. If you're looking for a less expensive option, check out Murray's gift cards or their cheese boards and knives. 
Chocolate
If you love chocolate, you should know À la Mère de Famille, the oldest chocolate shop in Paris (founded in 1761!). They ship to the US so you can spoil yourself or get a friend an amazing chocolate box for the winter holidays or Noël! Prices range from 15 to 116 euros. 
Tea
Mariage Frères, founded in Paris in 1854, is credited with creating a uniquely French tea tradition. Like fine French perfume, each of their tea blends combines many ingredients into a whole that's more wonderful than the sum of its parts. If you're in Paris for the holidays, we recommend checking out their shop in the Marais. You can also order their tea to be shipped to the US here. 
An assortment of holiday essentials
If you want to offer a more daring gift like foie gras, check out French Wink's Gourmet Collection! They carry all sorts of French foods (cheese, charcuterie, biscuits, macarons…), as well as cooking essentials made by famous French brands. If you're not sure what someone would like, but you know they love French products, give them a French Wink gift card. Finally, everyone could use a cute ceramic container of les herbes de provence—buy one here! 
Pour les fans de cuisine: For those who love to cook
Elegant drinking glasses
Duralex has been manufacturing tempered glassware through a process they invented in the heart of France since 1945. Ideal for both hot and cold drinks, these stackable, impact- and chip-resistant glasses feel very comfortable in your hand and can be used in the microwave or freezer. Glasses are available in a wide range of sizes, from 3 to 17 ounces, and comes in a few alternate color options with limited sizes in marine or a set of six 8-ounce glasses in a mix of colors from the MoMA Design Store.
Pepper Mills for Pros
The Peugeot Paris Pepper Mill has long been beloved by professional cooks and design enthusiasts alike for its inimitably sharp, case-hardened steel grind mechanism and sleek looks. Read an ode to the pepper mill here and check out the history of the pepper mill, which dates back to 1874, here. The grind mechanism produces even grinds at each preset coarseness setting, and the mill comes with a lifetime warranty. You can find it in many sizes and finishes here.
Classic Knives
Forge de Laguiole has been producing its knives entirely in the French village of Laguiole according to a tradition dating back to 1828. There are also many famous Corsican knife brands; we recommend handmade Ceccaldi knives. 
Baking molds
If you're looking for a present for an amateur pastry chef, look no further than de Buyer. They make high quality silicone molds that offer razor-sharp definition for oven baking and cold forming. See their madeleine and canelé molds here. We also recommend Le Creuset's class cake tins as well as their adorable mini cocottes! 
Pour les passionnés de lecture: For book lovers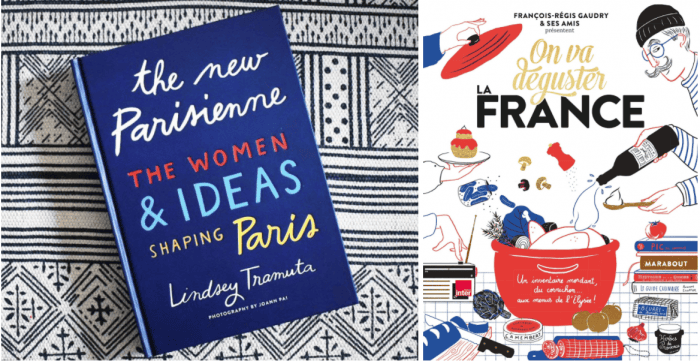 The New Parisienne
by Lindsey Tramuta
Featuring 50 activists, creators, educators, and visionaries—Leïla Slimani, Lauren Bastide, and Mayor Anne Hidalgo—this book reveals Paris as a blossoming cultural center of feminine power. Both the featured women and Tramuta recommend favorite destinations and women-owned businesses, including beloved shops, artistic venues, bistros, and more. Buy here. 
When in French: Love in a Second Language
by Lauren Collins
A language barrier is no match for love. New Yorker journalist Lauren Collins discovers this first-hand when, in her early thirties, she moves to London and falls for Olivier, a Frenchman. A funny, thoughtful memoir, this book considers how language shapes our lives, from how we think, to how we fall in love, and what happens when two languages, and two very different cultures, collide. Buy here. 
Let's Eat France
A feast for food lovers and Francophiles! In this book you'll find classic recipes and tips (like how to make a pot-au-feu), profiles of French food icons, a region-by-region index of famed cheeses and charcuterie, poster-sized guides to French breads, wines, and oysters… This was named a Best Food Book of the Year by the New York Times Book Review and we highly recommend both the French version and the English translation.  
Apéritif: Cocktail Hour the French Way
by Rebekah Peppler
Keeping true to the apéritif tradition, in this book you'll find cocktail recipes that use lighter, low-alcohol spirits, fortified wines, and bitter liqueurs. Apéritif also offers recipes for equally breezy bites, such as Radishes with Poppy Butter, Gougères, Ratatouille Dip, and Buckwheat-Sel Gris Crackers. Buy here. 
Pour les fashionistas 
Sézane/Octobre
The viral French brand Sézane makes beautiful clothes and leather items. Check out the Sézane gift guide here. If you're not sure which item to choose, offer an egift card instead! Interested in the menswear version of Sézane? Check out Octobre. 
Hast
This brand is famous for its worker's jackets, which are made for men, but they look great on women too! See a list of other high quality French men's clothing brands here.
French Wink
This collection includes apparel and accessories that represent the company's "Adopt the French Attitude" motto: marinière, cute tees, gifts sets and jewelry for all the family.
Want to learn more about creating a classic French wardrobe? Check out this

post

! 

Looking for kids' clothes? Read about our favorite French clothing brands for children

here

. 
Pour les enfants: For Kids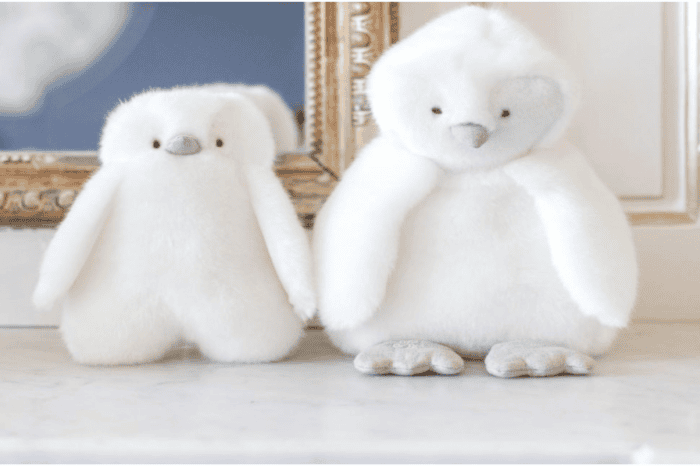 For newborns – Tartine et Chocolat Toys
This popular kids' clothing brand makes adorable stuffed animals like these penguins (featured above). They also have a great collection of birth gifts. 
For Toddlers – Sophie la girafe
Made in France since 1961, this classic toy has achieved national icon status in France, with more toys sold each year than babies born. Buy here.
For babies and kids – Moulin Roty
This French company makes adorable toys like these stuffed animals. Check out their catalogue here. Find their US store locations here. 
For teens (and adults!) – Pétanque
What exactly is the game that old men always seem to be playing in the Luxembourg Gardens? If you're not familiar with pétanque, we've got good news: there's actually a site called "All About Petanque: What Americans Want to Know"! This classic game would make an awesome gift for both older kids and adults, and we recommend buying a set of balls here, although you can also find plenty on Amazon.
Board/Card Games
Read our comprehensive guide to the best French games for kids and adults with links to where to buy them here! 
Les cadeaux beauté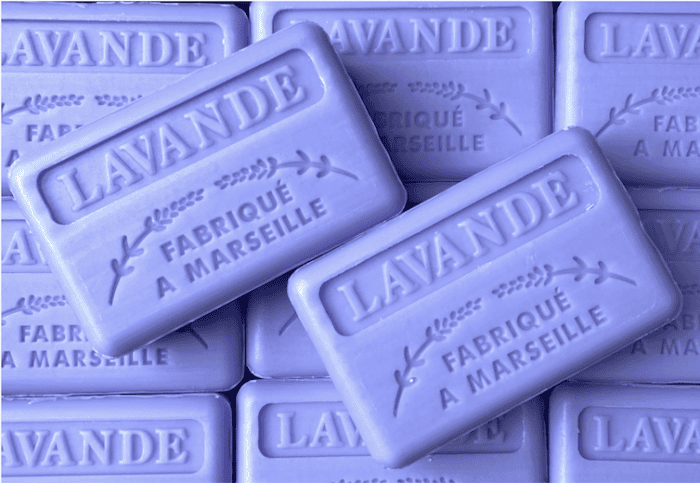 Savon de Marseille
Since as early as the ninth century, master soap makers in Marseille have created wonderfully fragrant, gentle soaps using native olive oils and the alkaline ash from Mediterranean marine plants. You can buy blocks of this beautiful soap online here. If you're in France, here's where David Lebowitz recommends buying the soap.
La canopée
This company's beauty products are good for your body and the environment, 100% vegan and made in France. Since it can be tricky to know which cosmetics a person might use, we recommend buying one of their gift cards. 
Le Petit Marseillais Products
This iconic French brand makes soaps, shampoos, and body washes. These products would make wonderful gifts for anyone reminiscing about their time in France. Shop Le Petit Marseillais on Amazon here.
Le Rouje Velours
Jeanne Damas's famous lipstick comes in a variety of shades and it lasts for hours. A great stocking stuffer! Buy it here. 
Pour les amateurs d'art: For Art Lovers
Panache Cycling Art Prints
Are you close with someone who loves les vélos (bikes)? Offer them a poster (or a set of three) from The Handmade Cyclist. Called The Panache Collection, these prints depict France's Pyrenees, Belgium's Ardennes, and Italy's Dolomites. If you look closely, you'll see a lone cyclist in each image and a biking quotation. 
Maps of Paris
You can find beautiful, vintage maps of the city on Etsy or more modern maps on Amazon. 
Photos of Paris
Rebecca Plotnick's photos are a good place to start looking for the perfect print. If you're buying a gift for a Francophile who's passionate about photography, consider a book like Henri Cartier-Bresson: Paris Revisited, about one of the world's most acclaimed photographers.
We also recommend checking out French museums' online gift shops for more great gift ideas: see the Pompidou's here, the Louvre's here, and the Musée d'Orsay's here.