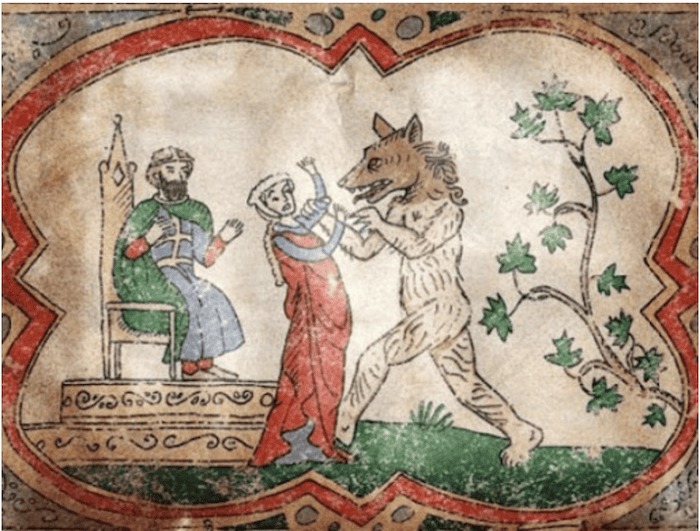 Many of the ghost stories that French and American readers know best, like Charles Dickens' classic "A Christmas Carol" or Henry James's legendary horror novella A Turn of the Screw, originated in England. We don't know why the English seem to be ever-obsessed with creepy castles and uncanny sightings. But just as France has its own haunted chateaux and awesome horror movie canon, French authors have also produced several excellent histoires de fantômes. In fact, Guy de Maupassant and Émile Zola, two of the country's most celebrated novelists, both tried their hands at penning ghost stories. 
But wait, you might be saying to yourself, does this mean that the books below are about ghosts only? What about other terrifying monsters? Never fear, dear reader, our list also includes horror stories about demons, ghouls, vampires, werewolves and all sorts of horrid maladies! It's especially important to note that werewolf stories were incredibly popular in medieval French literature. Marie de France, one of the country's first female authors, wrote  twelve "lais" which include a werewolf story called "Bisclavret." 
By Sophia Millman
Champavert: Contes Immoraux 
by Pétrus Borel (1833)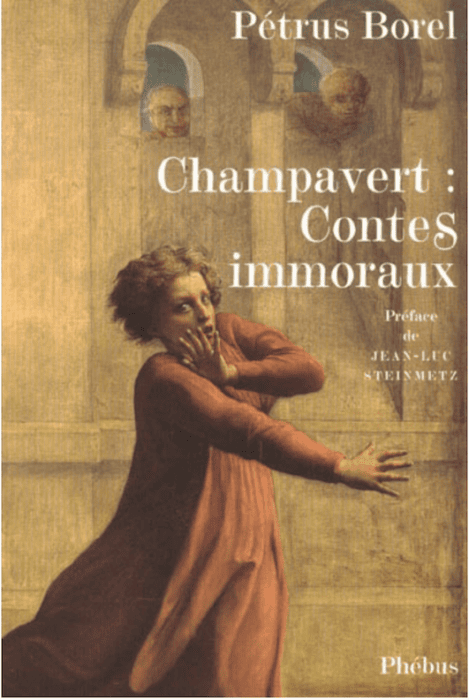 Charles Baudelaire wrote of now little-known author Pétrus Borel: "Pétrus Borel, or Champavert the Lycanthrope was one of the stars of the dark romantic sky. Without Pétrus Borel, there would be a gap in Romanticism. I sincerely confess, even if I feel ridiculous, that I have always had some sympathy for this… failed genius, full of ambition and clumsiness." At the time Baudelaire was writing, Borel was famous for giving himself the nickname "lycanthrope," after the mental disorder lycanthropy, in which a patient believes that he is a wolf. 
The seven tales that constitute Champavert: Contes Immoraux are one of the best examples of "les contes cruels," or "cadaverous" literature. As the English edition of the book explains, Borel's stories remained untranslated for over a century because "the job was so challenging that only an insane person would tackle it." Here's an example of how crazy the text is: in "Notice sur Champavert," the author announces his suicide and affirms that he and his character Champavert the werewolf are one and the same.
Practice your French by listening to a

France Culture

episode about Borel

here

. 
La Vampire
by Paul Féval (1856)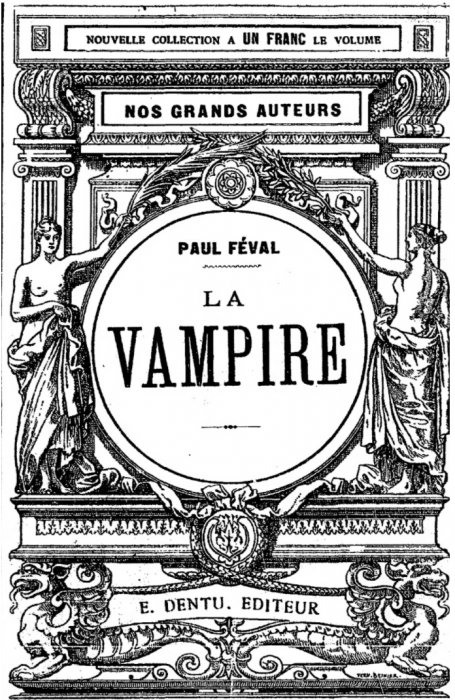 Paul Féval is considered one of the fathers of modern crime fiction. His most famous novel in France is Le Bossu (The Hunchback), which has been adapted for the stage and screen. The 1997 film adaptation stars Daniel Auteuil and Fabrice Luchini. His novel La Vampire is about a series of disappearances in Paris that can only be explained by the presence of a charismatic Countess, Marcian Gregoryi (alias Addhéma) from Hungary. Scholars claim that this text and its sequel La Ville Vampire (1867) may have inspired Bram Stoker's Dracula and Buffy the Vampire Slayer. 
Hugues-le-loup
by Erckmann-Chatrian (1859)

Lifelong friends and coauthors Émile Erckmann and Alexandre Chatrian were born in the Lorraine region in the very north-east of France. They specialized in writing ghost stories, which were so popular in France that they were quickly translated into English. Their most famous stories include "Hugues-le-loup" ("The Man-Wolf" in English) and "The Crab Spider." In "Hugues-le-loup," a doctor is taken to the Castle of Count Niedeck, who has been struck by a mysterious illness. The count goes into an uncontrollable fury, at which point the doctor realizes he looks a lot like a wolf… 
Renowned English horror author M. R. James and his American counterpart H. P. Lovecraft were both huge fans of Erckmann-Chatrian's collaborative stories. "'I should feel myself ungrateful if I did not pay a tribute to the supernatural tales of Erckmann–Chatrian," wrote James. "[Their stories] have for years delighted and alarmed me."
Listen to a French recording of "

Hugues-le-loup

"

here

. 
Contes cruels
by Auguste de Villiers de L'Isle-Adam (1883)

Auguste de Villiers was the descendant of an aristocratic family, but spent most of his life in extreme poverty, plotting to marry a rich heiress. He was friends with Charles Baudelaire and Stéphane Mallarmé (both of whom feature in our classic poetry article), but his work remained little known throughout his life. Today, Villiers is famous for his dramatic work Axël and his short Contes cruels (Cruel Tales). Inspired by the works of Edgar Allan Poe, these tales are splendidly macabre and feature many sadistic characters. 
Listen to one of Villiers's most famous tales for free in French on

France Culture

here

. 
Le Horla
by Guy de Maupassant (1886)

This horror novella details the progressive decline of its tortured and increasingly paranoid narrator, who is pursued by an invisible creature called "le Horla." The story is one of the first works of fiction that depicts the evolution of a mental disorder from the point of view of the person suffering from the disease. When Guy de Maupassant wrote the story, he was suffering from psychiatric and neurological disorders related to syphilis. 
Maupassant's tale was and continues to be a major influence on horror writers and it has influenced both Francophone and Anglophone pop culture. American author H. P. Lovecraft praised the story, writing, "This tense narrative is perhaps without peer in its particular department." Some scholars believe it directly influenced Lovecraft's famous "The Call of Cthulhu."  
We recommend buying this awesome

French edition

of the text. You can also purchase an English version

here

. 

Listen to a dramatic French reading of the novella

here

. 
Le Fantôme de l'Opéra
by Gaston Leroux (1910)

You've probably seen or heard at least one version of The Phantom of the Opera, but whether or not you're a fan of the musical, you should read the truly excellent novel that it's based on. With its perfectly designed plot, this extraordinary book will keep you on the edge of your seat from its famous opening line ("Le fantôme de l'Opéra a existé" – The Opera ghost really existed) to its very last sentence. 
If you're already familiar with Leroux's most famous novel, you should check out his earlier work Le fauteuil hanté (The Haunted Chair) or his short stories, published under the title Weird Tales in English. 
Watch the French version of Rupert Julian's 1925 silent horror film adaptation of the novel on YouTube

here

. 
Contes de mystère et d'horreur 
by Maurice Level (1920)
Thanks to H. P. Lovecraft, author Maurice Level became widely celebrated in the US and Japan during the 20th century. Lovecraft called Level a master of suspense and terror, praising his contes cruels for their "dramatic tantalizations, frustrations and gruesome physical horrors." Modern critics consider Level to be the heir of Auguste de Villiers de l'Isle-Adam (see above), as well as of Maupassant and Edgar Allan Poe. In Contes de mystère et d'horreur, Level does not set his stories in haunted castles, but rather in modern locations. He refers to photographs and contemporary technology to create a more acute and realistic sense of dread in the reader. 
La Malvenue
by Claude Seignolle (1952)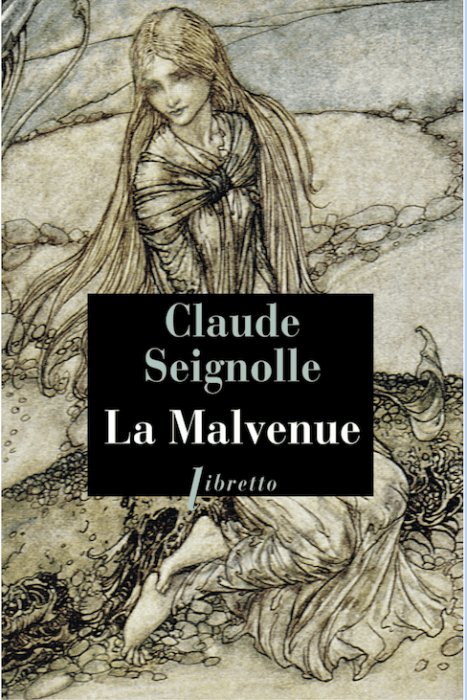 In a remote part of Sologne at the beginning of the 20th century, a young girl bewitches all those who approach her with her grace and beauty. Something about her upsets the villagers around her, who begin to experience feelings of guilt and to see des mauvais fantômes (evil ghosts or spirits). 
Claude Seignolle lived in Sologne and spent a great deal of time collecting the region's folklore, which inspired his novels and stories. He is considered to be one of France's best ghost story writers. Renowned British author Lawrence Durrell wrote of Seignolle, "The devils, the werewolves and the vampires…appear in his novels as disturbing realities, and the attitude he adopts towards them is so matter-of-fact that the reader rapidly finds himself believing in them." We recommend reading Seignolle's La Malvenue (The Unwelcome One), but you also can't go wrong with any of his ghost story collections: Contes macabres, Récits cruels, Histoires maléfiques, Histoires vénéneuses and Contes sorciers. 
Order the book in French

here

and in English

here

. (The English version is out of print so it is pretty expensive. We recommend ordering it from your local library!)
Other French horror books you might want to check out: