We interviewed some of our most loyal and interesting students to find out how they first became interested in French, what they have gained from classes at Coucou, and what ideas they want to share with fellow students of the language!
This time we spoke with Caitlin Machak, a young cinematographer and artist.
Let's start with a little bit about your background and what brought you to learning French.
My name is Caitlin Machak. I'm a freelance cinematographer and I also work as a camera assistant on larger film productions and for TV shows such as Girls or House of Cards. I started French when I was about 5 years old, because of my mother, her family background is French. I loved the language, I loved the culture behind it so I continued learning until I was about 15 in high school. Then I started getting very involved in my theater and film work so there wasn't time to do French when I was in university. When I started going to the Festival de Cannes, I just thought that it was time to get back into learning French. I would speak here and there but I just didn't feel comfortable. I wanted to interact with French people with fluency and also with courage. So I looked and I found Coucou through that avenue! I've been studying at Coucou for close to 2 or 3 years now. I felt comfortable enough to start at level 4 and just now I'm getting into level 7.
"When I started going to the Festival de Cannes, I just thought that it was time to get back into learning French."
In your experience, what sets Coucou apart from the other schools?
Mostly the flexibility of the classes and the fact that all the teachers are native French speakers. I'm also fond of  the community that Coucou has. I've met so many people at Coucou who are from different backgrounds and have different stories. It's been really nice to meet and become friends with people in the class that are outside of my own line of work. And because the classes are this perfect size of about no more than six to nine people on a given day, it's just really easy to get to know people and to learn about what's going on.
What type of fluency do you think you've gained today?  Do you manage to integrate French in your daily life now?
I don't use French as much as I'd like to. And part of the reason why I do some of the excursions that we have now at Coucou is so that I can put myself into more French-speaking environments. I'm also trying to practice with my French speaking friends. I'd like to get to the point where I feel comfortable using French as a primary form of communication.
Did you come back to Cannes since you got back to French?
No, not yet. My hope is to go to Cannes the next time that I personally have a film that's in competition!
Speaking of your films, do you want to tell me a little bit about your documentary project on your grandfather?
My grandfather's background is French, ironically he himself does not speak French though my mom does. His name is super French, il s'appelle Napoleon Chagnon. He is a quite well known anthropologist, and also a bit controversial. In the early 60s he studied the Yanomamo tribe, which at the time were an uncontacted civilization in the Amazon. He proposed that people can be inherently violent so that they can succeed in survival, which was at the time in the mid 60s- it wasn't a popular idea. He was an early proponent of a process called sociobiology, a mixture of fact and observation.  My project is a biopic of his work and an introduction into how the lives of the Yanomamo tribe have changed and the loss of their culture. Now they're very westernized in many ways. I'll try to introduce my grandfather's work in as much of an unbiased way as it can be, even though I'm his granddaughter.
You're an artist and a cinematographer, outside of this and French, what's a big part of your life?
Before I ever did any sort of visual work, I was a musician and a singer growing up. So that was probably the first career I had! My whole life was doing music. I went to music camp over the summers up in Michigan at a pretty well known school, the Interlochen Center for the Arts. That was also a great avenue for learning a lot of languages. I was always in children's choirs and things like that so I was exposed to a lot of different languages and also practicing a lot of them through that art form. And I loved opera growing up, so there's the French operas, the German operas, obviously the Italian operas!
"Part of the reason why I do some of the excursions that we have now at Coucou is so that I can put myself into more French-speaking environments."
Nice! So if you had any advice to give to a beginning french speaker, what would it be?
Well, I need to practice this myself as well, but don't be afraid to make mistakes, don't be afraid to speak with French speakers, let them know that's what you want to do! I even notice when I'm not practicing throughout the week, how greatly my French just goes away when I haven't been using it. Also if you can't necessarily speak with native French speakers, listen to music, watch movies even with the subtitles, just keep yourself surrounded and immersed. Now there is so much French movies on Netflix and Hulu that you can watch. I also listen to certain bands that I really like. I love Pink Martini, they're a Seattle based band but they have a few French and Spanish songs that I think are fabulous.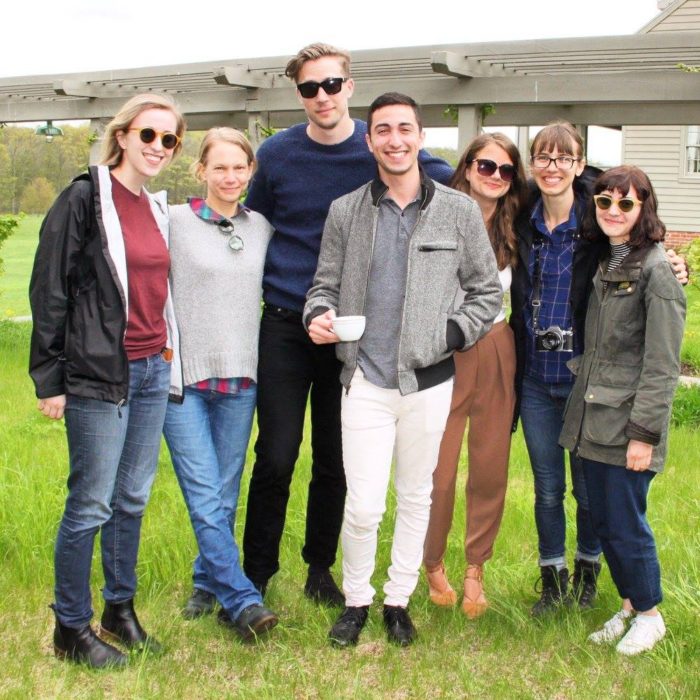 Finally, what's your favorite French expression or word and why, and your least favorite?
I don't know if I have a least favorite. It's a silly one word but my favorite word is pamplemousse! I think it's the funniest word. I love grapefruit too, but I just think it's such a cute word for what it is. It kind of reminds me of Czech, my favorite word in Czech is zmrzlina, which is ice cream. It's just these little, funny words that just kind of roll off your tongue, but then you realize they're something else.
Thank you!
Check out Caitlin's website and vimeo