We interviewed some of our most loyal and interesting students to find out how they first became interested in French, what they have gained from classes at Coucou, and what ideas they want to share with fellow students of the language!
Our first interview is with Cheryl Donegan, an accomplished artist as well as a longtime friend and student at Coucou.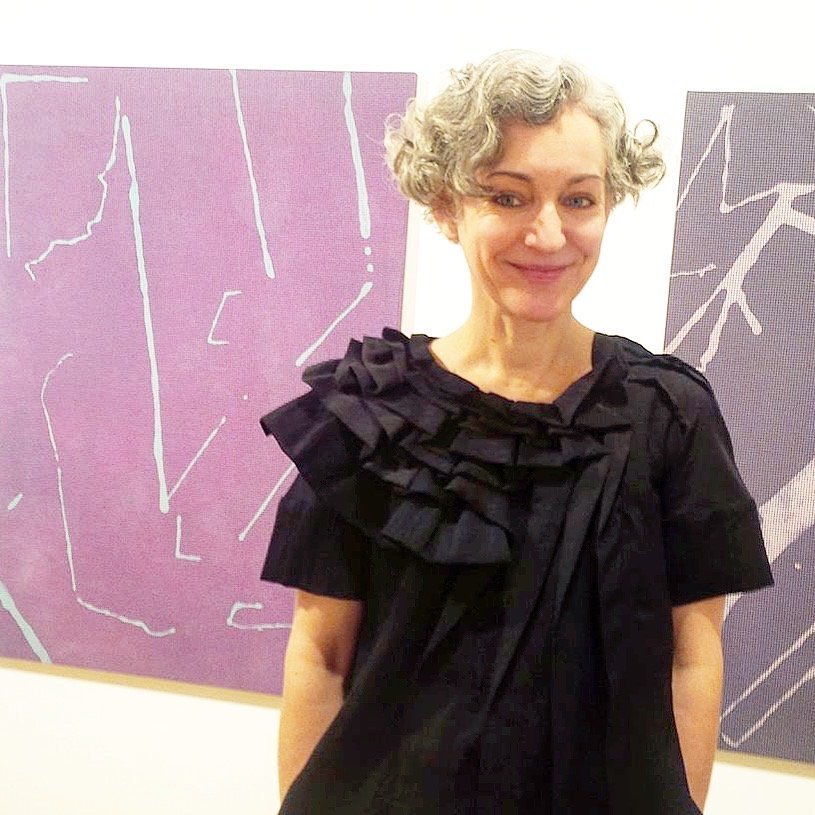 Let's start with a little bit about your background, what do you do as an artist in New York?
I've lived in New York since 1984. I came right after art school, Rhode Island School of Design. I was mostly raised in Massachusetts and I came to New York to start establishing a presence as an artist. I studied painting at school and kind of discovered video on my own. The breakthrough for me in terms of shows and exhibitions was with the video. Since I've always been interested in painting I always thought I could somehow combine the two.. So now I'm showing paintings, and even some projects that veer off into clothing.
How did you start learning French? Was it related to your work?
Well, a really long time ago in the early '90s, I was at an international artist residency in upstate New York and one of the most interesting artists there was this French guy from Nice, Dominique Figarella. He was from a younger generation but he knew all about the French "Supports Surfaces" artists like Claude Viallat, Noel Dolla etc.  And I'm really interested in that work. So at one point, Dominique and I were talking about art with other artists, there was some Germans and some other people who spoke French, and Dominique just turned to me, like in frustration, and said, "why don't you speak French?!" And then I said "ok, I can learn."
That was a long time ago, maybe 1991? So after that summer, I came right back to New York. I decided to start at Alliance Française and I did 5 years of classes there. Then I had my kids so I was in baby world and I paused for like 15 years. When I started to have more free time for myself I decided to get back into it. Because I'm still really fascinated by French art and French ideas and now I feel like I have the rest of my life to learn! That's how I started French lessons at Coucou about two years ago.
And how did you come across Coucou? Why did you pick this school?
I was only familiar with Alliance Française in New York but I thought there must be other programs and methods. I did a web search, and I read about the style of Coucou. I liked that it was in Brooklyn because I thought it would get me out of my little bubble, my neighborhood, and my usual habits. I loved that they used games, maybe because I have children, I could see how through games, kids can learn. So I thought it would be fun for me to try a method like that!
Did you gain other things at Coucou aside from French classes?
Yeah, I really like the personalities of people at Coucou. It kind of tears away at the negative myth that French people are too severe. For me, because I really love French culture, I idealize it. And sometimes if you idealize something you can be a bit intimidated by it. So it just brought everything down to earth: the sense of humor, the patience, and the fun; it sort of made everything more natural.
Did you actually make friends at Coucou?
Yeah! I'm usually occupying myself with my family or the art world. At Coucou I really loved making friends and being with people who are neither part of family life or professional life. It's another type of family, or another type of community that's not involved with my profession, or ambition. I appreciate it more and more because I don't have to worry: there's no past, there's no difficulties and erratic feelings. You can just be free, you can be yourself! I'm really grateful for that.
Are you able to incorporate French into your everyday life? How do you use the language outside of Coucou?
I'm really trying to create a bit more of a language environment in my everyday life. I remember Léa saying, "even if you listen to the news, you don't need to understand every word. It's just hearing it, and absorbing it, and just making your brain receptive." I subscribe to a lot of French podcasts.  And so I try to just absorb the language, even if it's 10 minutes every day. I feel like it's working. I can feel my brain soaking it in.
So now do you consider yourself fluent? What does fluency mean to you in general? What are your goals?
I do not consider myself fluent but I feel like I'm making progress. And I can feel the flexibility coming in my brain, I don't have to prepare what I'm going to say anymore, like translate a speech from English to French in my head. I feel like it's coming a little bit more easy now, that I can think in French a bit more. And I'm also a little bit less shy or intimidated. I can release the pressure I put on myself, because I can be really critical or hard. Now that I feel encouraged, I feel more balanced and I can make more progress. I feel like I'm moving forward, I'm super committed. I just want to keep doing it, it's sort of becoming a nice life goal! I think it's good for my kids to see me learning something new, to see that no matter how old you are, you can keep learning, you can keep taking on new challenges. We went to Morocco and I think they were really impressed by mommy. So I can say to them, if I can do it, you can do it.
What role do you think French language plays in society today?
Not to be too serious, I feel like there is a huge problem of empathy in the world today. I feel like learning someone's language changes you, it makes you imagine what it would be like to live a different life than the one you were given. That creates empathy to me. The French-speaking world that's in the Caribbean, in North Africa, Sub-Saharan Africa. I just feel like those are places in the world, where we could afford as Americans to learn more and be more empathetic. I really like to travel also because now I have more of a way to understand things. I think that's really important to understand the language so you understand the way of thinking.
What differences between French and American culture do you find the most striking or interesting?
I love how French people take pleasure without shame. For them pleasure is not seen as a destructive force, I think that's amazing!  When I say take pleasure, Americans can be hedonistic too, but there's a different sense. It's not just about food, it also deals with the materials, the concept of a terroir, the qualities of things, the textures. I think it's good to take that in and really enjoy it and appreciate it.
I love the respect of laïcité too because I was raised Catholic so I've had enough! That respect is good. It's good to keep some things separate in life. I like that they have a concept for it.
Now have you been able to communicate in French with fellow artists or include French in your professional life?
It's funny now that I think about it. My husband, Kenneth Goldsmith, he's a writer and his work is really appreciated in France. To the point that he really wants to go to live there for at least a year or so, to really experience it. His work is not appreciated so much sometimes here in the US but in France they really love him and respect him. It's remarkable. So I really want to take advantage of that and do more, even in New York, like I have to get over some shyness to speak French, but sometimes they ask him to come for like a reading at Albertine or the French Cultural Institute. Ironically, he doesn't speak French at all; I'm the one who does. I see that as a real opening in the future. I really want to put myself in that.
Thank you so much Cheryl!