Sarah Carso is a French Jazz singer living and working in NYC. In addition to her career as a performer she teaches music to kids at Musibambino Studio on the Upper West Side. Sarah performed at the Coucou party on June 3rd so we wanted to get to know her better and learn about her experience as a French music teacher.
Let's start with a little bit about your background. What brought you to NYC as a French musician and a French woman?
I came to NYC a little less than 3 years ago to do my Masters in Jazz Performance at CUNY as a jazz singer. At the time, I had just graduated from the Paris Conservatory and was eager to move, live and play music somewhere else. New York seemed like one of the best places to do that !
NYC brought me the freedom to be myself and not apologize for it, which I was looking for in Paris but in vain. It's a city full with possibilities, which takes you as you are and offers you a place to experiment and grow. I found it way more enthusiastic, solidary, open-minded, less judgemental and more stimulating and supportive than Paris unfortunately, my hometown.
This is valid personally and artistically. I realized during my studies and the beginning of my musical career in Paris how much we can find ourselves stuck in between our institutions, our traditions and most of all our judgements. It is definitely keeping people from finding their own place, being recognized and accepted for it no matter which style and at what time.
Here I feel way less contradictions between respecting the traditions, valuing them and being creative in our century. You don't have to pick sides; you can reconcile both.
Had you ever taught before working at Musibambino Studio?
Yes, I taught music, classical double bass and solfège, in music schools and conservatories in Paris and substituted for teachers there for years before I came to New York. I also gave private jazz singing lessons and I worked as an assistant teacher in public schools too for a while. I also did performances at public schools to introduce classical music to kids from underprivileged backgrounds.
I'm the main teacher at Musibambino in NYC so I teach music collective classes for children through a very unique program, introducing kids to all the instruments from the western world and having them try them. I also work as a French tutor for a number of families from the Lycee Français de New York.
My dad was an elementary school teacher and musician too. The vocation was passed onto me pretty earlier on!
Do you feel like teaching music is like teaching a language?
I do think that there are a lot of similarities between teaching music and teaching a foreign language, as you do at Coucou. It's all about communicating with people more and more and better and better, exchanging ideas and feelings.
Music is a written language too. So you learn how to write and read notes and musical signs as much as you learn the French accents and the difference between é and è !
And you rarely play on your own, you use this language through charts to communicate with other musicians and are able to talk about the same thing, meaning playing the same tune in the same key with the same structure and in the same style.
It's extremely close just instead of using just words, which you do use while singing lyrics too, you have many other levels of meaningful sounds that add to it.
I learned English and Spanish through imitating the sounds of the lyrics in my favorite tunes!
It's the best way to work on your ear and get rid of this accent (laughs)
Do you perceive yourself differently as a performer or a teacher? Does your musician identity change depending on what you're doing?
I don't think so. As a teacher I am performing too, except it is directed to kids so it is adapted to them with songs they can relate too and learn to play themselves.
The program I'm teaching at Musibambino in New York is one that I've never experienced before. All the learning process, including some boring or more difficult things in solfège, is taught through songs so I'm singing the whole time in my classes, and we have special songs and activities for each and every musical knowledge we're trying to pass on.
I am also presenting different instruments to the children every week so that they get to hear, touch and even try them themselves so it is every time a different class and every time a different performance. I bring a lot of my own classical and jazz references to the program too, so I sing songs I love and could sing in my own concerts as well.
I think teaching is crucial when you are an artist. You never stop learning yourself and this way, you keep passing on to others and improving.
The thing that would change would be my position. As a performer, I do whatever I want with my performances. I can choose my band, my style, what I want to give or transmit to people in this particular night or time of my life. As a teacher, it is not about me but about the students, what can they receive from me right now, how can I engage them in understanding what I'm talking about and in revealing their own talent and love for expressing themselves through this media.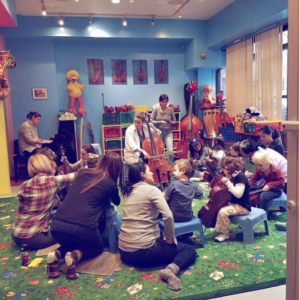 How does your french background play out with the kids in your class?
I teach classes in English, French and Spanish. Every class has a repertoire adapted to the language of the class, obviously. I choose traditional, children's or popular songs in each language to make my students relate to it more and in order for them to follow easily and learn them.
In all my classes I try to include some French songs and/or music history because a lot of European classical music is very ingrained in French and European history and culture too, in a lot of the songs and instruments used, the accordion for example!
I always play "Sur le Pont d'Avignon" when I play the accordion! French kids that come to my classes in New York can relate to me more. I think because it's homey for them to hear someone other than their parents talking and singing songs they know in their mother tongue.
For jazz though, it is definitely the American song book and Broadway shows that inspire the classes.
Were some American kids more interested in French culture after your classes?
I think so. They were curious about hearing me talking and singing in another language. It's very stimulating for them at this age to already get what cultural differences are and that people all over the world have different languages and different references, but also in the end, you can overcome all that through a common understanding and experience in music.
What does performing at Coucou mean to you as an expat?
I love Coucou very much and if I wasn't French myself, I would definitely want to take classes there ! (laughs)
I actually would love to teach French or music at this incredible school.
I think you guys have a very similar vision of teaching that I do in my music school.
You also have a particular unique program adapted to each and every student and their different levels and you include all the cultural references in it which I believe to be one of the most important aspects of teaching. This makes it whole, giving it a purpose, a sense in the world and life of every student. It's not just to learn French or learn music. It is mostly to meet people and learn how to communicate better with them and so, exchange more and express yourself with more means. It's about bringing people closer together.
I am very happy and grateful to have performed at Coucou on June 3rd!
I've loved Coucou since the first time I went there. It is a very sweet, open, kind, sharing community of French speakers in New York, that is doing an amazing job to promote our beautiful language and culture and making it more accessible to all.