Since the beginning of the confinement, French Waves, a documentary about electronic music in France, has been available for free on Vimeo. Director Julian Starke traces the evolution of the French Touch genre from its early roots in Chicago and Detroit to its arrival in France. If you're passionate about artists like Daft Punk, Justice, and Phoenix, Starke's documentary is a must-see. You can also explore the immersive site that accompanies the film. Available in French and English, it includes an interactive timeline and ten short episodes consecrated to Bob Sinclar and other famous French electronic artists.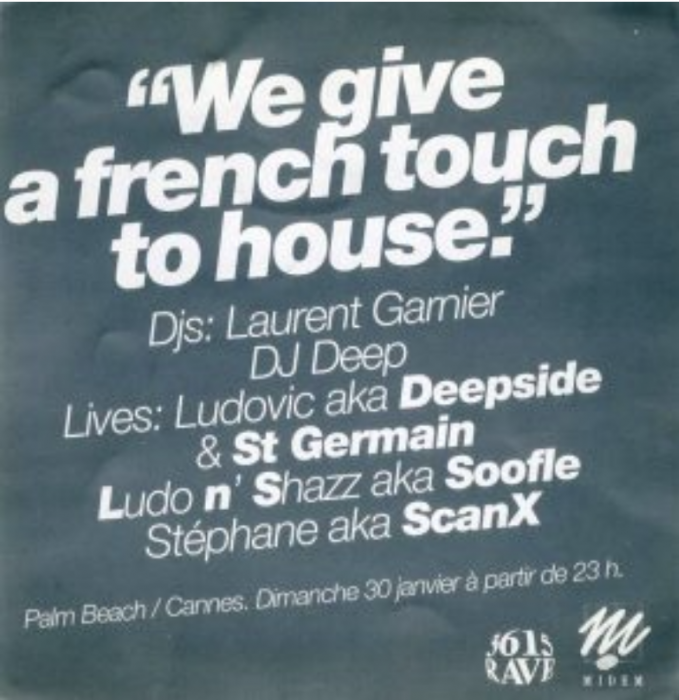 Inspired by Starke's work, we've put together a playlist that retraces the history of electronic music in France. Starting with the inimitable Jean-Michel Jarre, we work our way through the essentials of French Touch. In '87, French DJs like Laurent Garnier and David Guetta popularized dance parties with the slogan, "We give a French touch to House." And a movement was born. Blast the songs below to give a French touch to your house!
By Sophia Millman
Jean-Michel Jarre: "Oxygène" (1976) 
https://www.youtube.com/watch?v=Sj7A8SX7ccI&list=PLCFC37B95C9159ACC
The Lyon-born artist Jean-Michel Jarre became a huge star when his album Oxygène hit international markets in 1977. No musician had a greater influence on the French electronic music scene than Jarre. While artists like Pierre Schaeffer, Pierre Henry, and Didier Marouani are all considered precursors of French house music, it is rightly Jarre who has earned the title of premier héros de la French Touch. If you want to learn more about the making of Oxygène, read this Guardian article. Jarre has been incredibly active on the music scene for over fifty years, so it's hard to select his best songs, but this spotify playlist offers a nice sampling of his work. 
St Germain: "Sentimental Mood" (1995)

St Germain's album Sur un boulevard came out in 1995 and immediately became a hit in France and England. The dance magazine Muzik voted it album of the year, praising the way St Germain (a.k.a Ludovic Navarre) combined jazz, hip-hop and reggae. "Sentimental Mood" is a clear precursor for French Touch. If you like this song, you should also check out St Germain's first big success, the 1991 single "Subhouse." We also recommend his album Tourist, which came out in 2000. 
Motorbass: "Ezio" (1996)
https://www.youtube.com/watch?v=ex4IJn3qQmQ
Philippe "Zdar" Cerboneschi, who passed away in 2019, was famous for being a member of the group Cassius (see below!). However, before he teamed up with Hubert Blanc-Francard, he collaborated with Étienne de Crécy under the name Motorbass. Released in 1996 near the height of the French Touch frenzy, Motorbass's first and only album Pansoul remains the flagship of '90s French house music. Like Daft Punk's Homework, the album sold out as soon as it was released and has only gained in cult status over the years. Although it's hard to choose one track from the album, "Ezio" stands out for its innovative harp sounds. 
Laurent Garnier: "Crispy Bacon" (1997)

In 1998, the Victoires de la Musique (the French Grammys) created a new prize: Best Dance Album of the Year. Artists like Étienne de Crécy and Los del Sol competed for the award, but Garnier won it for his album called 30, which features "Crispy Bacon." Garnier had been DJing in Manchester, but hadn't performed live for French audiences since the early '90s, when he played at the famous Rex Club in Paris. Accompanied by an orchestra at the Victoires de la Musique, he amazed the crowd with his performance of "Acid Eiffel." 
Bob Sinclar: "The Ghetto" (1998)

Along with David Guetta, Bob Sinclar emerged as one of the most iconic figures of the French house scene in the 2000s. But the French DJ and producer was already releasing huge hits in the 1990s, including "Gym Tonic." Sinclar's real name is Christophe Le Friant, and he went by "Chris the French kiss" until 1998. That year, he came up with a new alter-ego, calling himself Bob Sinclar after the main character in Le Magnifique, a classic French action movie. 
Cassius: "Foxxy" (1999)

In production since 1996, Cassius 1999 was a breakout hit for the French duo Zdar and Boombass. Their first collaboration, which they called La Funk Mob, had a slow, conventional tempo. By incorporating rock and hip-hop beats into their music, they created a new, incredibly vibrant form of house music. After Philippe Zdar tragically passed away in 2019, Pitchfork released an excellent article that compiles the best French House songs he produced. 
Daft Punk: "One More Time" (2001)

Way before they released their best-selling song "Get Lucky," French duo Daft Punk became an international sensation with their debut album Homework. For our top songs of the 1990s playlist, we chose the group's club hit "Around the World." "One More Time" features on their second album, Discovery, which quickly sold 2.8 million copies. While Random Access Memories might be the group's most well-known album in the US, the first four songs on Discovery—"One More Time," "Aerodynamic," "Digital Love," and "Harder, Better, Faster, Stronger"—are pure genius and perhaps the apex of the French Touch movement. 
Justice: "Waters of Nazareth" (2005) 

The title of Justice's debut album wasn't a word—just an image of a cross. The group's members met in Paris in 2003, and decided to remix a song for a college radio station contest. The duo was scouted by a record label who released their song "We Are Your Friends." It quickly turned into a club and Internet sensation. The group's first single, "Waters of Nazareth," isn't quite as well known as "We Are Your Friends." Still, we chose it because it breaks with the house tradition that came before it, pointing French Touch in a new direction.
Air: "Alpha Beta Gaga" (2005)
https://www.youtube.com/watch?v=ZYM_npaoJDY&feature=emb_logo
"Alpha Beta Gaga" features on Air's incredible album Talkie Walkie (side note: the album's title isn't some kind of pun—the French actually call walkie-talkies talkie walkies!). Critics consider Air's Talkie Walkie and Moon Safari the group's best albums, but The Virgin Suicides is also definitely worth a listen. Written for Sofia Coppola's classic film, it's considered one of the best movie soundtracks of all time. 
Phoenix: "1901" (2009)

Phoenix began releasing singles in the 1990s, but the group only began to become well-known internationally in the 2000s. In 2003, Sofia Coppola featured Phoenix on the soundtrack of Lost in Translation (she later married the group's lead singer, Thomas Mars). The group's 2009 album Wolfgang Amadeus Phoenix was a huge success, and its tracks like "1901" allowed Phoenix to become an international sensation. Today, Phoenix, Daft Punk, and Justice are considered the biggest names of French Touch's second generation.  
Other French Touch artists we love and who almost made our top list
:
Cerrone, Stardust, Alan Braxe & Fred Falke, Modjo, The Supermen Lovers, Dimitri from Paris, Kavinsky, Mr. Oizo, and Vitalic!
Important French Touch labels
:
Ed Banger Records, F Communications, Kitsuné, and Versatile Records.
Bonus: French Touch Films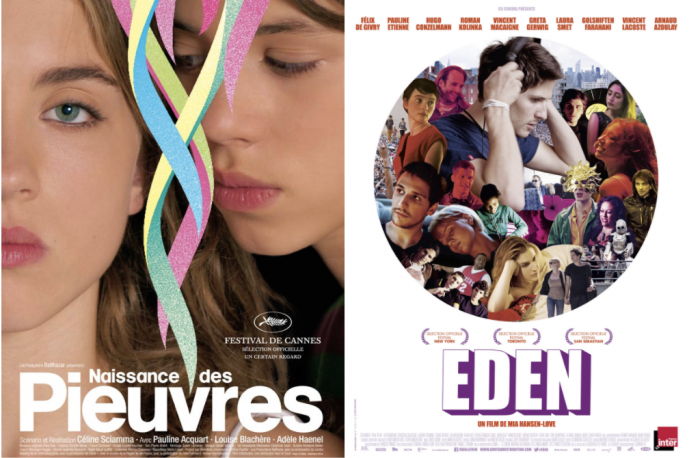 The Virgin Suicides and Lost in Translation aren't the only films that feature great French Touch soundtracks. Here are two others we recommend:
Naissance des pieuvres

(2007): Directed by Céline Sciamma, who made the award-winning

Portrait of a Lady on Fire

, the film features the music of French DJ Para One. 

Eden

(2014): Mia Hansen-Løve loosely based the story for this critically-acclaimed film on the life of her brother, French DJ Sven Hansen-Løve. The film's soundtrack features popular electronic artists like Daft Punk.