Exercising improves your memory, helps you focus, and, studies have shown, allows you to learn a language faster. That's why we've introduced wellness workshops at Coucou that students can take online. You can learn more and sign up for our online Saturday yoga classes with our amazing teacher Laura here. 
Coucou is also about to launch French Fit, a new fitness/French class hybrid—join us on Facebook Live on Sunday 4/19 at 5pm EST for an exclusive sneak peek…
To help you keep improving your French and stay healthy during le confinement, we've put together a list of French Instagram accounts, YouTube channels, and apps that you can use pour rester en forme. (Rester = to stay, en forme = in shape.) Using the online French-workout options below, you can build your core, pick up new yoga techniques, or get into the world of French cycling. You'll find that being immersed in French while working out really speeds up your language-learning process. À vos marques, prêt, partez! 
By Sophia Millman
Instagram 
Neoness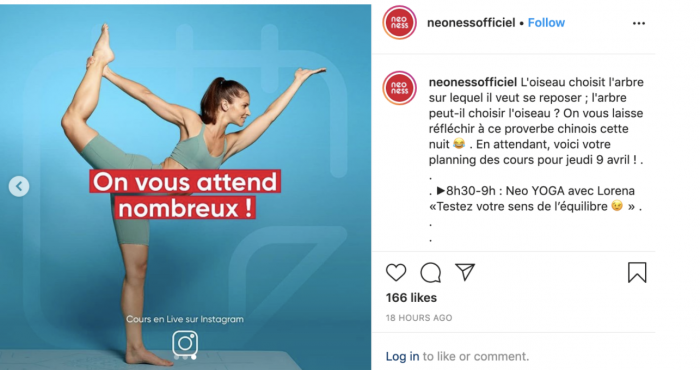 Neoness recently launched their ConFITment program, where you can participate in their live workout sessions on Instagram. Several times a day, Neoness posts different workout sessions with one of their coaches. You can work on your upper body for half an hour, sculpt your calves, or learn the basics of yoga. Neoness also launched an app called "My NeoCoach," which offers its members hundreds of workout sessions. As of last week, the app is accessible to anyone, whether or not you have a Neoness subscription!
RITM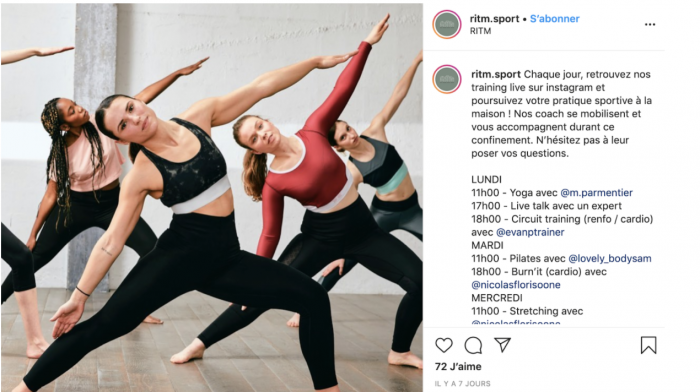 Since the beginning of the confinement, the French gym RITM has been posting free classes online. Their team of instructors publish short, 10-minute video clips on their Instagram account. Each 10-minute session is a "cycle" that you can repeat as many times as you like. You'll find daily workout challenges that focus on cardio, mobility, and muscle strengthening. 
Punch Boxing Studio
Punch Boxing Studio opened in Paris only three months ago, but is already quite popular on social media, thanks to its IGTV videos. Every Monday, Wednesday, and Friday, the studio posts a new, 20-minute video at 6 pm Paris time (12 pm EST). Half of each video is devoted to boxing, the other half to a fitness bootcamp. Each video is also devoted to a different part of your body: you can work on "legs & butt," "arms & back," or "abs." There are also live masterclass and mini-challenges.  
L'Usine
L'Usine is an exclusive French club de sport that now posts free workout sessions. You'll find weight training, stretching, yoga, and pilates exercises on their Instagram and Facebook pages. In addition to their free at-home training sessions, they also post nutrition and lifestyle tips as well as great detox recipes. 
Other popular French Instagram accounts for working out:
La Salle de Sport

: for free crossfit, cycling, boxing, and yoga/pilates courses.

La Montgolfière

: a Parisian gym that incorporates contemporary art and relaxation tips into its posts.

Elsa Training

: Elsa is a French personal trainer who posts her crossfit, pilates, and yoga workouts.
Youtube Channels
Yoga
You can find tons of great yoga videos in French on Elle magazine's YouTube channel! Some videos have specific themes like "Emotional Detox" or "Yoga for Back Pain," but there are also more general videos for beginning, intermediate or advanced students, as well as many levels for both vinyasa and ashtanga yoga. Each video lasts about thirty minutes. This article compiles many of Elle's free yoga videos. Of course, there are many other amazing French yoga channels. We recommend: 
Pilates
French fitness coach Lucile Woodward's thirteen-minute pilates video is an excellent place to start if you'd like to do pilates at home. Woodward is a mom and also posts helpful videos of exercises she does with her kids. 
The French health website Doctissimo has a great series of pilates videos on its

channel

. 

French coach Ingrid is doing a special

confinement series

of pilates exercises on YouTube. 
Apps
Fizzup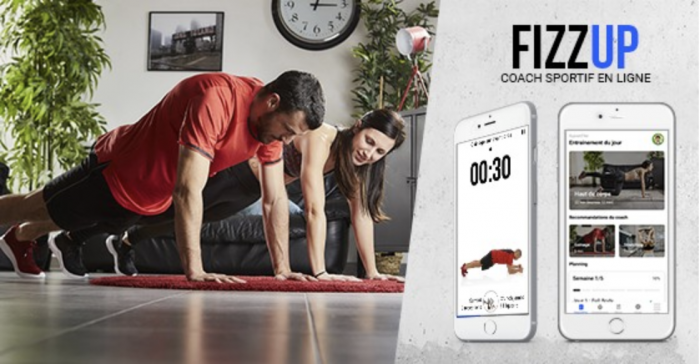 FizzUp is the most popular online coaching program in France, with more than five million subscribers. This French start-up app includes over 300 exercises, and fitness programs for all body types. You can customize the app according to your height and weight, and then set specific goals like losing weight or building muscle. The app also offers fun programs for kids from ages 10 to 15. 
Free or €4.99 a month for the premium version. To activate a premium subscription for free during the confinement, use code P1M-8E34A3YN. Valid until 16 May 2020.
Find out more at FizzUp's website (available in both French and English). 
Goove
The French Ministry of Sports has endorsed this popular web and phone app. After you answer 11 questions about yourself, the app tells you what your "profile" is and what you should do to stay in shape. There are adapted physical activity sessions (muscle strengthening, stretching, flexibility) and special exercises for kids and the elderly. No matter what training theme you choose, you'll find about a dozen training sessions that last around 35 minutes. Each includes detailed descriptions of exercises and illustrative videos. 
Check this free app out here! 
My Coach Vélo
If you miss biking outside, this is the app for you. The French Cycling Federation (FFC) built this app that walks you through training exercises at home. The best part is that you don't need to have a stationary bike! You can develop lower body strength by doing lunges or squats; work on your upper body with inverted push-ups; and improve your balance on the bike with sheathing exercises. You can also follow the FFC's hashtag #RoulezChezVous to discover a new set of biking activities every day. 
Available on Google Play and iTunes. On the app's website, you can also find links to the FCF's Twitter and YouTube accounts. 
Gym at Home

Gym Direct is one of France's most popular fitness TV shows. It airs mornings and focuses on muscle building activities as well as dance and stress-releasing exercises. You can watch almost all of the show's episodes for free on its YouTube channel. There are even special episodes for children, which could be a great way to expose your kids to French! 
If you're interested in signing up for regular French gym classes rather than watching classes on YouTube, check out

Swedish Fit

. You can learn more about the gym on its

Instagram

and

Facebook

pages or its

YouTube channel. 

We also recommend

Barreshape

, a gym whose classes combine classical dance, pilates, and more traditional cardio workouts. You can take their live virtual classes for 7 euro and find out more about them on their

Instagram

or

Youtube

channel.