Finding an enjoyable book to read in English is hard enough–let alone finding one in a language you're learning! Your level of comprehension increases incredibly quickly when you read in French, but it's hard to choose a book that you truly look forward to opening. This is why we've compiled the ultimate list of books for French learners, which includes titles for speakers of all levels! We've also organized it by genre so that you can easily discover your new favorite French book. For each category, we've recommended two books (one simple, one more advanced), accompanied by a list of other great works within the genre.
If you're looking for even more books that the French love, check out Le Monde's list of the 100 Books of the Century. And one last idea: if you have an all-time favorite novel in English, why not try reading its French translation? Since you already know the plot, you can really focus on developing your vocabulary while reading… There's no shame in starting with Harry Potter à l'école des sorciers!
By Sophia Millman
Children's Classics and Bandes Dessinées

Simple – Le Petit Nicolas by René Goscinny
While many people think of Le Petit Prince as a children's book, it was in fact written for an adult audience, and you may find it a challenging read. Try the charming Petit Nicolas series first! The books were written by René Goscinny and illustrated by one of France's most celebrated cartoonists, Jean-Jacques Sempé. The series started out as a comic strip, much like Peanuts, and you'll find that the books have a Charlie Brown-esque style of humor: the story is narrated as though it were told by a child who doesn't quite understand the world of adults. You'll learn all about what it was like to grow up in France during the 1950s, and you'll be able to figure out the definitions of almost all the words without a dictionary, thanks to the straightforward storylines about Nicholas and his friends' adventures.
Advanced – Le Petit Prince by Antoine de Saint-Exupéry
How could any list of French books not include Le Petit Prince, which is one of the most widely translated books in the world and has been voted the the best French book of the 20th century? Although it's filled with drawings that will delight any child, Le Petit Prince explores profound existential questions and critiques the way adults tend to lose their sense of imagination and capacity for wonder. If you only have the time to read one book on this list, make it this one.
Further suggestions
If you love French comic books and want to discover more, try the Astérix, Bécassine, Boule et Bill, Spirou or Tintin series. And if you're looking for French children's chapter books, you should sample Les Malheurs de Sophie or La Chèvre de monsieur Seguin.
Crime and Mystery Novels
Simple – Coule la Seine by Fred Vargas
If you're not ready for a full-fledged novel, you can try one of the three mystery stories in this collection. Fred Vargas is an archaeologist, historian and one of France's most popular contemporary crime writers. These stories will let you get to know one of Vargas's eccentric recurring characters, Commissaire Jean-Baptiste Adamsberg. And if you get hooked on Vargas's storytelling style and Adamberg's personality, you're in luck: there are ten other novels about him!
Advanced – Pietr-le-Letton by Georges Simenon
Georges Simenon wrote almost 500 novels and his most famous character is Inspector Jules Maigret, who first appears in Pietr-le-Letton. Simenon is the French equivalent of Agatha Christie; you have to read at least one of his novels if you consider yourself a true mystery lover. His prose is not extremely difficult, but will feel more old-fashioned than Vargas's writing. The novel is set in Paris and you'll enjoy following the inspector around the city as he meets a variety of peculiar characters. And the best thing about this book is that if you like it, you can read over a hundred other novels that feature Maigret.
Further suggestions
Looking for other French crime novels? You'll adore La vérité sur l'affaire Harry Quebert by Joël Dicker, which was a huge sensation in France when it was first published. Other essential "polars" are Arsène Lupin, gentleman-cambrioleur by Maurice Leblanc, Le Mystère de la chambre jaune by Gaston Leroux and Le vol des cigognes by Jean-Christophe Grangé.
Classics

Simple – La Gloire de mon père by Marcel Pagnol
Marcel Pagnol is one of France's most popular 20th-century authors and his autobiographical work La Gloire de mon père is the perfect introduction to his oeuvre. The memoir beautifully captures Pagnol's nostalgia for his childhood summers spent in the south of France. Even if you struggle with some of his vocabulary, you'll find Pagnol's prose style very accessible. You can also watch the excellent film adaption of the novel before reading the book to get a sense of the setting and characters. Once you finish La Gloire de mon père, you'll definitely want to read its sequel, Le Château de ma mère. Jean de Florette, Pagnol's most famous novel, is also well worth a read.
Advanced – Madame Bovary by Gustave Flaubert
The author and critic Clive James perfectly sums up why you should read Flaubert's most famous work: "The first thing to say about Madame Bovary is that it's a terrific story. Other comparably great and famous novels aren't, but it is. Everyone should read it. Everyone would read it, given a free taste." The novel is arguably the most essential French classic and while it may be a dense read, the plot is so interesting that you'll be compelled to finish it. Flaubert is a master of realistic description and dialogue, and although you'll probably find yourself consulting the dictionary often, you won't regret reading this masterpiece.
Further suggestions
There are so many wonderful French classics that it's impossible to choose which to read first! Everyone should give the action-packed novels of Alexandre Dumas and Victor Hugo a try, but if you're a fan of realistic novels, and read French at a very high level, you'll want to sample the works of Honoré Balzac or Emile Zola. More recent must-read classics are Albert Camus's L'étranger and Boris Vian's L'Écume des jours. Finally, if you're not sure you have the stamina for a Proust or Flaubert novel, but you'd still like to read a 19th-century work, try Flaubert's short Trois Contes or one of Guy de Maupassant's short stories.
Philosophical Novels
Simple – Oscar et la dame rose by Éric-Emmanuel Schmitt
Éric-Emmanuel Schmitt is one of France's most celebrated contemporary authors and you'll understand why when you read this short book. The novel is composed of letters which describe twelve days in the life of Oscar, a young boy who is terminally ill. You'll find yourself quickly becoming invested in the close relationships he forms with his caretaker, Madame Rose, and the other patients at the hospital where he is treated. This little story is incredibly moving, and Schmitt manages to convey complex ideas in very simple prose, which makes the book ideal for beginning or intermediate French readers.
Advanced – L'Élégance du hérisson by Muriel Barbery
This novel, first published in 2006, quickly became an international bestseller and has been translated into over forty languages. Like Oscar et la dame rose, the book has a very compelling plot, but explores complex philosophical ideas (its author is a philosophy teacher) in unpretentious terms. It's filled with allusions to famous works of art, music, film, and literature and the story centers around two highly lovable characters, Renée, a concierge, and Paloma, a precocious twelve-year-old. While the book may be a bit challenging for you if you're a beginning or intermediate reader, you can still appreciate Mona Acache's film adaptation!
Further suggestions
Of course, no list of philosophical French novels would be complete without the works of Voltaire, Simone de Beauvoir and Jean-Paul Sartre. Even if you find Candide too difficult to read in French, you can still challenge yourself to read a short excerpt from the original text or perhaps an abridged version of the work. (It's worth it considering that the novella is consistently voted one of the most influential works of literature!) While de Beauvoir is best known for Le Deuxième sexe, she wrote many works of fiction. Start with Les Mandarins, which won the Prix Goncourt and is her most famous novel. As for Sartre, you might want to try La Nausée first since it's quite a short book and one of his best works.
Romance Novels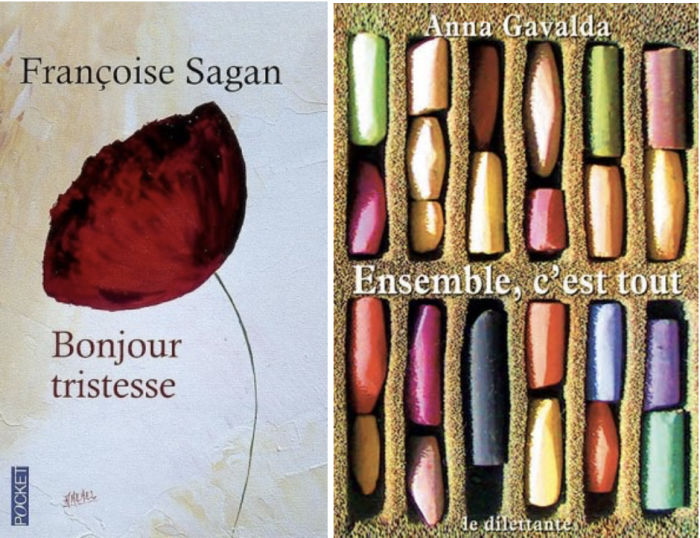 Simple – Bonjour Tristesse by Françoise Sagan
Bonjour Tristesse is the perfect beach read and also a great novel for intermediate French learners since it's quite short and the vocabulary is not at all challenging. Sagan wrote this novel during six weeks when she was only eighteen and it instantly became a bestseller, thanks to its racy content (for readers in 2018, it's hard to see what was so scandalous about the book, but in 1954 its sexual innuendos were a big deal.) While it may not be written in the most sophisticated style, the novel is incredibly hard to put down. You'll be desperate to know if teenage Cécile's plan to sabotage the relationship between her womanizing father and future stepmother works out or if it ends (potential spoiler alert) in a soap-opera level tragedy.
Advanced – Ensemble, c'est tout by Anna Gavalda
Anna Gavalda is one of France's most popular contemporary writers and if you think Ensemble, c'est tout might be too long for you, you can still get a feel for her unique voice by reading one of her short stories (try her collection Je voudrais que quelqu'un m'attende quelque part). The best-selling Ensemble, c'est tout was made into a film starring the devastatingly charming Audrey Tautou (Amelie isn't the only movie she acts in!). The book follows the intersecting lives of a group of characters in Paris, and Gavalda's excellent ear for dialogue will help develop your understanding of contemporary French slang.
Further suggestions
A few other classic romans d'amour are L'amant by Marguerite Duras, Le grand Meaulnes by Alain-Fournier, Les liaisons dangereuses by Pierre Choderlos de Laclos, and Le Rouge et le Noir by Stendhal. For more contemporary love stories, try Un long dimanche de fiançailles by Sébastien Japrisot, Le Bleu est une couleur chaude by Julie Maroh, Oona et Salinger by Frédéric Beigbeder, or La Délicatesse by David Foenkinos.