Lauren Collins, a French cultural critic for the New Yorker, wrote an essay in 2017 about the difficulties of giving her son a French name. Because Collins is American, she couldn't understand why her husband Olivier disliked certain French names. When you hear the name Timothée, you might think of heartthrob Timothée Chalamet. But Collins's husband associated the name with timotei, the famous French bath gel! 
It's hard enough to find an English name that doesn't seem ugly, old-fashioned, or remind you of a certain celebrity you're not a fan of. But where to start with French names? Why does it seem like so many French people have two first names like Jean-Pierre or Marie-Louise? How can you know whether a French name is fashionable, classic, or ringard (uncool)? Why are the French so obsessed with names in the first place? 
Here's our guide to les prénoms français!
By Sophia Millman
The history behind French names 
In the US, you can call your child whatever you like, but that hasn't always been the case in France. Starting in 1803, French law required all parents to name their children after Catholic saints. In 1813, the law changed slightly: you could name your baby after a saint or a person "from ancient history." (Basically, your options were Marie, Paul, or, if you were a little more creative, César.) 
In 1966, a man from Brittany changed history when he decided that it was within his rights to name his (twelve!) children after Celtic heroes (Gwendal, Maiwenn, Sklerijenn…). He brought his case to court and won: the Ministry of Justice ruled that you could name your children after famous people from mythology or even give them names from other languages. You could not, however, name your children after "things, animals, or qualities." (If Gwyneth Paltrow had been French, she couldn't have named her daughter Apple!)
French Names Today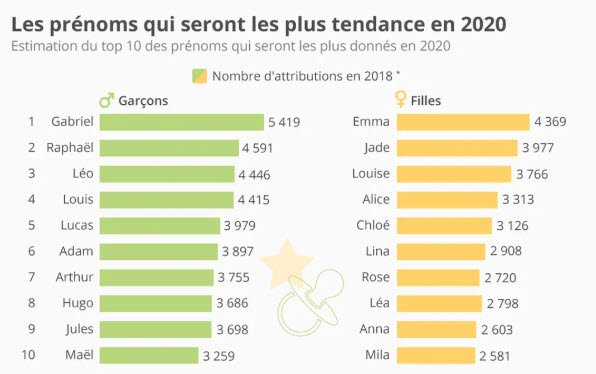 In 1993, laws about names in France changed again. The French can now call their children anything they like, so long as the registrar does not think a name will negatively influence a child's future. A French court ruled against parents who wanted to name their child Moche (an alternate spelling of Moses) because the French adjective moche means ugly. Famously, another family wanted to name their daughter Nutella, but the court insisted on Ella. 
While the rules about naming children are more flexible in France today, the French are stricter about keeping your given name. In the US, you can change your name whenever you like, without having to hire a lawyer (as long as you're willing to pay about 200 dollars and fill out a lot of forms). But in France, you have to prove that your name is "ridicule" or "prejudiced against you." Maybe because it's so hard to change your birth name in France, the French spend a lot of time choosing their babies' names. L'officiel des prénoms (The Book of First Names) is updated every year in France and is always a huge best seller. 
The Kevin Phenomenon
You know how the French have a reputation for being a little snobby about culture? Well, it turns out there are some American names that they look down on–specifically Kevin! In 1991, over 14,000 babies in France were named Kevin (that's pronounced Keh-veen). Why did the name suddenly become so popular? It turns out Hollywood played a role: Kevin Coster had recently starred in Dancing with Wolves, and McCauley Culkin had popularized the name Kevin even further by playing Kevin McCallister in Home Alone. 
According to sociologist Baptiste Coulmont, French intellectual elites quickly began mocking the name Kevin, arguing that it epitomized lowbrow culture. The research of Coulmont and other French sociologists shows that companies are three times less likely to consider a resume if the name on it is Kevin. Kevin has become so notorious in France that novelist Iegor Gran decided to write a book called Kevin's Revenge, in which he attempts to recuperate the name. And now, in France, there's a movement to show that the name isn't so bad after all. 
What Names are In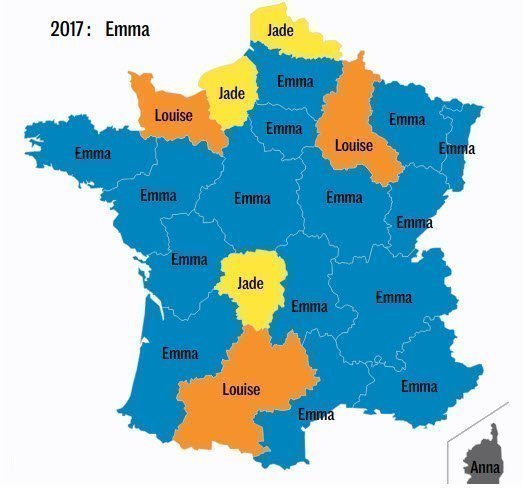 Earlier this year, Le Monde created an interactive map of the most popular French names since 1946. Names that are fashionable in one region of France may be less popular in another. For instance, in Brittany people are more likely to name their son Corentin or their daughter Lilwenn because these names are bretons. In 2017, Gabriel and Emma were the most given first names in France except in the Paris region. Parisians preferred Inès and Adam. Corsica is the region that stands out the most: it's the only part of France where Marie and Jean remained popular after World War II. And, in recent years, Corsicans have given almost all their children names that originated on the island, like Lisandru and Ghjulia.
If you'd like to know the baby names that are predicted to be the most popular in France in 2020, check out this French article which has a complete list at the bottom. Interestingly, for girls, Emma is at number one in France and in the US! But while Americans seem to prefer longer names like Isabella, Charlotte and Sophia, the French are keeping it short with Jade, Rose and Léa. Popular French boys' names remain largely biblical: Adam, Gabriel and Raphaël.
What Names are Out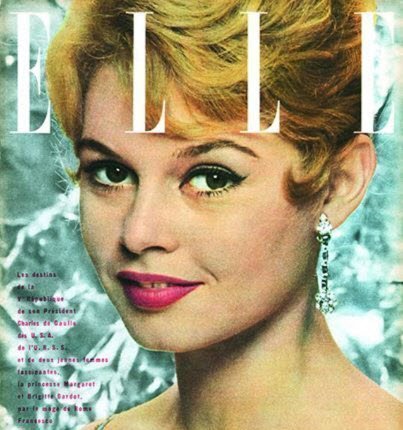 While the French may love Brigitte Bardot, the name Brigitte hasn't been popular in France since the 1950s. Emmanuel Macron's wife rocks the name, yet it's difficult to find a baby in France named Brigitte today. Some of our American students are fond of familiar-sounding French names like Jean-Claude, Bernadette, Marcel, Jacqueline, or Monique. We love these names, but they're all currently out of fashion. On the French site tonprenom.com, you can find a list of les prénoms les plus démodés (the most unfashionable first names). 
Speaking of Jean-Claude, one thing you should know is that hyphenated first names (Anne-Sophie, Paul-Hubert etc.) can come off as a little pretentious. As the French would say, "Ces prénoms font BCBG"–that is, people who have these names often come from bourgeois or privileged backgrounds. Similarly, before giving your baby a cool-sounding French name, you should research it to find out where it comes from. Certain old French names have aristocratic connotations (which can be both positive or negative). Check out  this article that lists a few "prénoms chics et aristos" or this one. Believe it or not, the name Blanche is very BCBG! 
Final Thoughts
If you're interested in learning more about the sociology behind French names and want to practice reading in French, check out Baptiste Coulmont's blog. In the article we linked to, he analyzes which names families are most likely to give their children depending on the parents' socioeconomic background. It turns out that in certain upper-class circles, Timothée is incredibly popular! This all goes to show that what one French person might find cheesy another person might find beautiful. 
And if you're the sort of person who has strong feelings about first names, you should watch Le prénom (What's in a Name?).