Prospective in-person students: please read our Covid safety protocol
Our Philosophy
who we are
We are two cousins and self-confessed grammar geeks who decided to found a French language center based on intimate and culturally savvy classes. Léa grew up in Tours and Toulouse, and she moved to New York six years ago. Marianne grew up in Paris and lived in London and Berlin for several years before joining Léa. Our professional backgrounds include music, marketing and hospitality as well as teaching and languages. We have developed a tried and true curriculum and teaching method.
---
language meets culture
At Coucou Brooklyn, you can sign up for French classes small enough (nine students maximum) to provide you with an optimal amount of speaking time and personal attention. Combining language with culture is why our classes are simultaneously fun and useful. In class, we will teach you all about the Parisian music scene, the 35-hour work week, and proper French table manners… in French. That way, you get a cultural education—and venture forth with the confidence that it's 100% authentic.
---
Coucou: a community
We're not just a school: we're also a community. Our classes are a great place to meet and chat with fellow francophiles. Our teacher are always happy to recommend French movies and TV shows, and to let you borrow a book or a magazine from our extensive library. Or you can simply attend one of our events, which aim to bridge the traditional aspects of French culture with a more current, modern and youthful vision.
---
You and Coucou
If you're learning for fun, you'll have a smoother time navigating French films, and traveling to France or 29 other French-speaking countries around the world. If you're motivated by work or love, you'll gain plenty of conversational material to test your mettle. We'll set up realistic scenarios, injecting you into a job interview or business lunch, a date, a first encounter with your lover's parents.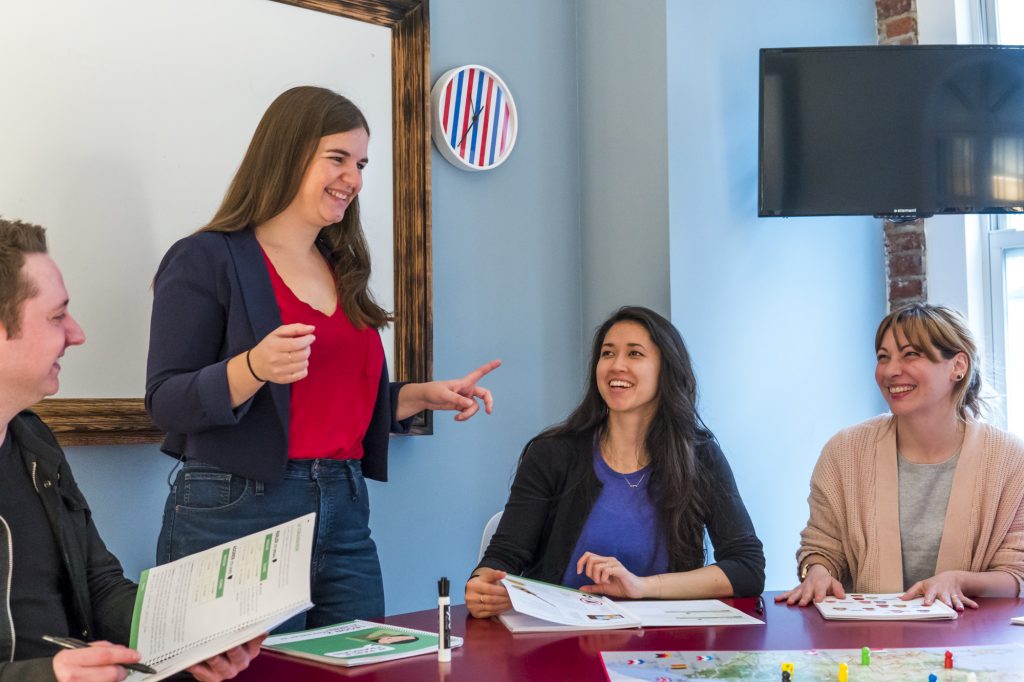 New York
Group Classes
Join a French class from anywhere on the East Coast and beyond!
Many group classes and cultural workshops are held in-person at our New York location, whereas online classes run by our NY team are open to everyone! Different class formats are offered and there are new classes starting every week – all times are listed in EST.

Los Angeles
Group Classes
Join us for a group or private lesson at Coucou Los Angeles!
First Coucou hire and recent L.A. transplant Margaux is running operations out of our Downtown L.A. office, along with a team of great teachers. Classes are also offered in Pasadena.