Coucou Events
Come and join our fun, culturally-savvy events throughout the year – art shows, film screenings, wine tastings and everything in between!
While the backyard parties we organized in our former Williamsburg space were legendary, we plan to continue the tradition in our new Nolita space! We celebrate our French cultural heritage by hosting parties for such annual events as Bastille Day and Mardi Gras, but sometimes Coucou parties are just an excuse to get together and meet classmates, teachers and students of other levels in a casual setting! Class outings are a regular occurence as well – we've taken groups to various local bars and restaurants, and sometimes to a game of Escape The Room (in French!).
Immersive French Outings is a series curated by long-term Coucou teacher Pia. Pia is well-connected in the New York art scene and has taken students to movie premieres, French restaurants, the opera and to visit a local French artist's studio. A great way to practice your French and have a unique cultural experience all at the same time!
Saturday, December 1st – 9pm til late
Join us for holiday festivities at Coucou! Christmas will come early this year with a special charity raffle benefiting the non-profit Campaign for Female Education!
The first prize will be a ROUND TRIP FLIGHT FROM NYC to PARIS with Coucou's partner XL Airways!
Other amazing prizes by Murray's Cheese, Maman, Compagnie des Vins Surnaturels, WOOLN, bodyART Americas and more. Of course you'll also get to win several group classes at Coucou!
Buy your $5 tickets at the school when you come for your class!
As usual we'll get to enjoy a little musical performance, great cocktails and sweet treats! And don't forget your dancing shoes!
BYOB / Students & Friends only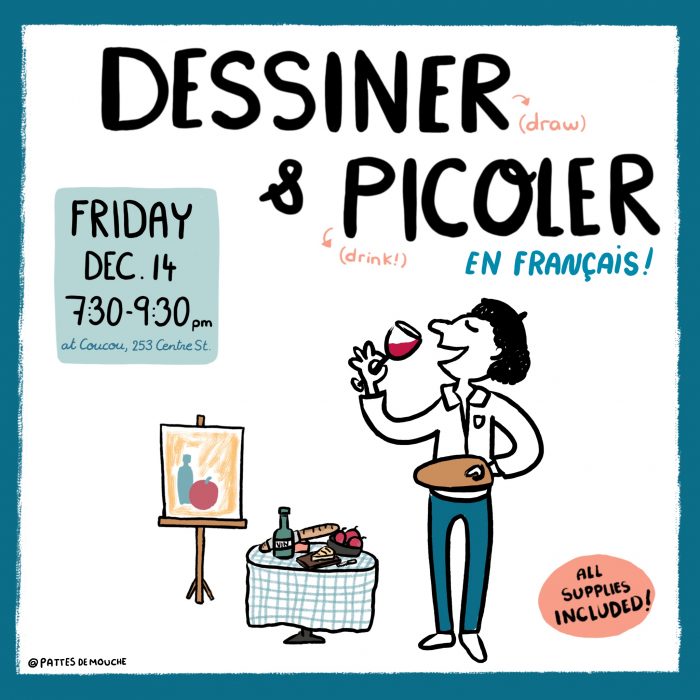 Friday, December 14th from 7:30pm to 9:30pm.
JOIN US FOR OUR FIRST EVER "DESSINER ET PICOLER" SESSION!
Two hours of drawing in French, with a little wine and lots of fun. All levels of French and drawing abilities are welcome (from "I haven't drawn since I was five!" to "Je suis un artiste!")
We'll set up a very French nature morte (still life) and chat art, paper and cheese! You're sure to gain a lot of new vocabulary in a relaxed atmosphere, practice your French, and who knows, even maybe create a masterpiece!
Nina will be the teacher for this special workshop. Outside of being a Coucou teacher, Nina is a freelance illustrator and designer. You can find more of her work at 
nina-summer.com
Channel your inner Bob Ross, and join us on December 14th from 7:30pm to 9:30pm.