IN-PERSON CLASSES HAVE RESUMED! Learn about our COVID-19 safety protocols for our physical locations.
Coucou Events
French Cultural
Events in New York
---
Come and join our fun, culturally-savvy events throughout the year – art shows, film screenings, wine tastings and everything in between!
While the backyard parties we organized in our former Williamsburg space were legendary, we plan to continue the tradition in our new Nolita space! We celebrate our French cultural heritage by hosting parties for such annual events as Bastille Day and Mardi Gras, but sometimes Coucou parties are just an excuse to get together and meet classmates, teachers and students of other levels in a casual setting! Class outings are a regular occurence as well – we've taken groups to various local bars and restaurants, and sometimes to a game of Escape The Room (in French!).
We look forward to resuming our cultural events and parties and to hosting you at Coucou as soon as it becomes possible again!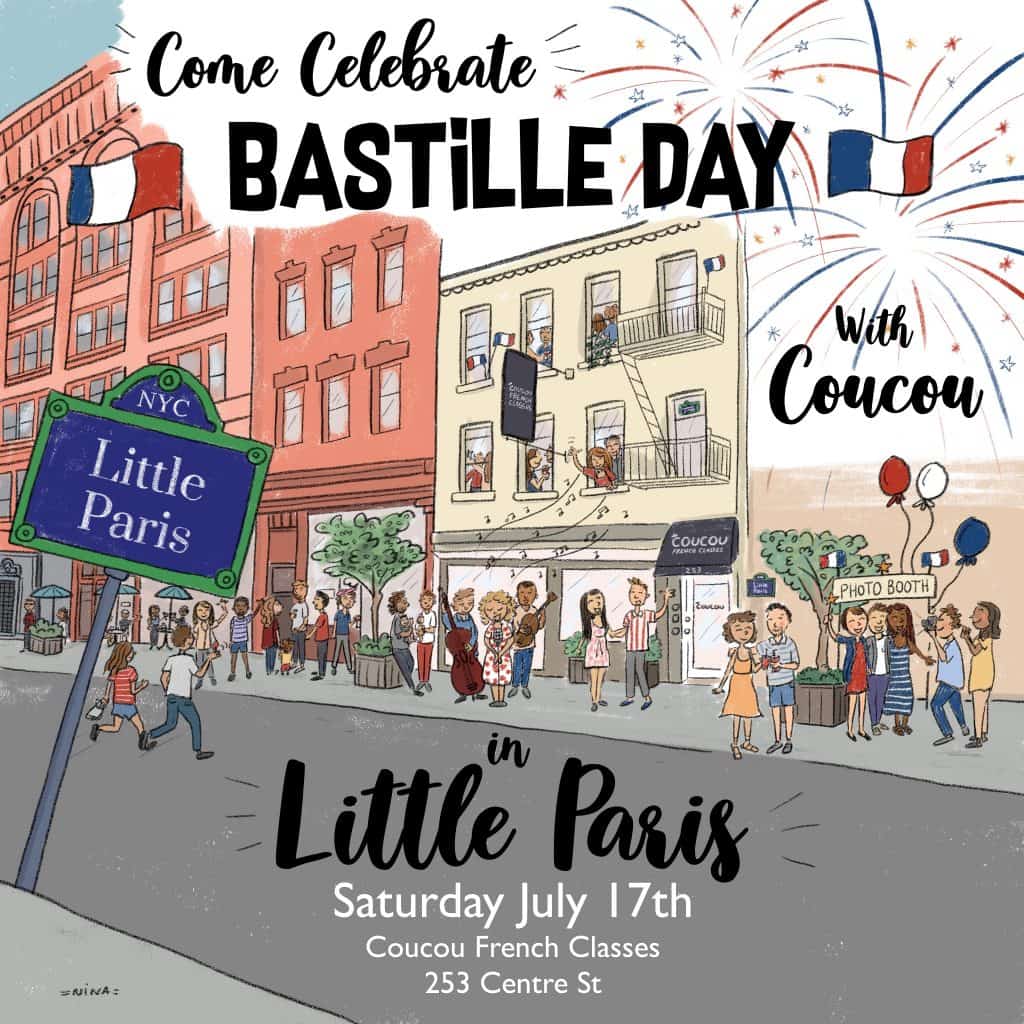 Saturday July 17th from 3 to 7pm EST
We are very excited to announce that we're hosting a reopening party on Bastille Week, which will be a chance for students who knew us before the pandemic to get together again, and for students who have recently joined us to tour the school and meet their teachers and classmates IRL.
The party will feature live music, French treats and cocktails, and we will be showcasing the new "Little Paris" street signs on our block!
Careful: the event will take place not on actual Bastille Day (July 14), but on Saturday July 17 from 3 to 7pm EST.
Music by the French trio Oh la la
+ special performances by Coucou teachers!
French Cider by Aval, Wine by Communal Brands & French-inspired cocktails
French treats from Maman & Michel et Augustin
The event will take place both indoor and outdoor. Please note that the indoor part of the event will be open to those fully vaccinated, with controlled capacity. CDC vaccination cards will be verified at the door.