Coucou Events
Come and join our fun, culturally-savvy events throughout the year – art shows, film screenings, wine tastings and everything in between!
We organize monthly parties at our Williamsburg space (in the backyard, with BBQ and live music if the weather permits it!). We celebrate our French cultural heritage by hosting parties for such annual events as Bastille Day and Mardi Gras, but sometimes Coucou parties are just an excuse to get together and meet classmates, teachers and students of other levels in a casual setting! Class outings are a regular occurence as well – we've taken groups to various local bars and restaurants, and sometimes to a game of Escape The Room (in French!).
Immersive French Outings is a series curated by long-term Coucou teacher Pia. Pia is well-connected in the New York art scene and has taken students to movie premieres, French restaurants, the opera and to visit a local French artist's studio. A great way to practice your French and have a unique cultural experience all at the same time!
Friday August 18th & Saturday August 19th!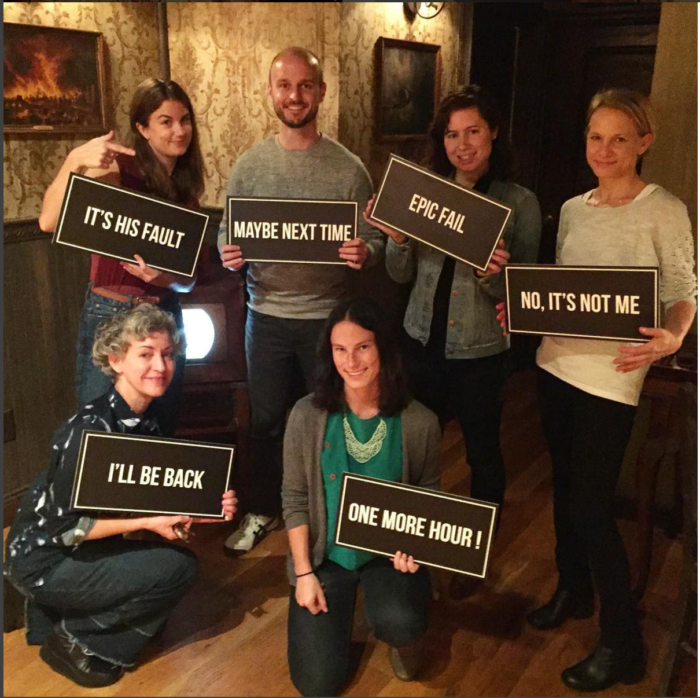 Brainxcape is a real-life escape room game in Manhattan's Flatiron district. The concept is simple: you are locked in a series of roms and have one hour to escape by figuring out the clues and solving the puzzles.
The owner of Brainxcape is French and is hapy to set up the instructions in French just for us!
Check it out here: http://www.brainxcape.com
Friday 8/18
"Prison Break" at 7pm
"Haunted Hotel at 6:40pm
Saturday 8/19
"Prison Break" at 5:50pm
"Haunted Hotel at 5:20pm
The groups could join afterwards for drinks nearby!
The cost is $45/person.
Please let us know if you are interested and for which session! Since spots are limited (5 people per group + 1 teacher), it's first come first serve!
Email us for availability: coucou@coucoubrooklyn.com