APPRENTI / ONLINE / BIWEEKLY 12-05-23 Level 3 |
Online
Apprenti Biweekly
Hurry! only 2 spots remaining!
Tuesdays and Thursdays
**Skips Dec. 21, 26, 28 and Jan. 2
This class will be taught mainly in English, with French being introduced gradually via simple conversation prompts.
Payment over time options available at checkout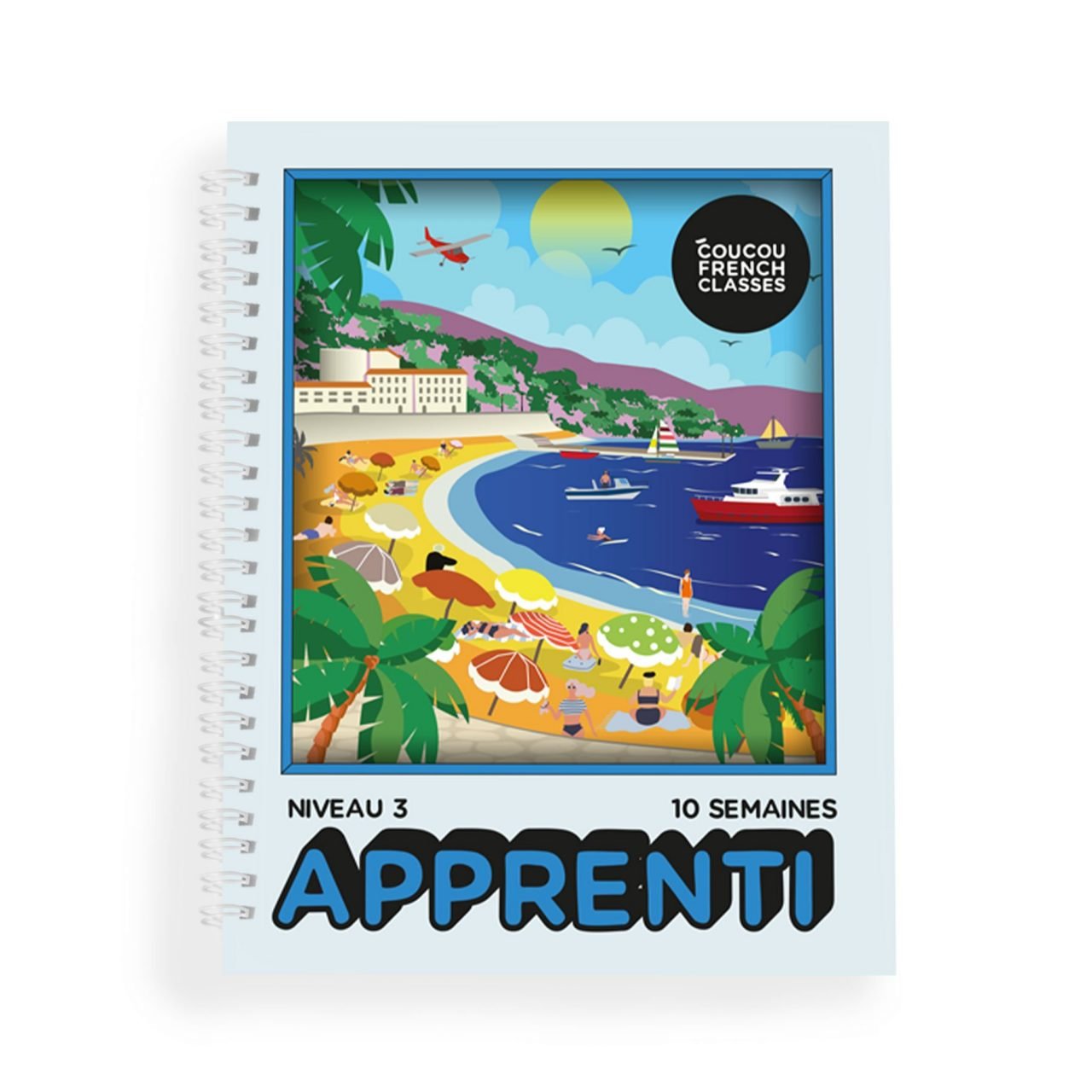 Required Course Books.
Niveau 3 – course book
The course book is required to take this class (we will also be sending a digital version free of charge along with the Zoom link the day before your class starts). It contains all lesson content as well as homework. Required Coursebooks will be automatically added to your cart when registering.
Group classes and workshops fill up fast, make sure you sign up in advance so you don't miss out on your first choice!
Please note that our classes are only open to adults.
You'll receive a Zoom link to join the class the day before class starts.
Additional Material
for your Class
Exercise books are optional and contain additional practice materials, as well as answer keys for all exercises. Flashcards are a fun and super effective way to learn French vocabulary.
You're
Apprenti

, if...

You can say "I want some milk", "I never get up early," and "Do you like pizza?"

You have a handle on present tense conjugation, and you're ready to take on the past tenses.

You are getting frustrated that you can't say things like "I know her" or "I speak to him" – bring on object pronouns!

You took a college-level French class… a long time ago.
THE CURRICULUM
Tuesday Dec 05: Lesson 1
Review of the verbs in the present tense
Thursday Dec 07: Lesson 2
The "passé composé" using "avoir" as an auxiliary
Tuesday Dec 12: Lesson 3
The "passé composé" using "être" as an auxiliary - Part 1
Thursday Dec 14: Lesson 4
The "passé composé" using "être" as an auxiliary - Part 2
Tuesday Dec 19: Lesson 5
The "imparfait"
Thursday Jan 04: Lesson 6
Imparfait vs. passé composé
Tuesday Jan 09: Lesson 7
The "plus-que-parfait"
Thursday Jan 11: Lesson 8
Object pronouns - Part 1
Tuesday Jan 16: Lesson 9
Object pronouns - Part 2
Thursday Jan 18: Lesson 10
General review of Level 3