COUCOU APÉRO / NYC / FRIDAY 02-10-23
NYC In-person
COUCOU NYC APÉRO
VALENTINE'S DAY
Hurry! only 1 spot remaining!
Join us at Coucou NYC on the Friday before Valentine's Day to unwind and meet like-minded people around a glass of wine! Quentin and Angèle will co-host a very special night celebrating the best of romantic French cinema and music through trivia and games, as part of the Coucou Apéro series. The winning team will receive a very special prize and some Coucou goodies!
Social gatherings and events have always been a big part of the Coucou experience as we strive to create a fun and inclusive community and develop a sense of togetherness between staff and students. Think of the Coucou Apéro as a Happy Hour, where you can spend time with your classmates and teachers outside of the classroom, meet fellow francophiles, learn about and discuss French culture around some wine and snacks. We hope to see you there!
ABOUT YOUR HOSTS: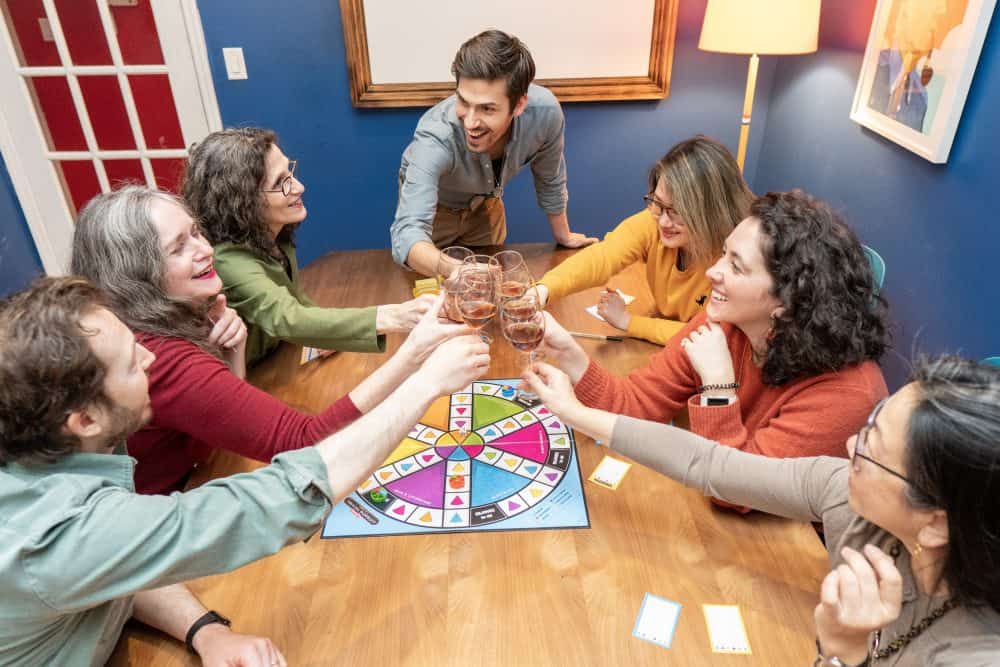 Quentin is a NYC-based Coucou teacher, actor and singer who grew up in Toulon on the Côte d'Azur. A self-proclaimed "grammar nerd", Quentin loves using tools and games from his professional acting training to help his students better their language skills in a fun, caring, and conscious manner.
Angèle moved to New York 6 months ago with her son and daughter, after several years spent living in London and several other countries working as a French teacher. As the founder of "ToGameTher," a board game library with 250 different titles, she always has a game in her bag. While she never owned a TV, she knows the rules of all French TV game shows over the last 30 years.
Group classes fill up fast, make sure you sign up in advance so you don't miss out on your first choice!
Please note that our classes are only open to adults.