Prospective in-person students: please read our Covid safety protocol
The Coucou Method
At Coucou, we extensively train all our teachers in our unique 7-level method, which is tailored to everyone from complete beginners to very advanced speakers.
Levels 1 through 5 follow a progressive grammar curriculum, introducing new grammar topics at a realistic pace and infusing the lessons with useful vocabulary and fun activities to practice.
Levels 6 and 7 are conversation classes where we will read, watch or listen to various materials to get the students talking.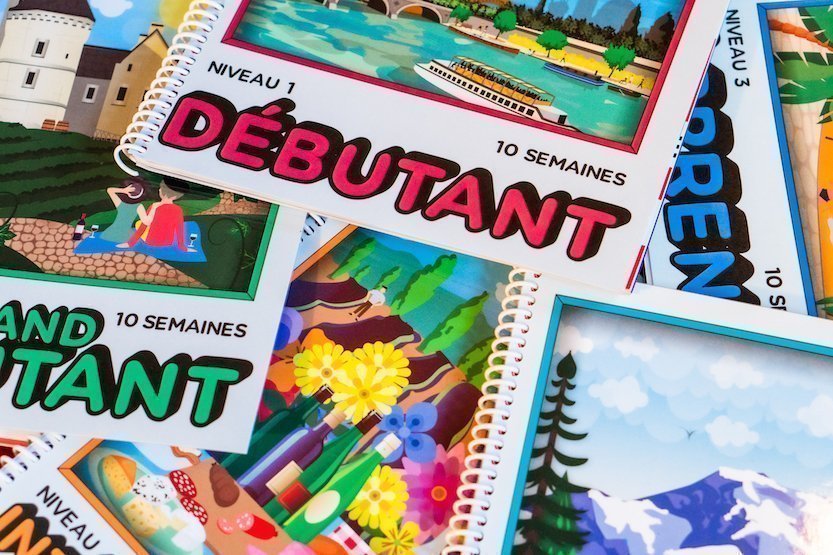 At Coucou, we pride ourselves in teaching you French the way it is commonly spoken in modern France.
Our classes focus on conversation and informal interactions, while still following a thorough grammar curriculum. The social aspect of language classes is very important to us, and we truly believe that if you have fun in class you'll have an easier time navigating the finer points of French grammar! That's why we often play games and share drinks and snacks in class, as well as organize cultural class outings.
Combining language with culture is why our classes are simultaneously fun, useful and authentic.
Coucou is not just a school, we're also a community. Our classes are a great place to meet and chat with fellow francophiles. Our teachers are always happy to recommend French movies and TV shows, and to let you borrow a book or a magazine from our extensive library. You can also attend one of our many events and parties, which aim to bridge the traditional aspects of French culture with a more current, modern and youthful vision.
Small Class
Size
Limited to 10 people, our group classes are as intimate as it gets! This means that the groups are small enough so that each students gets an optimal amount of individual speaking time and personal attention from the teacher; and large enough to be social and to make games and activities fun and interactive!
Free Trial
Class
Only Coucou allows prospective students to come and sit in on a class for free so they can sample our teaching style and materials and have their level assessed before deciding if they want to join and commit. Most students who attend a trial class end up staying with us for a round of classes or more!
Custom Course Content
We have written and designed our own course booklets for levels 1 through 5, which emphasize vocabulary and grammar for real-life situations. The curriculum is clearly laid out, with one lesson for each week of your course duration and some homework to practice in between. We aim to make grammar fun!
Make-up
Classes
Coucou is the only language school in NYC that allows make-up classes! We understand that New Yorkers have a busy schedule and that you might occasionally have to miss a class – in that case we will do our best to try to accommodate you in a different group class of the same level so that you don't fall behind!
Find the class that is best suited to your skill level and follow the Coucou Method for a seamless progression through the finer points of French grammar!
Whether you're prepping for a job interview, taking a trip to a French-speaking country or yearning to share your passion for Proust or Nouvelle Vague cinema, we will help you achieve your goals and we're confident you'll have a good time getting there!