TimeOut recently featured our campaign to name part of Nolita "Little Paris" and they highlighted a few French businesses in our neighborhood. We're really proud that we share a block with Maman, one of Manhattan's most popular French bakeries. But while their cookies are divine, they don't sell baguettes! As any French person will tell you, there's a big difference between a boulangerie and a pâtisserie. One sells bread, while the other sells baked treats. That's why bakeries in France often have "boulangerie-pâtisserie" printed on their signs. 
We've come up with a list of our favorite French bakeries in the NYC area, and we've categorized each as a boulangerie, pâtisserie, or both. There are so many wonderful bakeries in the city, but we've narrowed our guide down to 12 (with a bonus 13th to make a baker's dozen!). Bon appétit! 
By Sophia Millman
Almondine (Boulangerie-pâtisserie)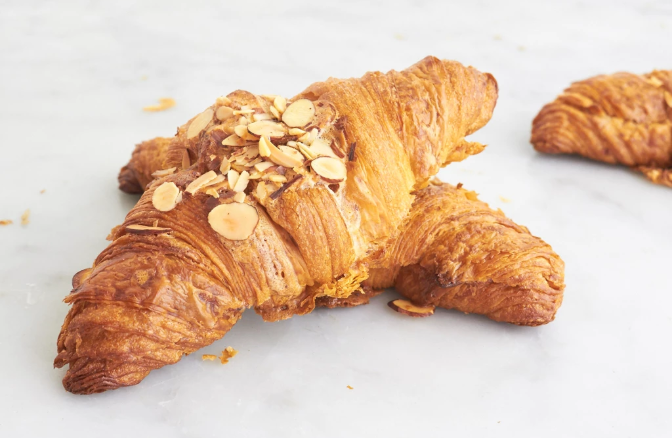 Must try: the almond croissant
Artisan French baker Hervé Poussot opened Almondine Bakery in 2004 and since then it's become famous among Dumbo locals. The next time you're in Brooklyn and craving a French baked good, you should swing by. Almondine serves two kinds of baguettes: whole wheat and regular (or, as the French say, une baguette tradition!). Naturally, the bakery's famous for its almond croissants, but their chocolate chip cookies and more savory treats also get great reviews!
Caprices by Sophie (Pâtisserie)
Must try: The Capricieux
Parisian baker Sophie Jaeger's specialty is les merveilleux, scrumptious balls of meringue and cream that were relatively unknown outside of France and Belgium until recently. At Caprices, you'll find local and organic products as well as a charming garden where you can sample all of Jaeger's meticulously crafted desserts including fantastic éclairs. Jaeger also specializes in delicious gluten free pastries and caters large events.
138 N6th Street (Bedford & Berry), Brooklyn, NY / https://www.capricesbysophie.com/
Balthazar (Boulangerie-pâtisserie)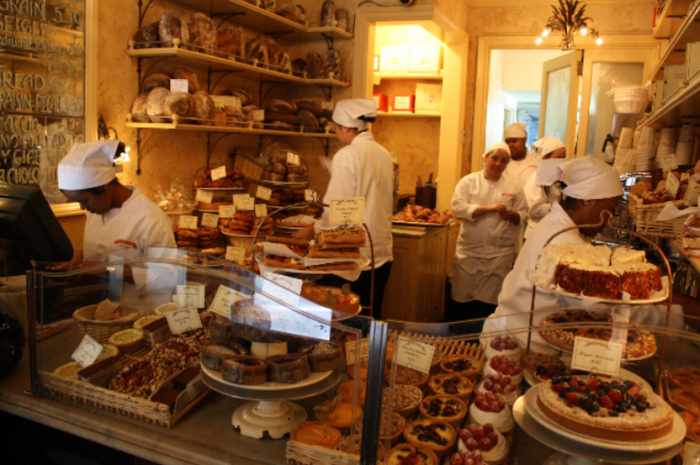 Must try: the linzer tart
Balthazar Bakery opened in 1997 and since then it's become on of the most famous French bakeries in New York. Because Balthazar is so close to our school, it's earned a special place in our hearts. You can't go wrong with Balthazar's pastries, and the baguettes are perfectly croustillantes (crunchy)! They offer a wide array of sandwiches and salads, but you're going to have to wait in line for a few minutes if you arrive at lunch hour. If you want to read more about their amazing bread, check out this article!
Bien Cuit (Boulangerie-pâtisserie)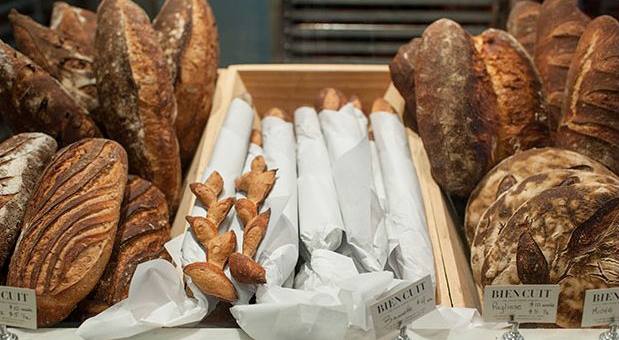 Must try: the chocolate croissant
Bien Cuit's star baker Zachary Golper, who was a 2019 James Beard finalist for "Outstanding Baker," has been featured in about every NYC magazine. You can learn more about the history of his bakery and his method from The New York Times. At Bien Cuit, you can buy both European and American breads (petit pain, sourdough, pullman loaves). Every one of their pastries is top notch (their tarts are unbeatable) and we recommend sampling their seasonal dishes. 
Bouchon (Pâtisserie) 
Must try: the kouign-amann
In both its Midtown locations, Bouchon Bakery serves classic French pastries as well as twists on typical American sweets. Their Breton kouign-amann cake (which The New York Times described as "the fattiest pastry in all of Europe") has an unbeatable caramelized crust. You should also sample their innovative raspberry jam-stuffed croissant that's coated with almond paste. And if you love Bordeaux-style canelé, this is the bakery to visit. 
Cannelle (Patisserie)

Must try: the Paris-Brest
Cannelle's flagship is located in an unassuming strip mall in East Elmhurst, Queens, but don't be fooled, the bakery's pastries are divine. Sri Lankan baker Gnanasampanthan Sabaratnam and chef Jean-Claude Perennou, who was born in Brittany, have been running this incredibly successful business since 2007. Perennou told The New York Times that every cultural group in Elmhurst area has a favorite dessert: "The North Africans love the napoleons; the French and Asians love the Saint Honoré and Paris-Brest; the Spanish speakers love the red velvet cake and the cheesecake." If you want to try any (or all!) of these desserts you can head to Queens or Long Island City, where their second bakery is located. 
Queens: 7559 31st Ave, East Elmhurst, NY 113705-11 /
Long Island City: 47th Ave, LIC, NY 11101
Ceci-Cela (Pâtisserie)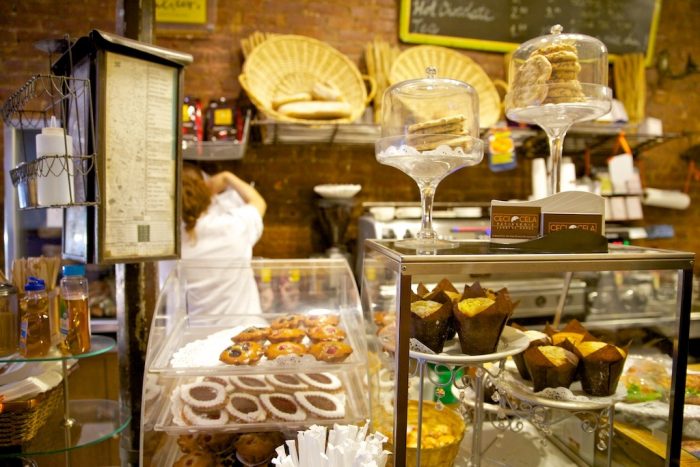 Must try: the croissant
As our students know, we serve coffee, juice and pastries on the weekends at Coucou and our amazing croissants come from Ceci-Cela! The bakery is famous for its chocolate and almond croissants, and people also rave about their fruit tarts. If you'd like to have French pastries at your next big work event, look no further! Ceci-Cela had an excellent catering service. 
Dominique Ansel (Pâtisserie)
Must try: the cronut
French pastry chef Dominique Ansel is world famous for his cronuts (croissant donuts), and, if you check out his website, you'll see that he's invented many other mind blowing desserts. Ansel's original bakery is located in SoHo. He's also opened a second one in the West Village called Dominique Ansel Kitchen where you can watch pastry chefs work on these unique creations. At his West Village café, you won't be able to sample a cronut, but you can find delicious savory offerings like avocado toast and paninis. 
SoHo: 189 Spring St, New York, NY 10012 /
West Village: 137 7th Ave S, New York, NY 10014
Maman (Pâtisserie)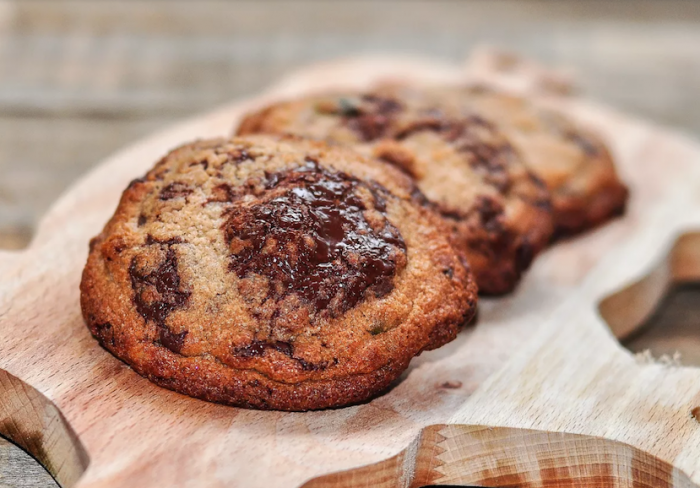 Must try: the chocolate chip cookie
If you've been searching for the best chocolate chip cookie NYC has to offer, your quest is over. Maman's cookie was named one of Oprah's favorite things in 2017 and is (we don't use this word lightly) legendary. Maman isn't a traditional French bakery so you won't find baguettes in the store. Instead, you can try French-American picnic-style dishes like pasta salad and homemade focaccia. 
239 Centre Street, New York, NY  10013 + 5 other locations throughout the city!
L'imprimerie (Boulangerie-pâtisserie)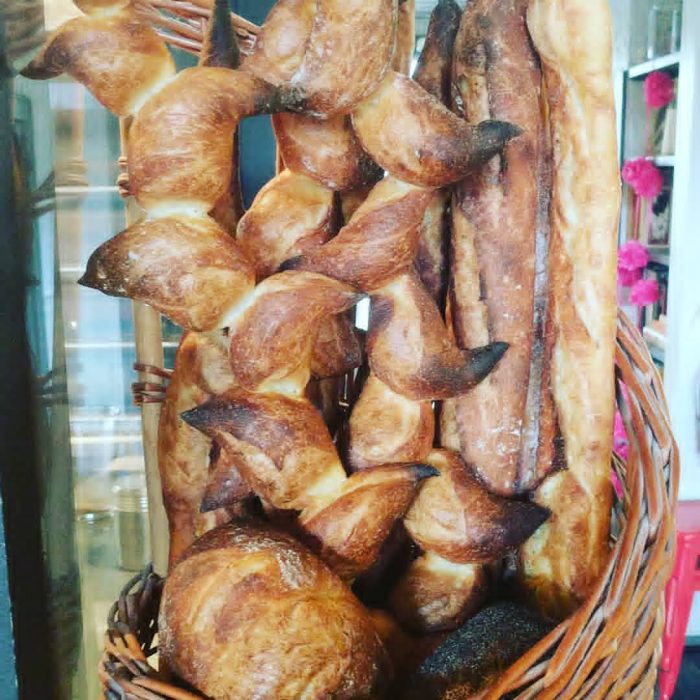 Must try: the baguette
French baker Gus Reckel arrives at 4AM everyday to prepare the beautiful selection of bread and pastries in this Bushwick boulangerie. The name "L'Imprimerie" pays homage to the bakery's historic Brooklyn location that was once a print shop. There are a variety of sweet options at this bakery/café, and also a rotating lunch menu that includes avocado salmon sandwiches and French ham and cheese rolls. L'Imprimerie works with local organic cooperatives such as Farmer's Ground and even serves its own honey that comes from hives located on its roof! 
Maison Kayser (Boulangerie-pâtisserie)

Must try: the tarte citron
Eric Kayser opened his first boulangerie on Rue Monge near the Sorbonne in Paris in 1996. Since then, he's created a global chain of artisanal bakeries, many in Europe, and some in Asia and even the Middle East. Kayser's bread is famous because it's made with only natural sourdough leavening, or levain. His French method also involves a slower fermentation process than that of most commercial bakeries. You can't go wrong with Maison Kayser's bread, and their pastries are also delicious and not too sweet. 
See site for locations: http://maison-kayser-usa.com/
Mille-feuille (Boulangerie-pâtisserie)
Must try: the mille-feuille
The name of Olivier Dessyn's pastry shop in Greenwich Village, "Mille-feuille," is the French word for what Americans call a napoleon. According to TimeOut, Dessyn was searching for a name for his bakery when he looked across the street at NYU's Bobst Library. The layers of books reminded him of the mille-feuille and he decided to fashion a pastry shop around the dessert. If you love rich cream and praline pastries, you have to try these ones. If you're more of a croissant person, you won't be disappointed at Mille-feuille either. The bakery's pains au chocolat and almond croissants are fabulous, as are its macarons and madeleines. 
Bonus: Arcade (Boulangerie-pâtisserie)

Must try: the danish
Arcade is easily one of the best bakeries in NYC, and, unfortunately, its owner recently announced that it will close soon so you should visit it while you still can! We're hoping that another baker will be able to take it over since it's become an institution in Tribeca. Arcade is located inside the lobby of one of NYC's historic office buildings, which explains why people call it one of the city's best kept secrets. The baguettes are superb as well as the croissants. Arcade also offers less traditional French items like babka and danishes, which are out of this world.