How good is your langage enfantin (French baby talk)? Do you know what dodo, doudou, and nounours mean? 
If the answer is no, don't worry! We've finally put together a list of the best French cartoons to help you or your child build essential vocabulary skills. Below, you'll find our 9 favorite shows, along with a longer list of cartoons for kids of all ages. 
And, in case you missed it, here's our latest article about the best French movies and TV shows to stream in 2021!
By Sophia Millman
Most Iconic: Les Aventures de Tintin

Quick-witted Belgian reporter Tintin and his adorable sidekick, Milou ("Snowy" in English), travel the world, solving mysteries and getting into all sorts of trouble with their friends–an irascible sea captain and a nutty professor. What we love about this series is that it's a very faithful adaptation of the Tintin comic books. If you or your child are a fan of the original bande dessinee, the series won't disappoint! Watch all of the episodes on YouTube for free here. 
Cult Classic: Les Shadoks

With absurd mottos like, "Every advantage has its disadvantages, and vice versa," the Shadoks shocked the French when they first appeared on screen in 1968. French artist Jacques Rouxel wanted to create a new, absurdist cartoon and thus invented these hilarious bird-like creatures. Two of our favorite Shadok maxims that are often referenced in French popular culture are: « Je pompe, donc je suis » ("I pump therefore I am") and « Pour qu'il y ait le moins de mécontents possible, il faut toujours taper sur les mêmes » ("To reduce the number of unhappy people, always beat up the same individuals"). Learn more about the history of the cartoon here and watch the whole first season on YouTube here. 
Great for Tweens: Titeuf

The series was incredibly popular in France, but is little known in other countries. It's about a ten-year-old boy (Titeuf), who's in love with a girl called Nadia. Throughout the show, Titeuf tries to understand the mysteries of life, girls and, of course, the art of seduction. Titeuf's catch phrases include "Tchô !" and "C'est pô juste" ("It's not fair"). This series is a great way to pick up French slang. Find all Titeuf episodes on YouTube here. 
Funniest: Les Schtroumpfs

This children's series follows the adventures of Les Schtroumpfs (or the Smurfs, as English-speakers call them), little blue creatures who live in a peaceful village and have to fight the evil wizard Gargamel. Watch the series on YouTube here!
Based on a Classic Book: Les Malheurs de Sophie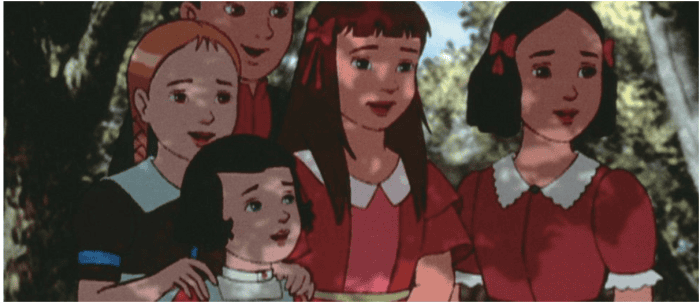 We wrote about Les Malheurs de Sophie in our post about the best French children's books. The series, based on the book, is set in a chateau during the Second French Empire. The protagonist Sophie is a naughty and highly adventurous girl who's always getting into trouble, despite help from her friends Camille and Madeleine and her cousin Paul. You can watch the trailer for the 2016 film adaptation of Les Malheurs de Sophie here. Watch the TV show on YouTube here. 
Sweetest Series: Babar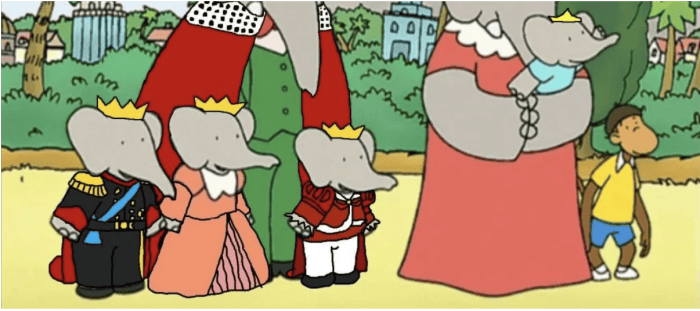 Based on Jean de Brunhoff and Laurent de Brunhoff's famous books, this series is about an elephant who becomes king. In the first two seasons, we learn about young Babar's adventures, and, in the later seasons, we watch Babar's kids and their friends grow up. Learn more about the history and popularity of Babar by reading this France Culture article. Watch the show on YouTube here. 
So 1970s: Barbapapa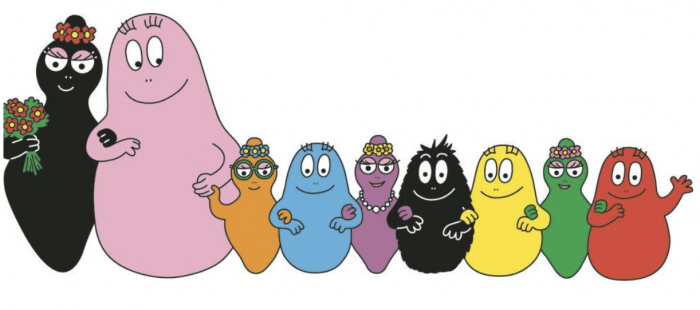 Franco-American couple Annette Tison and Talus Taylor came up with the idea for "Barbapapa" in 1970 while walking in the Luxembourg Gardens. Talus Taylor overheard a child asking his parents for something called "baa baa baa baa." Later in the day, the couple went to a restaurant and drew a character on their paper tablecloth who was pink and round. Barbapapa was born. Tilson and Taylor first wrote books about les Barbapapas, which were adapted into a hit TV series that aired throughout the 1970s. It's about the adventures of Barbapapa, Barbamama, and their seven children: Barbalala the musician, Barbibul the inventor, Barbidou the animal lover, Barbotine the intellectual… The funny and colorful characters have the ability to transform themselves into different objects. Buy the Barbapapa book collection here and check out the show's official YouTube channel here. 
Great for Little Ones: Petit Ours Brun


Petit Ours Brun (Little Brown Bear) consists of 100 episodes, each 2 minutes long. The show is based on the popular toddler book series created by Danièle Bour, who first published a story about the little bear in the French kids' magazine Pomme d'Api. Watch all of the episodes on YouTube here. 
Classic Edutainment: Il était une fois… 

If you grew up in the US during the '80s or '90s, you probably remember watching fun educational cartoon shows like The Magic School Bus. If you grew up in France during this time, your knowledge of the human body, space, and history probably stems from Il était une fois…, arguably the best edutainment ever made. There are seven different series and we recommend that anyone interested in learning French watch them! Check out the show's official YouTube channel here. 
Bonus (What to Look Forward To): Astérix

Recently, we published an article that's all about the Astérix comics and movies. So, we were super excited to learn that popular French actor and comedian Alain Chabat has teamed up with Netflix to make a new animated Astérix TV show! Read a French newspaper article about the new show here. 
Other series we recommend (click on the title to watch them):