We're super excited to launch Le Petit Coucou this September, since we'll finally be offering online French classes for children and teens. In preparation for the launch, we asked some of our teachers to share their favorite French children's books with us, and below are the results! You'll find a few older classics like Le Petit Prince and Le Petit Nicolas, as well as lesser-known titles and recent releases. If you've been searching for essential livres de jeunesse to practice your French or to share with your kids, you've come to the right place. 
By Sophia Millman
"La chèvre de Monsieur Seguin" by Alphonse Daudet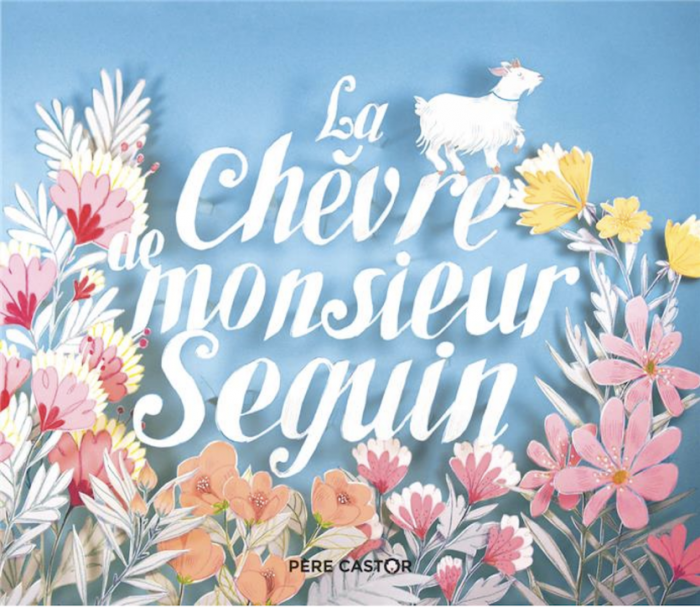 This classic tale is part of Daudet's Les lettres de mon moulin (Letters from My Windmill), a collection of short stories published in 1869. Daudet tells the stories in first person, painting a picture of what his life is like now that he has left Paris and moved to Provence. Some of the stories are about his routines in southern France, while others are based on Provençal folktales. The French, and especially people from Provence, adore Les lettres de mon moulin for its depiction of local culture. Beloved Provençal author and filmmaker Marcel Pagnol made a film adaptation of Les lettres de mon moulin in 1954. 
"Comme un million de papillons noirs" by Laura Nsafou

This story is about Adé, who loves chocolate éclairs, asks lots of questions, and has beautiful curly hair. At school, the other children make fun of her hair, but Adé learns to be  confident with the help of her mom and aunts. Laura Nsafou published a new children's book in 2020 called Le chemin de Jada, which we also highly recommend. We featured this book in our post about French resources about the fight for racial justice. If you're looking for more children's books that explore racial themes, look through Albertine's "Lire contre le racisme" list! 
"Poil de carotte" by Jules Renard

Poil de carotte was published in 1894, but, like Little Women, this 19th-century story remains quite popular today. It's about a redheaded boy nick-named "Poil de carotte" ("Carrot-top") whose parents are very mean. Poil de carotte goes on a variety of adventures and must find clever ways to outsmart his family. The story has inspired multiple films and musicals, as well as a recent graphic novel. If you know and like this book, you should check out Sans Famille, a similar 19th-century children's classic. 
"Ciels rouges" by Isabelle Simler

Isabelle Simler's beautiful book takes place in Xinjiang, an autonomous region in northwest China. The story is about a scientist who goes in search of the famous Uyghur Butterfly Princess. Readers are plunged into the history of the Silk Road, and visit different wondrous villages, meeting nomadic tribes along the way. 
"Les Malheurs de Sophie" by the Comtesse de Ségur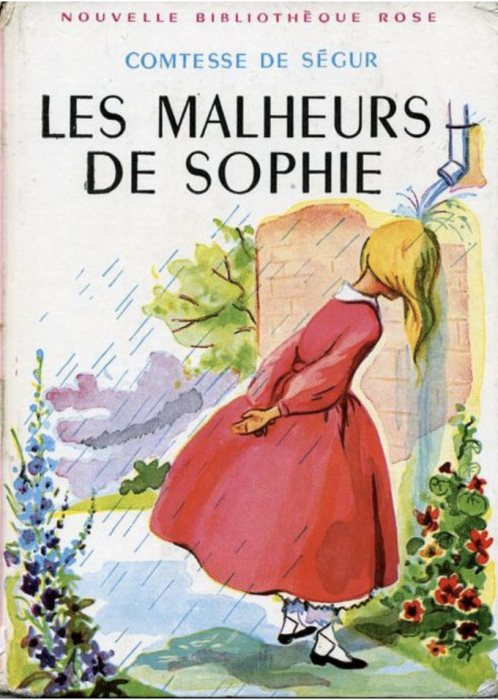 Translated under the title Sophie's Misadventures, this children's book is set in a chateau during the Second French Empire. The protagonist Sophie is a naughty and highly adventurous child who is always getting into trouble, despite help from her friends Camille and Madeleine and her wise cousin Paul. This chapter book is so well-known that you'll find many allusions to it in French and English literature, including in Vladimir Nabokov's novel Ada. You can watch the trailer for the 2016 film adaptation of Les Malheurs de Sophie here. 
"La sorcière de la rue Mouffetard" by Pierre Gripari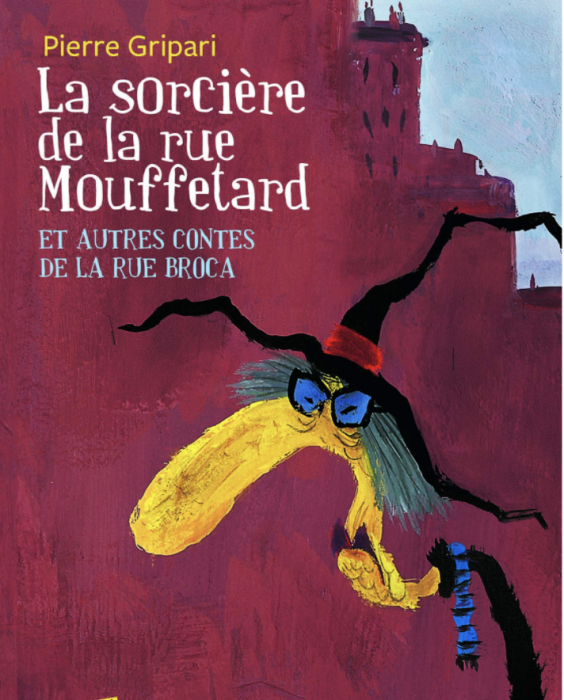 This ever-popular story is about a witch who discovers a method to become young again: she has to eat a little girl with tomato sauce. While "La sorcière de la rue mouffetard
" is Pierre Gripari's most well-loved story, we recommend checking out his other twelves fairy tales, Les contes de la rue Broca. They're classic reading material for French children and fun reads for adults as well. If you like children's stories with a darker spin, or grew up watching reruns of Fractured Fairy Tales, then you'll adore Gripari's series. 
"Le Petit Nicolas" by René Goscinny 

Illustrated by the wonderful Jean-Jacques Sempé (you might recognize his drawings from a New Yorker cover or two), Le Petit Nicolas is one of the most beloved French children's book series. The Petit Nicolas books are similar to the Charlie Brown series in quite a few ways. Both were created in the 1950s, started out as newspaper comics, and continue to delight readers around the world with their hilarious characters. 
"Les Trois Brigands" by Tomi Ungerer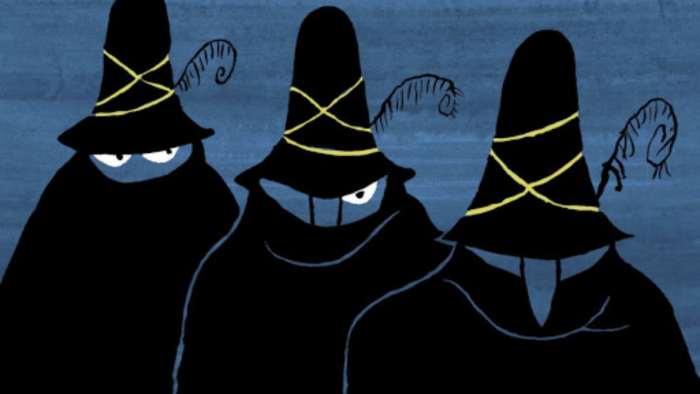 Though Tomi Ungerer was born in Strasbourg, he first published Les Trois Brigands (The Three Robbers) in English while he was living in New York. The book is not particularly well-known in the US, but it's hugely successful in France. The story is about three villainous characters who terrorize stagecoaches' passengers until one day they meet an orphan named Tiffany. She persuades them to use their treasure to buy a castle and create an orphanage. 
"Le Petit Prince" by Antoine de Saint-Exupéry

No list would be complete without Le Petit Prince, one of the most widely translated books in the world. Although it's filled with drawings that will delight any child, Le Petit Prince explores profound existential questions, and critiques the way adults tend to lose their sense of imagination and capacity for wonder. You're never too old to read it. 
Other wonderful French children's books we recommend 
Babar

by Jean de Brunhoff: Adam Gopnik wrote a great

piece

in the

New Yorker

about the portrayal of colonialism in

Babar

that we recommend reading to understand the context behind these famous books. While they remain controversial, they play an important role in the history of French children's literature. 

Chien Pourri

by Colas Boutavant Gutman: This fun series is about the character "Rotten Dog," who smells like sardines, is covered with fleas, and whose fur looks like a mangy carpet. One day, he decides to travel the world in search of a master. 

Cornebidouille

by Pierre Bertrand: Pierre doesn't want to eat his soup even though his parents tell him that the witch Cornebidouille will come to get him at midnight. This recent classic is so popular that it has four sequels. 

L'Oeil du loup

by Daniel Pennac: This classic is aimed at middle-grade and YA audiences, but if you read French at an intermediate level you should give it a try. It's the story of a wolf's capture and his life in the zoo, intertwined with the story of a little boy who's recently immigrated to France. 

Pétronille et ses 120 petits

by Claude Ponti: This quirky children's book is a must-read along with Ponti's other classic,

Okilélé

. 

Pierre et le loup

: If you or your kids like classical music, then we highly recommend buying the French book and CD accompaniment of Sergei Prokofiev's

Peter and the Wolf

. 

Princesses d'Afrique

by Christine Palluy: In this collection, African princesses take readers to visit their seven countries, including Tanzania and Namibia.

Vendredi ou la vie sauvage

by Michel Tournier: This 1967 retelling of

Robinson Crusoe

is excellent and features on

Le Monde'

s "100 Books of the Century."
Our favorite French translations of classic children's books

Did you know that "Once upon a time" is a translation of the French "Il était une fois…"? The most famous English children's book phrase actually originated in France with Charles Perrault's classic fairy tales! English and French literature have fascinating, overlapping roots. Anglophone readers have always loved French fables, picture books like Babar, and even books like Madeline that were written in English but set in France. Similarly, the French love certain anglophone children's authors, particularly Roald Dahl! Here are some of our favorite French translations of popular children's books. 
Charlie et la chocolaterie

by Roald Dahl: You know the story of Charlie, Augustus Gloop (

goinfre

), Veruca Salt (

gâtée

), Violette Beauregard (

mordue de chewing-gum

) et Mike Teavee (

obsédé par la télé

), but have you read it in French? We also recommend reading

The Witches

(

Sacrées sorcières

) and

Matilda

in French! 

Harry Potter à l'école de sorciers

by J.K. Rowling: An excellent read in French.

Poudlard

(Hogwarts) and

Poufsouffle

(Hufflepuff) might just sound better

en français

. Though we're not so sure about Tom Elvis Jedusor (believe it or not, that's French for Tom Marvolo Riddle)… 

Le Club des cinq

by Enid Blyton: Blyton's 1950s

Famous Five

series isn't very popular in the US anymore, but the French continue to love and read about the adventures of the four Gauthier kids and their dog. In fact, the series became so popular in France that its translator, Claude Voilier, wrote new books for the series. 

Chair de poule

by R.L. Stine: If you were or are a fan of

Goosebumps

, then you've got to try reading at least one volume in French!