Home to many of the largest and most visited ski resorts in Europe, France is famously the best country in the world for skiing. Because there's an endless variety of ski options in France, you can find whatever you're looking for. Gentle pistes for beginners and families? Head to La Plagne. A variety of amazing interconnected alpine slopes and Michelin-star restaurants? Try one of the famous resorts in Les Trois Vallées. Awesome off-piste activities? Check out Val d'Isere and Tignes. The biggest ski resort nightclub in the world? Val Thorens is where it's at. 
As you will see, some French ski resorts are very ritzy, but that doesn't mean you can't find great budget skiing in France. According to this site, La Plagne and Tignes (see below) offer some of the lowest price options, and you should also check out the end of our list for some other cheaper options like Serre Chevalier, Alpe d'Huez, Avoriaz and Les 2 Alpes. Now read on to discover the best French ski destinations and to learn all about French ski vocabulary and culture!
By Sophia Millman
Chamonix Mont-Blanc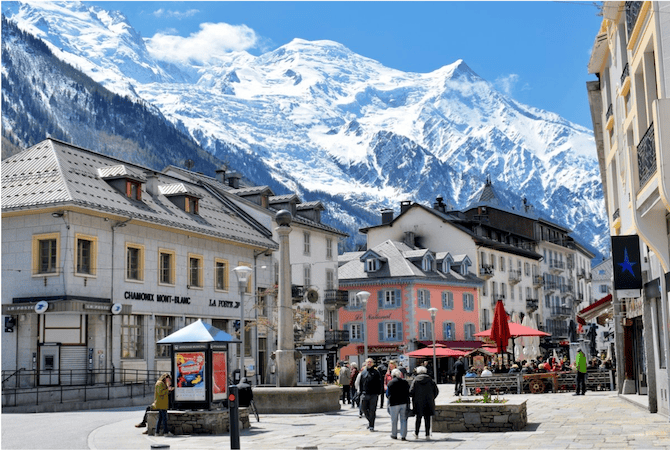 In 1921, the quiet French community of Chamonix (population: 3,000) changed its name to Chamonix-Mont-Blanc, linking itself to the highest mountain in Western Europe. Chamonix hosted the first ever Winter Olympics in 1924 and, today, this popular ski and tourist destination is famous for its seat at the base of the 12,000-foot summit. Chamonix is a perfect place for winter and summer visitors, whether you like mountain climbing, skiing, or fine dining. We recommend taking the famous cable car ride to the top of the Aiguille du Midi. You'll find yourself whisked away from the scenic village of Chamonix into one of France's most beautiful landscapes. If you're not too afraid of heights, at the top you can walk through a glass-floored exhibit that dangles over a 3,000-foot drop! 
While Chamonix is known for its extreme ski slopes (les pistes), you can find slopes for beginners and children, too. See here for more information. 
Courchevel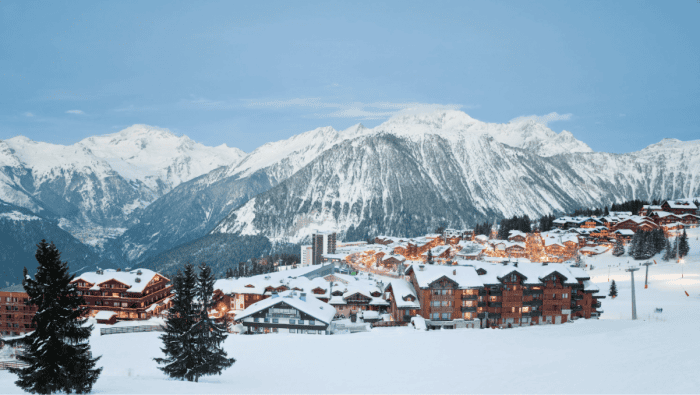 Courchevel is part of Les Trois-Vallées, a famous skiing area in the Savoie region of southeastern France, which is home to the largest ski lift and trail network in the world. One of the things that distinguishes Courchevel from other resorts is that it is made up of many villages at various elevations, each named after its elevation in meters, and each with different things to offer. Quaint Courchevel 1300 attracts many families, while Courchevel 1650 offers a huge variety of storefronts, bars and high-quality hotels. Stylish Courchevel 1850–a popular destination for Paris's jet set–is where you'll find pricey shops, saunas, and haute cuisine. 
Check out "The Epic Story of Courchevel" to learn all about Courchevel's history and culture. You'll find hilarious French videos with English subtitles, like this one, about a "snow class" for kids.
La Plagne and Les Arcs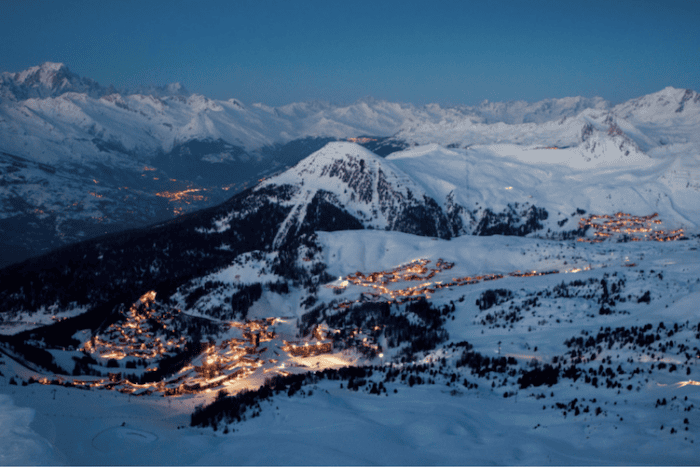 Les Arcs and its neighboring resort La Plagne comprise most of the "Paradiski," France's third-largest linked ski domain. La Plagne is a great resort for intermediate and beginning skiers and thus a French family favorite. Meanwhile, the steeper terrain at Les Arcs makes it a paradise for intermediate and experienced skiers, who will enjoy its extensive off-piste terrain. For non-skiers or anyone looking for fun, we recommend trying the Olympic bobsled run, which is open to La Plagne vacationers in the late afternoon. You can also go ice skating or visit the Deep Nature Spa located in the center of Belle Plagne.
Learn more here. 
Megève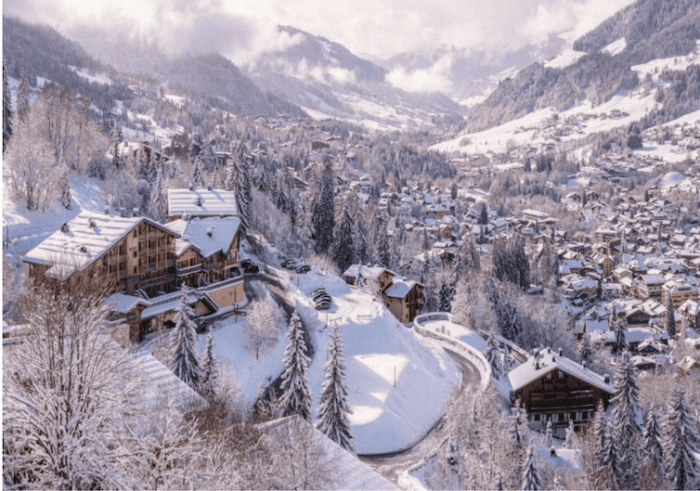 Often called "the Aspen of France," this ski exclusive ski resort became a popular destination for aristocrats after World War I. Jean Cocteau, Brigitte Bardot, and Audrey Hepburn all vacationed in Megève. It's a perfect ski resort for beginners and intermediates, but advanced skiers may want to buy a pass that gives them access to Chamonix's more challenging slopes. Megève differs from higher-altitude resort towns like Chamonix and Val d'Isere because people have cultivated its land year-round for centuries. You'll find a charming river running through the city and quaint pitched-roof architecture. The car-free city center features an open-air ice rink, cobbled streets, horse-drawn sleighs, making Megève a family favorite.
Learn more here. Watch a fun French clip about Megève from a 1960s TV program here. 
Méribel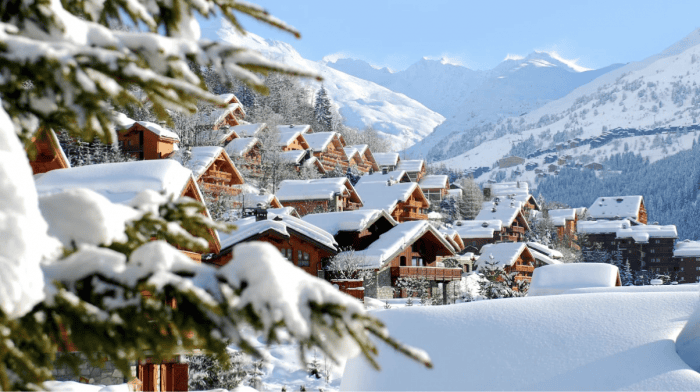 Founded by a Scottish colonel shortly before the Second World War, Méribel remains extremely popular with British tourists. The resort sits at the center of the Les Trois-Vallées, the world's largest ski area, with over 180 modern ski lifts and 600km of well-maintained pistes. From Méribel, you can ski to other famous Savoyard resorts–Courchevel (see above) and Val Thorens (see below)–or visit charming little French villages like Béranger and Praranger. With a vast network of green runs, the area around Méribel village is perfect for beginning skiers. 
Learn more here. 
Val d'Isere and Tignes

One of the most user-friendly major European ski resorts, Val d'Isère has the most reliable snow conditions in France and, because it's a favorite destination for British skiers, you'll have no trouble with the language barrier. (If you want to practice your French, however, you may want to look elsewhere.) There are many ski schools for beginners here, and great off-piste terrain, like the Vallée Perdue and the famous La Face. The town of Val d'Isere is at the base of the ski slopes, and it's very easy to buy a pass which will allow you to ski the neighboring slopes of Tignes. If you're looking for stunning architecture, you'll definitely prefer Val d'Isère over Tignes, whose 1970s high-rise aesthetic isn't for everyone. But Tignes has some wonderful features, like a huge natural ice rink and stunning rock formations. 
Learn more about both resorts here. 
Val Thorens 

The highest ski resort in Europe, Val Thorens has been awarded "World's Best Ski Resort" seven times in the past nine years and consistently wins "France's Best Resort." The resort owes its exceptional reputation above all to its location and chalets, but also to pioneering technological and environmental innovation. It also has a famous night club! Read Snow Magazine's review of the resort here. 
Check out Val Thorens' website here. 
Other resorts to check out:
Vocabulary
Essential terms:
Hors-piste

– off-piste

La combinaison de ski

– ski suit

La montagne

– the mountain

La neige

– snow

La station de ski

– ski resort

Le casque

– helmet

Le forfait

– ski pass

Le masque de ski

– goggles

Le téléski / le remonte-pente / le tire-fesses

(slang) – ski lift 

Le télésiège

– chairlift

Les chaussures de ski

– ski boots

Les gants de ski

– ski gloves

Skier –

to ski
If you're an advanced speaker and enthusiastic skier, check out this complete lexique.