If you haven't already heard, Le Petit Coucou is just kicking off classes for toddlers, kids and teens. While reading in French is definitely a great immersion technique, we also encourage students of all ages to watch French movies and TV shows. We've written a lot about French films for adults, but this our first article about movies for kids! Of course, you can watch any of your favorite Disney cartoons in French, or even dubbed versions of classics like Mary Poppins*. But we also recommend watching the classic French kids movies below, no matter your age!
*Ever wondered what "A Spoonful of Sugar" sounds like in French? Here you go!
By Sophia Millman
Le roi et l'oiseau – The King and the Mockingbird (1952)
This influential film was first released in France in the 1950s, against the wishes of its creator Paul Grimault. Grimault completed a new version in 1979, which went on to inspire a variety of directors including Studio Ghibli's Hayao Miyazaki. Based on Hans Christian Andersen's fairytale "The Shepherdess and the Chimney Sweep," Le roi et l'oiseau takes place in Takicardie, a city whose architecture is absolutely fascinating. (Grimault combines a variety of modern urban styles with baroque and gothic twists.) Fans of Jacques Prévert will be delighted by his screenplay, and we'd be remiss not to mention Wojciech Kilar's fantastic soundtrack. 
Le ballon rouge – The Red Balloon (1956)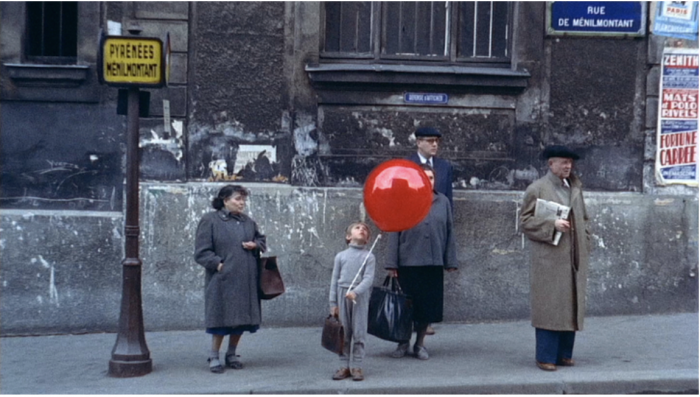 Set in the Ménilmontant neighborhood of Paris, Albert Lamorisse's short movie remains a delight for children and adults. The story is simple: a little boy finds a red balloon tied to a street lamp, and once he frees the balloon, he realizes that it follows him around wherever he goes. The film's message about loyalty, friendship, and loneliness has moved thousands of viewers and inspired countless filmmakers. Read Brian Selznick's poignant Criterion Collection essay about the movie here. 
Les Quatre Cents Coups – The 400 Blows (1959)
While some of François Truffaut's films are clearly aimed at grown ups, quite a few of his movies are perfect for children. A particular favorite is L'Argent de poche (Small Change), which captures all the important moments of childhood (first kisses, botched haircuts…). It also features this wonderfully surreal scene. But if you have to choose one Truffaut film to watch, make it Les Quatre Cents Coups. This masterpiece is a stunningly accurate portrait of how difficult being a kid can be. It's one of the greatest French movies of all time and a fabulous watch for adolescents. 
La Guerre des boutons – War of the Buttons (1962)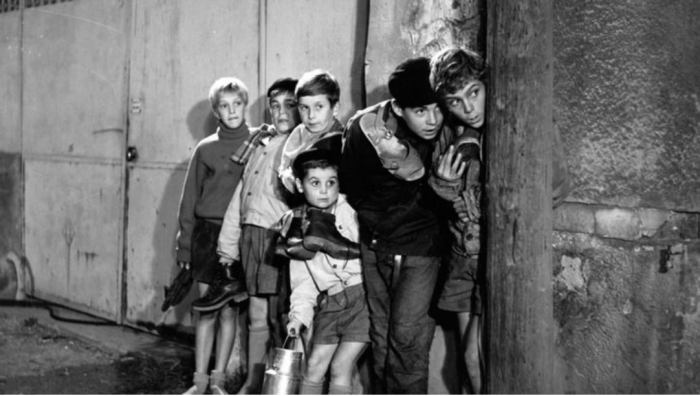 Directed by Yves Robert and adapted from Louis Pergaud's eponymous 1912 novel, La Guerre des boutons is one of France's most beloved children's movies. It's about two gangs of school children who fight every year, until one boy has the idea to tear the buttons and suspenders off his enemies. The children end up fighting completely naked and keep the buttons torn off from their enemies as war treasure. This comedy is so popular that it's been remade multiple times, but the 1962 version remains our favorite. 
Peau d'âne – Donkey Skin (1970)
We really cannot recommend Jacques Demy's films highly enough. The Umbrellas of Cherbourg is an absolute must-watch, and Les Demoiselles de Rochefort and Peau d'âne are two of the greatest French musical movies ever made. (They also happen to be great for learning French since their lyrics are so catchy!) While Americans are more familiar with Charles Perrault's "Cinderella" and "Sleeping Beauty", his fairy tale "Donkey Skin" is quite popular in France. The film adaptation stars Catherine Deneuve as a beautiful princess who must escape her father, and Delphine Seyrig, who plays a very fashionable Lilac Fairy Godmother. 
La Gloire de mon père – My Father's Glory (1990)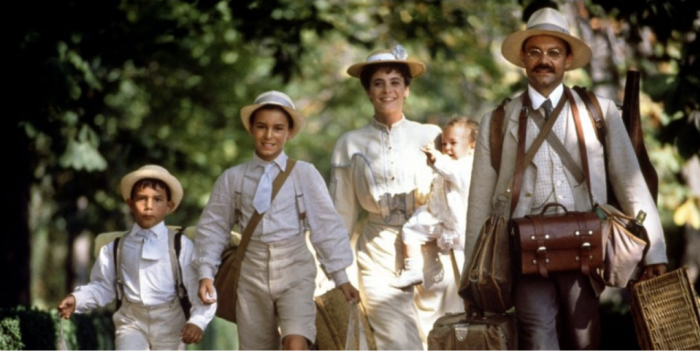 Marcel Pagnol is one of France's most popular 20th-century authors, and we feature his memoir La Gloire de mon père on our ultimate reading list. The film adaptation beautifully captures Pagnol's childhood summers spent in the south of France. The scenery is magnificent, the actors excellent, and the sound of cicadas humming in the background is just what you need to be transported to Provence. Once you've watched La Gloire de mon père, you'll definitely want to check out its sequel, Le Château de ma mère. 
Kirikou et la Sorcière – Kirikou and the Sorceress (1998)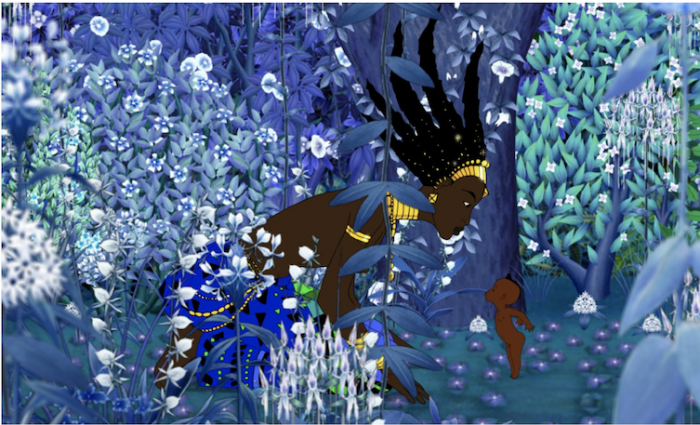 Kirikou et la Sorcière is an adaption of a West African tale about a young boy who decides to track down the sorceress who put a curse on his village. Its director Michel Ocelot drew on West African art and music to create this unique film, which was an unexpected critical and commercial success in France. The movie influenced the development of the French animation industry, and remains extremely popular today. We also recommend its first sequel Kirikou et les Bêtes sauvages (Kirikou and the Wild Beasts). 
Les choristes – The Chorus (2004)
When it was released, Les choristes was criticized for being an overly "feel good" movie and critics called it "franchouillard." For students who haven't come across this excellent word, it's used by the French to describe things that are "too French/cliché." Yes, Les choristes is a little sappy at times, but that doesn't stop it from being the perfect movie to watch when you're in need of an uplifting story. It's about an unemployed music teacher who gets offered a position at a school for troubled children and ultimately transforms their lives through music. 
Ernest et Célestine (2012)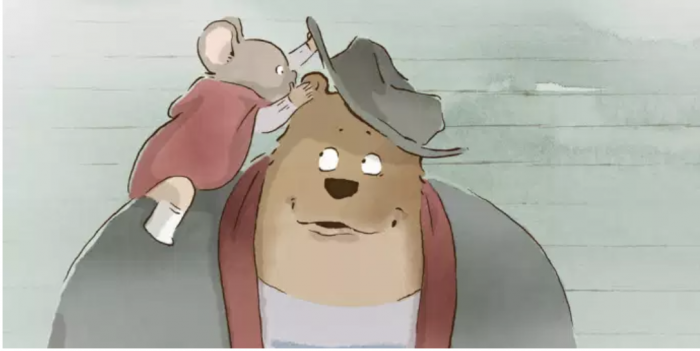 This whimsical animated film is based on a series of Belgian books about an unexpected friendship between a mouse and a bear. Beloved French author Daniel Pennac wrote the film's screenplay and the movie was nominated for best animated feature at the Oscars and the Césars. This is a great choice for young viewers as well as older students. 
Ma vie de courgette – My Life as a Zucchini (2016)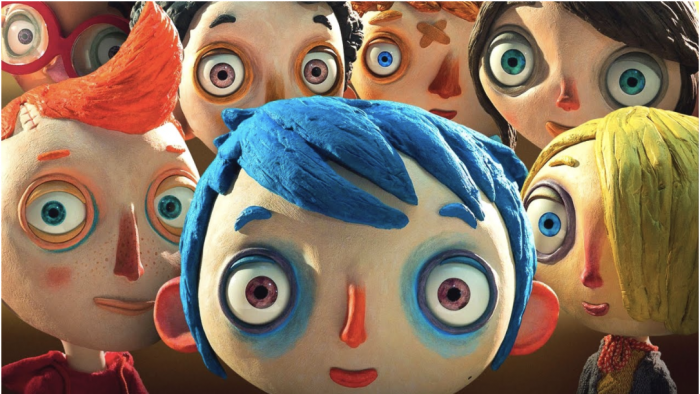 We're big fans of Céline Sciamma at Coucou. If you've watched her movies Tomboy or Bande de filles, then it'll come as no surprise that she captures the lives of mistreated children so beautifully in My Life as a Zucchini. The movie is about a boy who lives with his mother, a compulsive drinker, until one day an accident leaves him an orphan. Placed in a home for abandoned children, he will experience loneliness, but also friendship and love in many forms. This wonderful movie encourages children to think deeply about what family is. 
Bonus: Astérix et Obélix: Mission Cléopâtre (2002) 
If you're not familiar with Astérix, France's most popular comic series, you might want to read our recent article about it. The series has inspired many films, but Mission Cléopâtre is by far the funniest. In fact, the movie has become a cult classic, and will make children and adults alike explode with laughter.