We're incredibly excited to know which films will win at the 2021 Festival de Cannes, which has an amazing lineup this year. Not only is Wes Anderson's The French Dispatch premiering, but a new film by one of France's most famous directors, Jacques Audiard, is also part of the 2021 Official Selection. While there is no trailer available yet for Paris 13th District (called Les Olympiades in French) we know that Audiard collaborated with one of our favorite directors, Céline Sciamma, and that the movie pays homage to older films set in the city of lights. So, to celebrate this year's Cannes film festival, we've come up with a list of some of our favorite films that are set in Paris. No matter what your favorite genre is, you'll find something on this list for you! At the end of each film description, you'll also find links to maps of Paris that highlight the movie's lieux de tournage. 
By Sophia Millman
Fantasy For Kids: The Red Balloon (1956)

Set in the Ménilmontant neighborhood of Paris, Albert Lamorisse's short movie remains a delight for children and adults. The story is simple: a little boy finds a red balloon tied to a street lamp, and once he frees the balloon, he realizes that it follows him around wherever he goes. The film's message about loyalty, friendship, and loneliness has moved thousands of viewers and inspired countless filmmakers. Read Brian Selznick's poignant Criterion Collection essay about the movie here. You can see a map of where the movie was shot here. 
If you like this movie, you might also like:
Classic: Breathless (1961)

One of the most celebrated French films of all time, Jean-Luc Godard's À bout de souffle (which can mean "out of breath," "on your last legs," or simply "lethargic" and is a great French expression to know) is about an American exchange student in Paris. Jean Seberg happens to have killer outfits in this film and you should watch it not only for wardrobe inspiration, but also for her amazing chemistry with Jean-Paul Belmondo. (We feature the two actors in "The Keys to a French Person's Heart.") A lot of the film is shot near the Champs-Élysées, but you also see Notre-Dame, a glimpse of Shakespeare & Company, and  much of the Montparnasse quartier. You can find all of the lieux de tournage, or film locations, here. 
If you like this movie, you might also like:
Cléo from 5 to 7

(1962)

Jules and Jim

(1962)
Mystery: Charade (1963)

If you're a fan of Cary Grant or Audrey Hepburn, then you've got to watch (or rewatch) Charade ASAP. The movie's got it all: a Hitchcock-esque murder mystery, amazing romantic chemistry, a hilarious performance by Walter Matthau, an amazing Givenchy wardrobe, and even this wacky orange game. Paris has never looked better than in this film and we especially love the movie's climax at the Palais Royal and the Comédie-Française. See all filming locations here. 
If you like this movie, you might also like:
Caché

(2005)

Funny Face

(1957)
Cult Classic: What's New Pussycat (1965)

This madcap romcom stars a bunch of beautiful women including Bond girl Ursula Andress and French model Capucine. It's also a must-watch if you're a fan of Françoise Hardy (who has an excellent cameo at the end of the movie), Romy Schneider, or Peter Sellers. Sellers' role as a crazy psychoanalyst is almost as funny as his Inspecteur Clouseau. There isn't much of a plot, but the dance and chase scenes, plus a stellar soundtrack, make What's New Pussycat a very fun '60s flic. See where the movie was filmed in Paris here. 
If you like this movie, you might also like:
Psychological Horror: The Tenant (1976)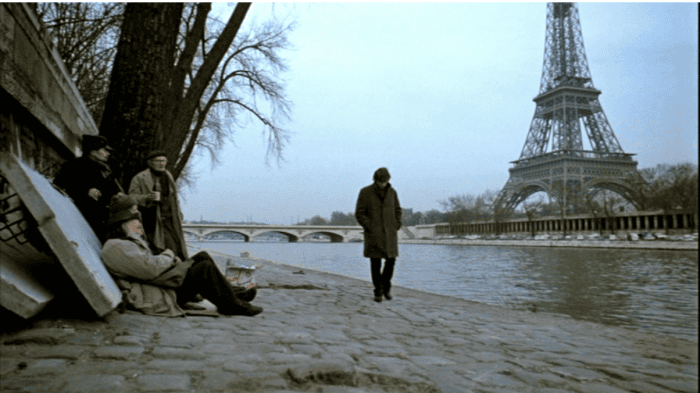 A perfect film for fans of Rosemary's Baby. Roman Polanski and Isabelle Adjani star in this bizarre film about a man who becomes more and more paranoid about his neighbors. You get to see a lot of Paris in this movie: the Jardin des Tuileries, the Eiffel Tower, the arch at Rue du Faubourg Saint-Martin… While it's never been popular among film critics, The Tenant is definitely worth a watch if you like psychological horror films and want to get a good look at 1970s Paris. See all filming locations here. 
If you like this movie, you might also like:
Diva

(1981)

Frantic

(1988)
Romance/Coming of Age: Full Moon in Paris (1984)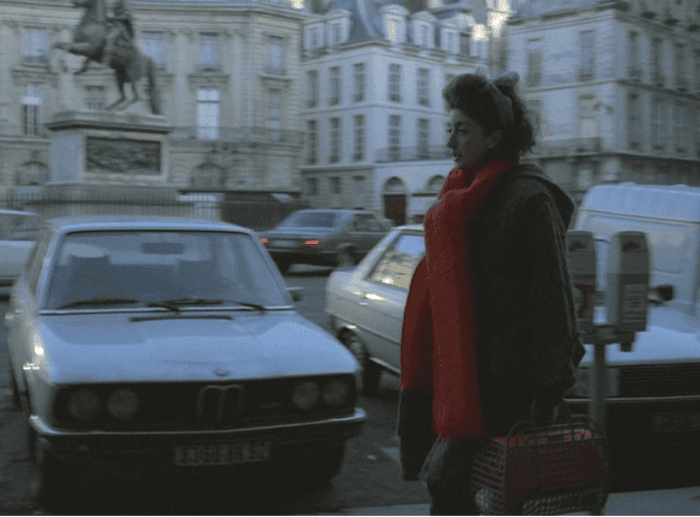 The only film from the 1980s on our list, Full Moon in Paris perfectly captures the demographic and architectural changes that were taking place in France during this period. Director Éric Rohmer made many films about urban architecture, often focusing on Paris. We recommend checking out some of his other Paris movies here. This one is probably his most famous, and for good reason. It's got a fabulous '80s score that features Elli et Jacno  and Pascale Ogier is wonderful in her role as a young woman torn between two men and lifestyles. Watch an interesting video called "Mapping Rohmer" about how the director filmed Paris here. 
If you like this movie, you might also like:
Celine and Julie Go Boating

(1974)

Playtime

(1967)
Social Portrait: La Haine (1995)

One of the first films about the Parisian housing projects and la banlieue, Mathieu Kassovitz's La Haine founded an entire genre, going on to inspire countless other directors, including Ladj Ly. (We really can't recommend Ly's Les Misérables enough!) A genius part of this film is the way it alternates between tragic and comic. This cult scene, in which an old man suddenly breaks up the main characters' fight by telling them an absurd story that seems to have nothing to do with their issues, has become incredibly famous. Check out where La Haine was filmed here! You'll notice (if you're an Amélie fan) that Jean-Pierre Jeunet actually pays homage to one of the movie's scenes in la Gare de l'Est. 
If you like this movie, you might also like:
The Beat That My Heart Skipped

(2005)

Girlhood

(2014)

BPM

(2017)
Romantic Comedy: Amélie (2001)

If you went to college in the 2000s, you probably saw at least one Amélie poster hanging in a dorm room. As this article about the movie's enduring success explains, Amelie marked the beginning of a new interest in foreign-language films. And here's a fun fact: in 2000, only 12 English babies were called Amelie, but, in 2007, over a thousand English babies were given the name! But what made so many English and American viewers fall in love with Amélie? The most obvious answer is Audrey Tautou, who plays the film's innocent, charmingly awkward heroine. But then there's also the magic of Montmartre: the Sacré-Coeur, the cobblestone streets, the old-fashioned bistros… See a map of every location where the movie was filmed here! 
If you like this movie, you might also like:
Dans Paris

(2006)

Paris

(2008)
Romantic Drama: Before Sunset (2004)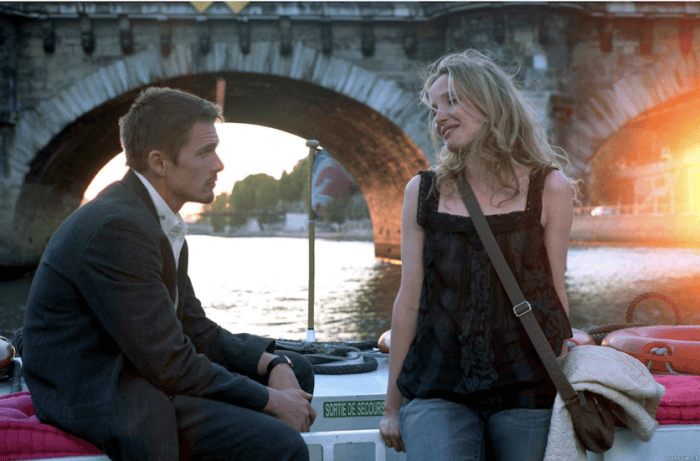 While Before Sunrise (shot in Vienna) might be the best of Richard Linklater's "Before" trio, Before Sunset is an excellent sequel. Julie Delpy and Ethan Hawke, who play lovers reunited after nine years, have wonderful chemistry and they visit some of the best, lesser known spots in Paris: la Promenade Plantée, le Village Saint-Paul, la rue du Faubourg Saint-Antoine… If there's one movie that gives you a great walking tour of Paris, it's this one. Check out the movie's location map here. 
If you like this movie, you might also like:
The Dreamers

(2003)

2 Days in Paris

(2007)
Animated: Ratatouille (2007)

Arguably Pixar's greatest film, this incredibly detailed movie is ideal for getting you in the mood to visit Paris. You'll see Notre Dame, all sorts of sights along the Seine, and you'll want to try out the famous Tour d'Argent, an historic restaurant that inspired the movie's Gusteau. Check out the "Ratatouille film trail" for kids (and adults!) here. And if you're looking for other movies to get your kids interested in visiting France or learning French, read this.  
If you like this movie, you might also like:
The Triplets of Belleville

(2003)

Hugo

(2011)