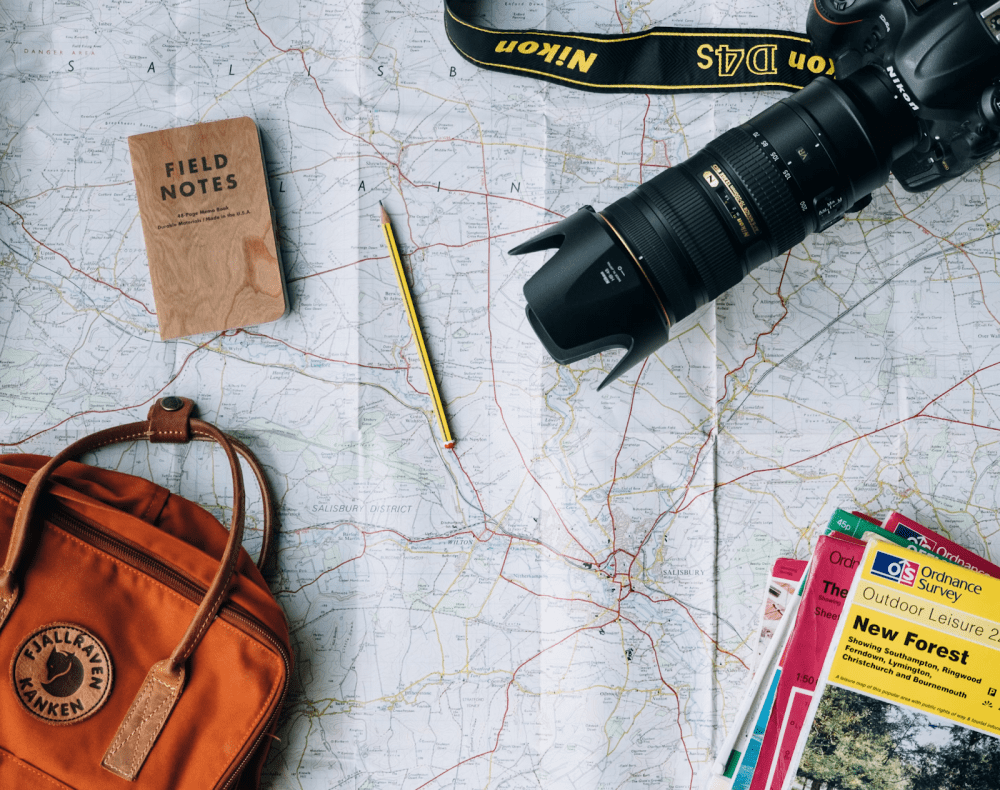 From the bustling streets of Paris to the tranquil countryside of Provence, there's something in France for everyone. But with so many regions to choose from, it can be difficult to know where to go and when. That's why we've put together this calendar of the best regions to visit in France, month by month, to help you plan your next trip. Whether you're a first-time visitor or a seasoned traveler, our calendar will help you make the most of your time in l'hexagone (a common nickname for France, which looks like a hexagon!).
January is the perfect time to visit Paris; February is ideal for a romantic getaway in the North; March brings milder temperatures to the colorful landscapes of the Loire… The summer months are perfect for festivals and famous French beaches, and, in the winter, you've got to visit the Christmas markets in the Strasbourg area. You might notice that we didn't include France's five overseas regions–Guadeloupe, Guyane, La Réunion, Martinique, and Mayotte–on our list. We're saving them for another article, but that doesn't mean you shouldn't check them out; you might also consider visiting other French-speaking areas like Corsica or Monaco!
By Sophia Millman
JANUARY: ÎLE-DE-FRANCE
CAPITAL CITY: PARIS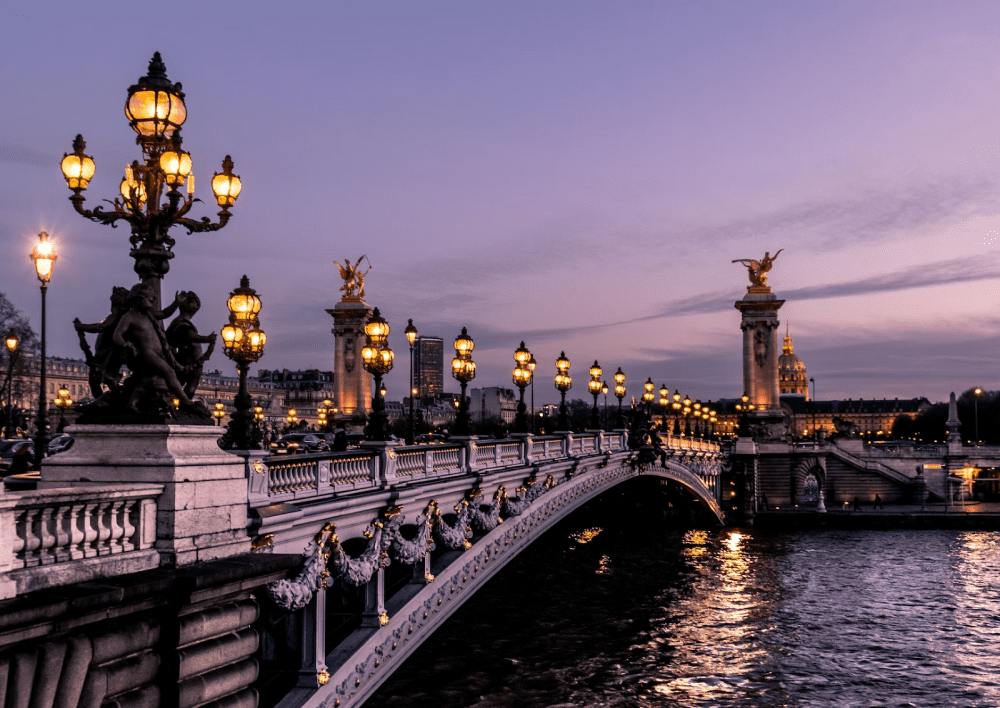 Paris in January may not be the first destination that comes to mind when planning a winter getaway, but there are many reasons why the City of Light should be at the top of your list. The chilly temperatures shouldn't deter you: with the right planning and preparation, a January trip to Paris can be a truly magical experience! 
First and foremost, the crowds are much smaller in January. This means that popular tourist spots like the Louvre are much less busy, and, with fewer tourists around, you'll have more opportunities to explore the city's charming neighborhoods like the Marais or Montmartre. One of the best ways to experience Paris in January is to bundle up and take a leisurely stroll through the city's picturesque streets. You can find a cozy brasserie to eat in after your walk, or drink a famous hot chocolate at Angelina! 
There's also no better time to shop in France since the famous winter sales (les soldes d'hiver) take place from mid-January to early February! You can even time your January trip to overlap with fashion week. For culture enthusiasts, January is also a great time to visit the city's many art galleries and we highly recommend going to one of Paris's famous cinemas! You might try using Time Out Paris to choose which museum exhibits to see; Time Out also has excellent movie theater and restaurant recommendations.
FEBRUARY: HAUTS-DE-FRANCE
CAPITAL CITY: LILLE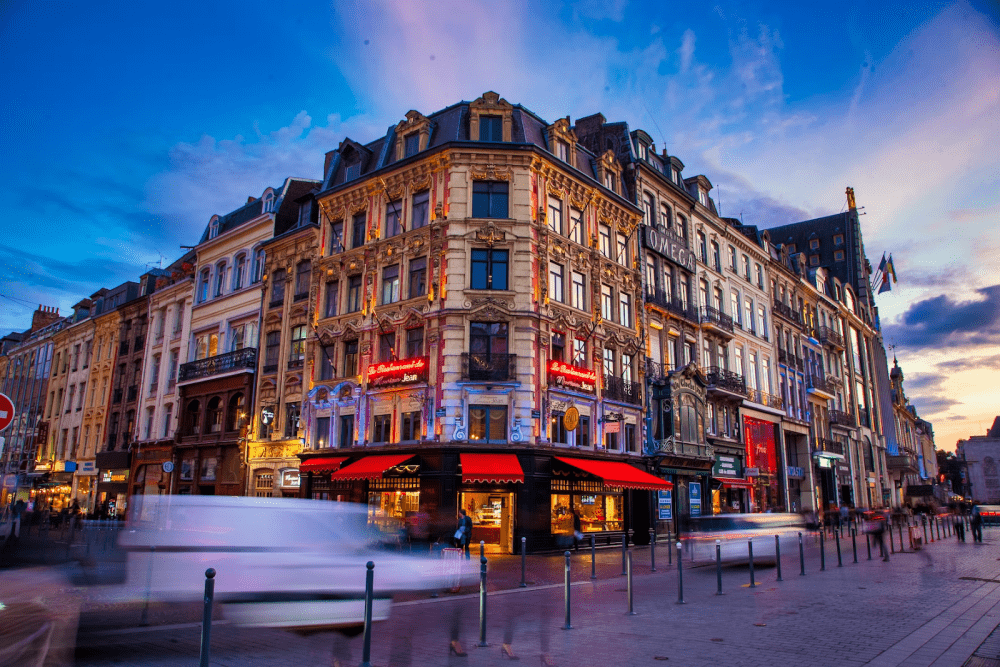 Known for its charming architecture, delicious cuisine, and rich history, Lille is a fascinating destination that tourists often overlook. February is the perfect time to discover all that this charming city and region have to offer–including the famous Carnaval de Dunkerque that takes place around Mardi Gras! Hundreds of people celebrate in the streets of the tiny seaside town of Dunkerque and famously chant "Les harengs, les harengs!" (herrings, herrings!). 
One of the best ways to experience Lille is to meander through the city's historic Old Town. You'll find a maze of narrow cobblestone streets lined with beautifully restored 17th and 18th-century buildings. Be sure to take a look at the Grand Place, which is home to the impressive Lille City Hall and the Notre Dame de la Treille Cathedral. And definitely check out the Palais des Beaux-Arts de Lille! Another great way to experience Lille is to sample its delicious cuisine. The city is known for its hearty, traditional dishes such as carbonade flamande (beef stewed in beer) and potjevleesch (a type of terrine made with chicken, rabbit, or game). Be sure to try les moules frites and some of the local cheeses and beers too.
February is also a great time to explore the wider Hauts-de-France region. From Lille, you can easily take day trips to nearby towns such as Arras, famous for its stunning belfry and well-preserved town square, and Calais, known for its beautiful beaches and cliffs. The region also offers a variety of activities for outdoors enthusiasts. The natural reserve of Marquenterre in the Somme bay is a great spot for bird watching and nature walks. And if you're looking for a winter adventure, you can also go skiing in the nearby Pas-de-Calais region.
MARCH: PAYS DE LA LOIRE
CAPITAL CITY: NANTES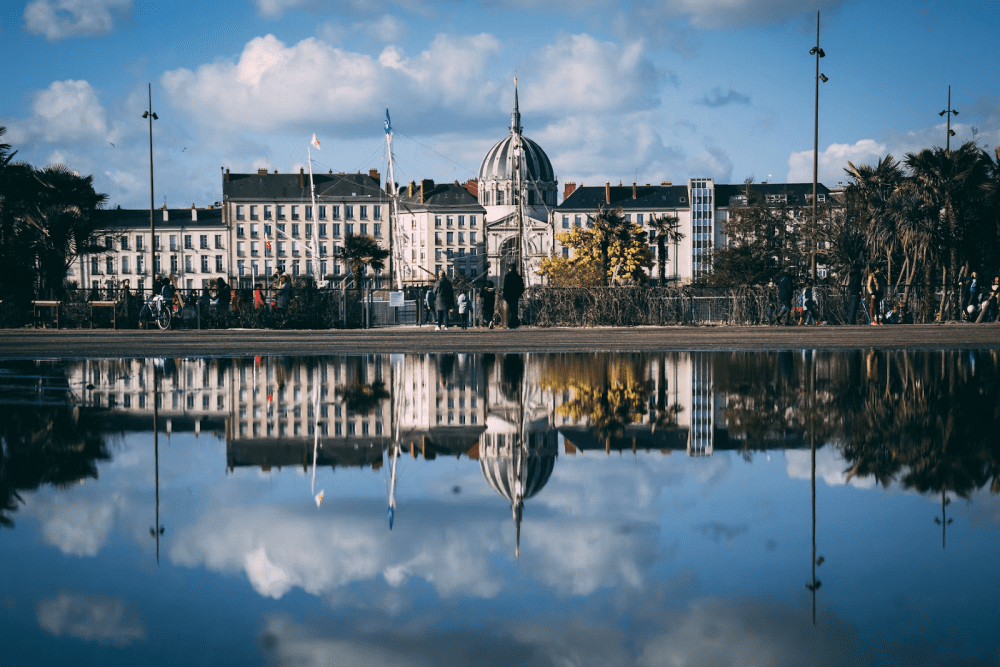 March is an ideal time to visit Nantes as the weather starts to get warmer and the city begins to come to life after the winter months. We recommend exploring the city's parks and gardens; the Parc des Chantiers, in particular, is a must-see with its futuristic garden design. You should also make sure to visit the Château des Ducs de Bretagne, once the residence of the Dukes of Brittany, and the Musée des Beaux-Arts.
After exploring the city for a day or two, take a day trip to Angers, famous for its stunning Château d'Angers and the Apocalypse Tapestry–or check out the picturesque town of Saint-Jean-de-Monts, known for its long sandy beaches and dunes. Both Angers and Saint-Jean-de-Monts are about an hour outside of the city by train. You can also go hiking, cycling or even kite surfing in the area. The Marais Poitevin, also known as "The Green Venice," is a fantastic spot for boat rides and nature walks. Other regional highlights include L'Île de Noirmoutier, Le Château de Saumur, L'Abbaye de Fontevraud, Les Sables d'Olonne, and Le Puy du Fou, a famous historical theme park. Finally, if you're a race car enthusiast, you might want to visit Le Mans!
APRIL: BRETAGNE
CAPITAL CITY: RENNES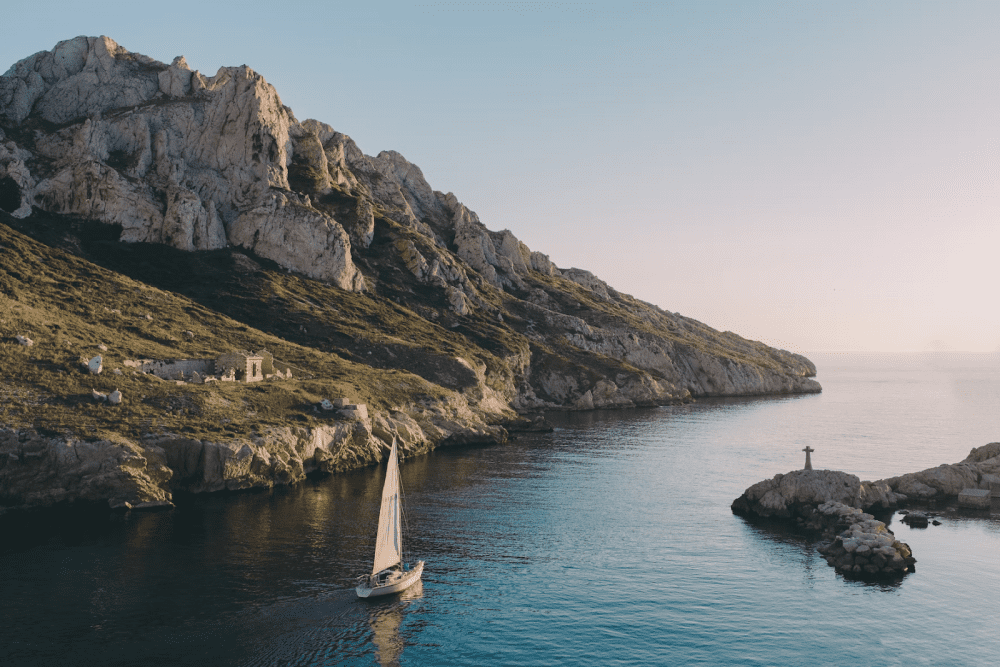 With its stunning landscapes and rich cultural heritage, Brittany is a destination that should not be missed. In April, you can attend one of the many festivals–often called "Fest Noz"–that are held throughout the region, where you can enjoy live music and dancing. Brittany is known for its traditional dances and binioù kozh–Breton bagpipes! The region's also famous for its crepes and cider, which many people drink out of small bowls. 
While you're in Brittany, you should visit some of its beautiful, quaint villages like Dinan, Moncontour, or Cancale. In the chic village of La Trinité sur Mer, you can buy famous Breton butter, caramels, or a marinière sweater if you want to look like a local. The region is also home to many breathtaking beaches, such as the Plage de la Torche, which is popular for windsurfing.
If you choose to visit Rennes, don't forget to go to the Place des Lices, a lively square that is home to a bustling market on Saturdays. You can sample local specialties and browse the colorful stalls selling everything from fresh produce to handmade crafts. Another highlight of Rennes is the Parlement de Bretagne, a grand 18th-century palace open for tours. 
For a taste of Rennes' medieval past, head to the Rue St. Michel, a picturesque street lined with half-timbered houses and home to the Gothic-style St. Michel Church, which dates back to the 14th century.
MAY: CENTRE VAL DE LOIRE
CAPITAL CITY: ORLÉANS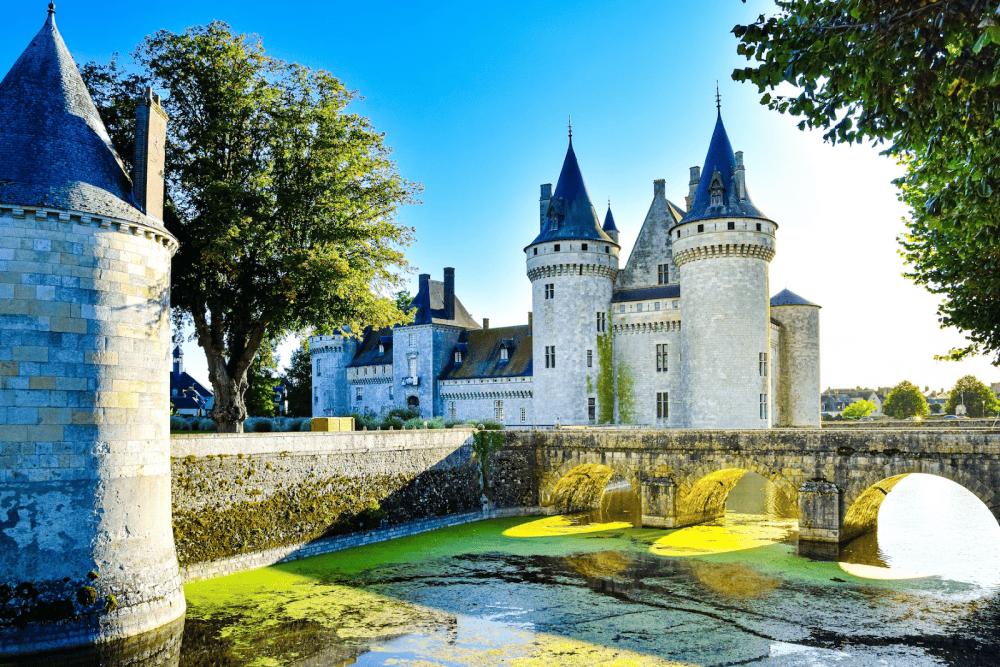 May is a particularly good time to visit this region as the weather is warm (but not too hot or dry) and gardens will be in full bloom. Must-sees in Orléans include the Cathedrale Sainte-Croix, which dates back to the 13th century, and the Place du Martroi, a beautiful square surrounded by historic buildings, including the Hôtel Groslot. 
Outside of Orléans, you can take a bike ride along the Loire River or visit the Château de Chambord, one of the grandest castles in the Loire Valley. The valley is known for its wine production, and visiting a vineyard is a great way to experience the region's culture. You can choose from a variety of different famous regional wines (mostly whites and rosés) like Sancerre or Pouilly-Fumé. We also recommend checking out Chinon reds.
Read this recent article for more ideas about what the region has to offer post pandemic!
JUNE: AUVERGNE-RHÔNES-ALPES
CAPITAL CITY: LYON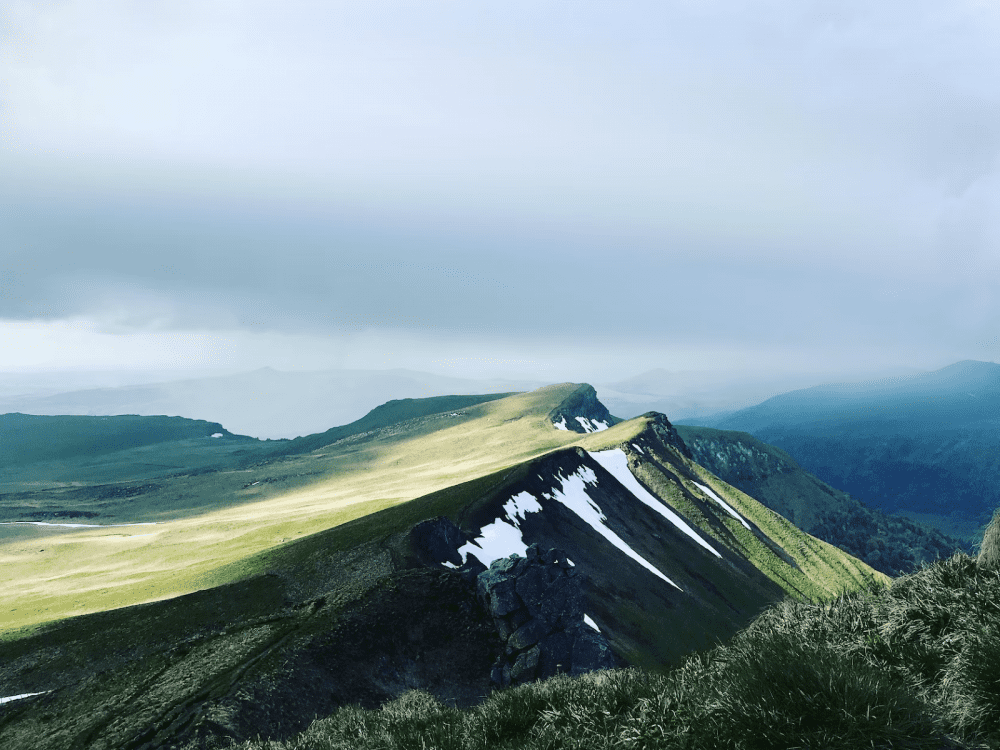 Auvergne-Rhônes-Alpes, a region in the southeast of France, contains some of the most magnificent landscapes in all of Europe and is the perfect destination for nature lovers. From the peaks of Mont Blanc, the highest mountain in Western Europe, to the more moderate hikes in the Massif central, there is something for every level of hiker. The Vanoise National Park, located on the border of Auvergne and Savoie, offers a wide variety of trails and is perfect for trekking and wildlife watching. Meanwhile, the Auvergne Volcanoes Regional Nature Park is home to some of the most unique landscapes in France, including extinct volcanoes, hot springs, and canyons. 
We recommend visiting this region in June because, if you get hot from all your hiking, you can cool off in one of the region's famous lacs–like Lac d'Annecy, Lac d'Aiguebelette, or Lac du Bourget. At Annecy, you can rent an electric bike for a reasonable price and bike all the way around the lake within a couple of hours. The lake is also famous for its surrounding cliffs where you can go paragliding. 
If you're looking for a more urban experience, head to Lyon, the gastronomic capital of France. After sampling some of the region's famous dishes, such as quenelle and andouillette, wander through the city's medieval and Renaissance areas. If you rent a car and venture near the border, you might consider making a short trip into Italy or Switzerland!
JULY: NORMANDIE
CAPITAL CITY: ROUEN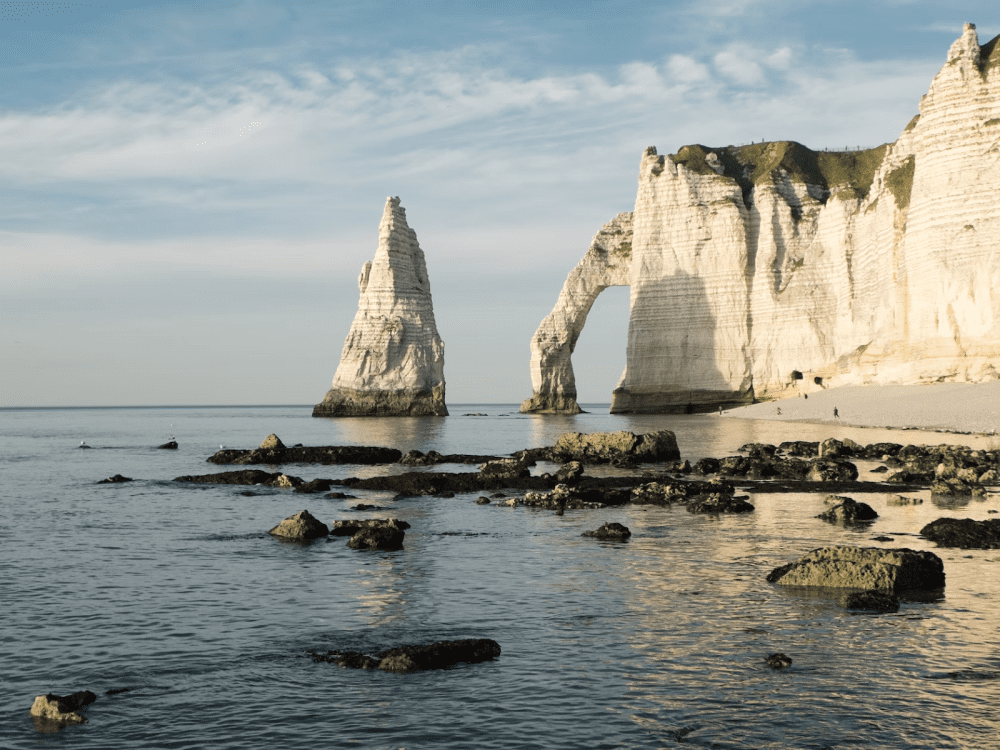 Visiting Normandy and Rouen in July is a great way to experience the beauty of Northern France. The weather will be warm and sunny, and you can fully appreciate the region's lush rolling hills and bucolic villages. If you're a history buff, you should consider visiting the American Cemetery at Omaha Beach, the British Cemetery at Bayeux, or the German Cemetery at La Cambe. 
Head to Rouen to see its famous Notre-Dame Cathedral. Its spire is a masterpiece of Gothic architecture and it offers incredible views of the city. Rouen also boasts a number of museums, such as the Museum of Fine Arts, which has an impressive collection of Impressionist paintings, including works by Monet, Degas, and Pissarro. If you love French literature, you've got to visit the ​​Musée Flaubert. 
Of course, while you're in Normandy, you should definitely go see Le Mont-Saint-Michel. Because Mont-Saint-Michel can get really crowded, we recommend walking out to it during the evening if you can. You're likely to see a breathtaking sunset and you'll have the beach to yourself! If you're traveling with kids, consider taking them clam digging; you'll see many French people doing la pêche à pied during the summer. You might also want to try out le char à voile–land sailing–on the beach!
AUGUST: NOUVELLE AQUITAINE
CAPITAL CITY: BORDEAUX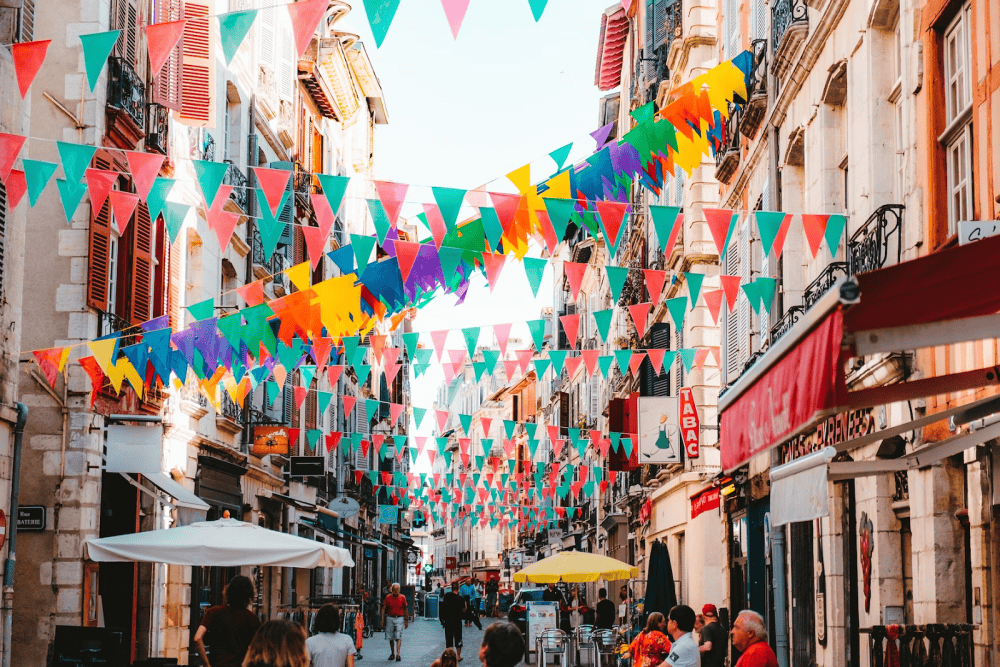 Known for world-renowned wines and stunning architecture, this city and region offer a unique blend of Basque culture, French history and natural beauty. The city center of Bordeaux is a UNESCO World Heritage site and is home to ancient arches and historic buildings like the Grand Theatre, Place de la Bourse and the Saint-Andre Cathedral. While in the city, you'll definitely want to check out the famous water mirror and Porte Cailhau. Head into the winding streets behind Porte Cailhau and you'll stumble upon La Fabrique Pains et Bricoles, arguably the best artisanal bakery in France. (You must try les cannelés while you're in the city!) 
The Bordeaux region is home to some of the most famous wine-producing areas in the world, such as Saint-Emilion, Pomerol, Margaux and Pauillac. But visiting chateaux and sampling wines aren't the only things the region has to offer. If you're looking for an outdoor adventure, head to the Dune du Pilat, located just south of Bordeaux. It's the highest sand dune in Europe and, once you hike to the top, you'll feel like you've been transported to another country. The Landes forest, located near the Dune du Pilat, is the largest maritime pine forest in Europe and is perfect for hiking or cycling. 
The can't-miss activity in August is going to les Fêtes de Bayonne, a feria consisting of a series of festivals in the Northern Basque Country in the town of Bayonne. It is the largest festival in France and will give you a taste of authentic Basque culture. While you're in the region, you can also visit the luxurious Ile de Ré or ritzy Arcachon and Biarritz, which are perfect for surfing. You might also want to rent a car and head North to La Rochelle or South to Spain–San Sebastian is right across the border!
SEPTEMBER: PROVENCE-ALPES-CÔTE D'AZUR
CAPITAL CITY: MARSEILLE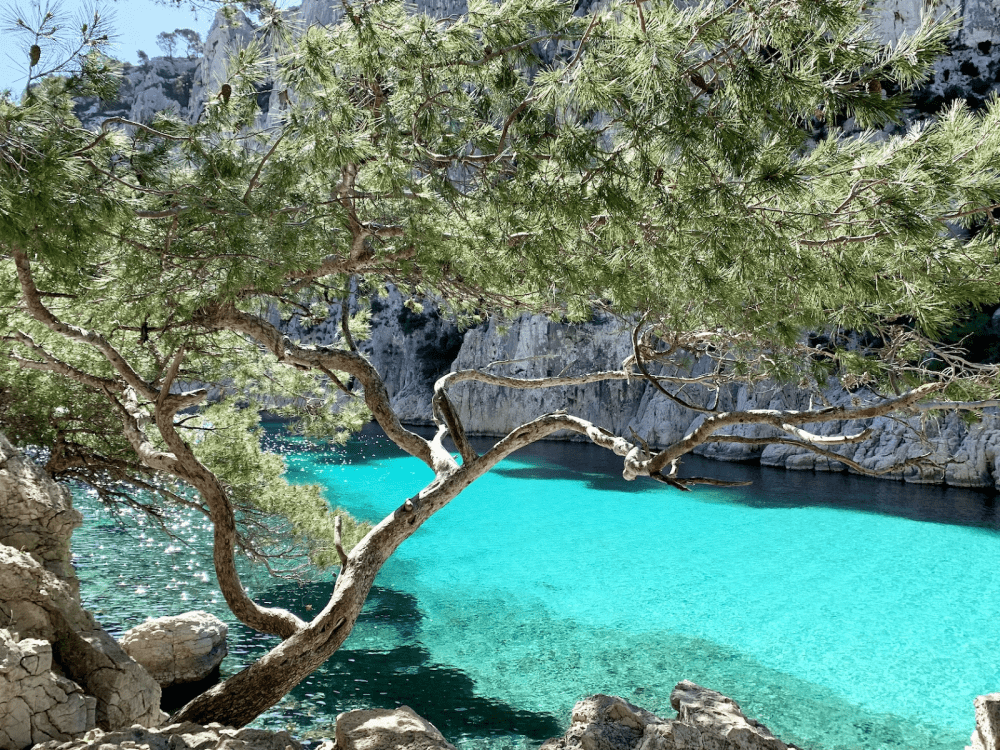 September is one of the best times to head to the French Riviera, when the water is still warm and there are fewer crowds. The region is home to some of the most famous seaside resorts in the world, such as Cannes, Nice, and Saint-Tropez. Visitors can spend their days lounging on the beach, swimming in the Mediterranean, or exploring charming villages and towns like Menton, which is famous for its lemons! One of the region's main attractions is its delicious Mediterranean cuisine. Visitors can sample ratatouille, bouillabaisse, and Socca, as well as local Provencal wines and regional olive oil. 
Marseille, the second-largest city in France, has a rich history dating back to the 6th century BC and is known for its diverse culture and vibrant atmosphere. Visitors can explore the old port, visit the famous Notre-Dame de la Garde, and take in stunning panoramic views from the hilltop basilica. We also highly recommend visiting Maison Empereur, the oldest hardware store in France. It sells amazing soaps, baskets, china, boots, toys and more. 
Outside Marseille, you can visit the nearby Calanques National Park (pictured above), where you'll find limestone cliffs, crystal-clear waters, and opportunities to swim, hike, and kayak. You can also visit the Verdon Gorge, known as the "Grand Canyon of Europe" or take a day trip to the scenic city of Avignon.
OCTOBER: OCCITANIE
CAPITAL CITY: TOULOUSE
If you visit Toulouse in October, the weather will be mild, making it perfect for sightseeing and exploring the city. The fall foliage in the region adds a beautiful touch of color to "la Ville rose." (It's called "The Pink City" thanks to its distinctive terracotta-brick architecture.) While you can easily spend at least three days in Toulouse–there are beautiful historic monuments and amazing art museums in the city–you should make time to visit Carcassonne, a famous fortified medieval town, and Albi, which is known for its impressive Toulouse-Lautrec Museum.
We also recommend visiting some of the Cathar castles, like Montségur, in the region. Visitors can also take day trips to the Pyrenees Mountains. The region is famous for its local cuisine. You've got to try Cassoulet at least once in your life, and, if you're a blue cheese lover, you must visit Roquefort! You might also want to sample wines from the Minervois and Corbières regions.
NOVEMBER: BOURGOGNE-FRANCHE-COMTÉ
CAPITAL CITY: DIJON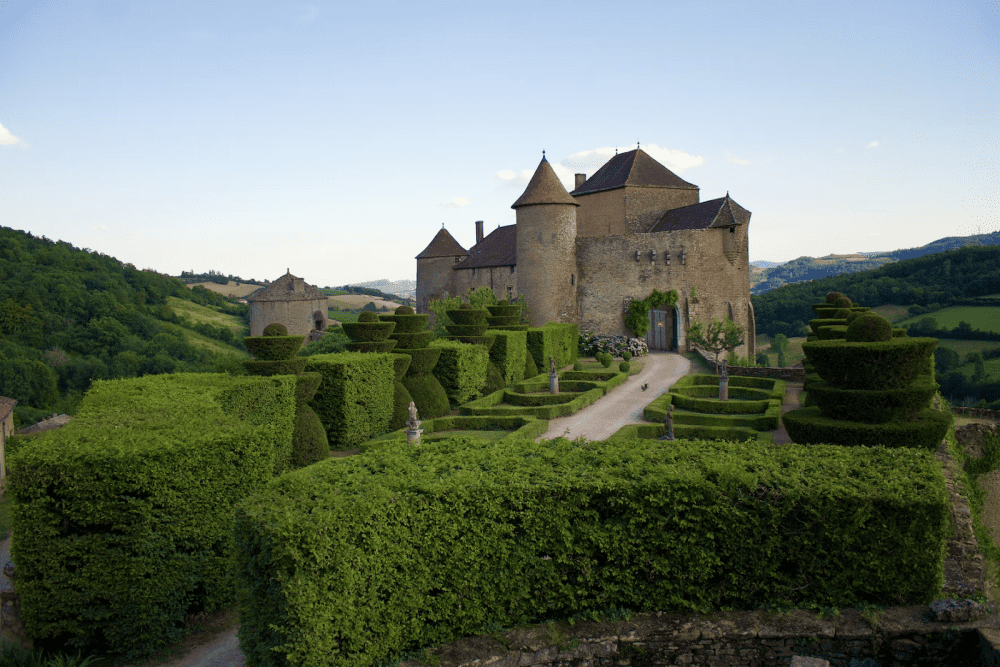 When you hear "Dijon," you probably think of mustard, but that's just one of the foods this region is famous for. While you're here, you'll want to taste the local cheeses–especially Comté and Morbier–and also order coq au vin (chicken stewed in red wine). If you're feeling brave, order les escargots!
In November, it will be a bit chilly, so you'll want to bundle up before exploring Dijon. Check out the Palace of the Dukes of Burgundy and Notre-Dame Cathedral before heading to the Museum of Fine Arts, which has an impressive collection of artifacts from the region. We recommend renting a car and heading out along la route des grands vins, where you can stop at vineyards and sample famous Burgundy wines. Don't forget to order a bœuf bourguignon at one of the famous restaurants along the route! (You also might consider checking out the Burgundy Beer Trail, which was recently highlighted in the New York Times.)
You can also appreciate the color of the leaves at the Château de Joux, a medieval fortress located in the Jura Mountains, or at the Basilica of the Sacred Heart in Belfort.
DECEMBER: GRAND EST
CAPITAL CITY: STRASBOURG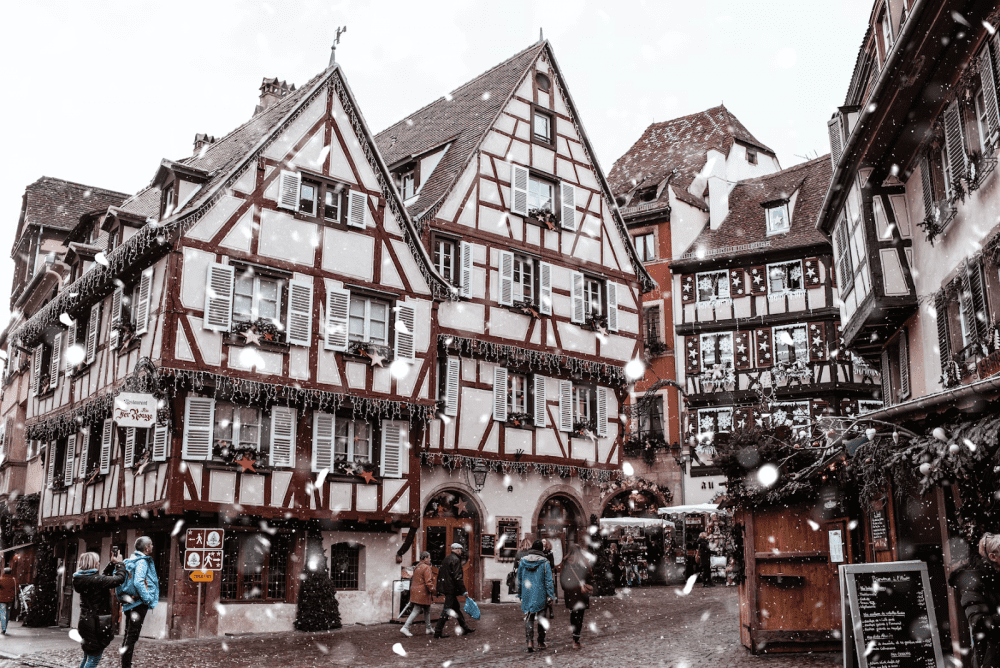 Visiting Strasbourg and its surrounding region in December is a wonderful way to experience the beauty and charm of Eastern France during the holiday season. Strasbourg is known for its impressive architecture, including the enormous Notre-Dame Cathedral and the Petite France neighborhood, a charming and picturesque area with half-timbered houses and canals. 
In December, the city is decorated with holiday lights, and visitors can visit holiday markets. You can sample traditional Christmas foods and drinks, such as mulled wine and gingerbread, and shop for unique gifts and crafts. You'll also want to try "choucroute," a traditional dish of sauerkraut, served with various sausages. If you're a wine lover, you'll be excited to try a local Riesling or Gewurztraminer.
Outside the city, you can go skiing in the Vosges Mountains or visit the charming town of Colmar, known for its well-preserved medieval architecture and picturesque canals.